BP Wireless sensor
WS01U01M00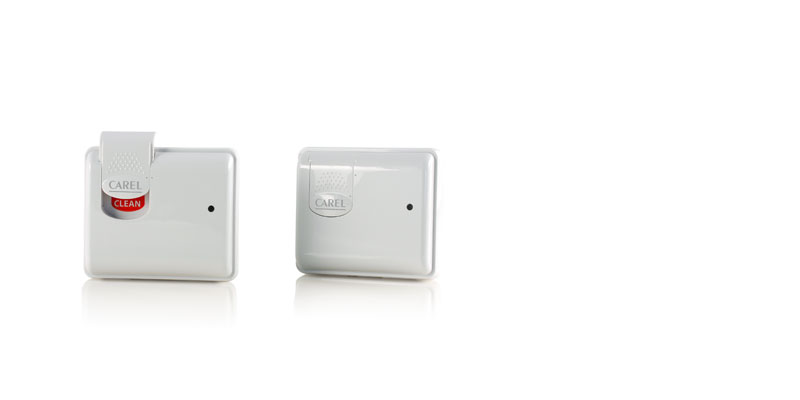 ลักษณะทั่วไป

The sensor measures the temperature inside the refrigerated showcase, and sends the data to the supervisor. The data transmission interval is set by parameter. The high temperature alarm can be disabled locally using the CLEN button, for restocking the products and cleaning the showcase.

Setting the BP SE sensor address by magnet: this offers the advantage of setting the address of a sensor that has not necessarily been assigned to a wireless network.
Display serial ID: by decoding the LED flashes, the operator can identify the serial address of the sensor, activating a special procedure.

เอกสาร
Technical
Technical Leaflets

* Entries are ordered by date

รหัส
คำอธิบาย
ภาษา
วันที่ *
Release

รหัส

+050001390

คำอธิบาย

WS00U01M* RTM (Remote Temperature Monitoring) Wireless Sensor BP Version

ภาษา

ENG FRE GER ITA SPA

วันที่

15/10/2088

Release

1.1

รหัส

+0500034ML

คำอธิบาย

WS01U01M*: RTM SE (Remote Temperature Monitoring) Wireless Sensor BP Version

ภาษา

ENG FRE GER ITA SPA

วันที่

25/02/2010

Release

1.1
Commercial
Brochure

* Entries are ordered by date

รหัส
คำอธิบาย
ภาษา
วันที่ *
Release

รหัส

+3000009EN

คำอธิบาย

rTM system: wireless monitoring devices

ภาษา

ENG

วันที่

03/07/2013

Release

1.1

รหัส

+3000009FR

คำอธิบาย

rTM SE système dispositifs pour l'enregistrement sans fil

ภาษา

FRE

วันที่

03/07/2013

Release

1.1

รหัส

+3000009IT

คำอธิบาย

rTM SE sistema: dispositivi per il monitoraggio wireless

ภาษา

ITA

วันที่

03/07/2013

Release

1.1

รหัส

+3000033EN

คำอธิบาย

rTM system: showcase monitoring without electrical connections

ภาษา

ENG

วันที่

03/01/2011

Release

1.0

รหัส

+3000033IT

คำอธิบาย

rTM sistema: monitoraggio dei banchi frigo senza collegamento elettrico

ภาษา

ITA

วันที่

03/01/2011

Release

1.0

รหัส

+3000020DE

คำอธิบาย

Innovative Lösungen für die Lebensmittelkonservierung

ภาษา

GER

วันที่

01/03/2010

Release

1.0

รหัส

+3000020EN

คำอธิบาย

Innovative solutions for food storage

ภาษา

ENG

วันที่

01/03/2010

Release

1.0

รหัส

+3000020ES

คำอธิบาย

Soluciones innovadoras para la conservación de los alimentos

ภาษา

SPA

วันที่

01/03/2010

Release

1.0

รหัส

+3000020FR

คำอธิบาย

Solutions innovantes pour la conservation des aliments

ภาษา

FRE

วันที่

01/03/2010

Release

1.0

รหัส

+3000020IT

คำอธิบาย

Soluzioni innovative per la conservazione degli alimenti

ภาษา

ITA

วันที่

01/03/2010

Release

1.0

Success Story

* Entries are ordered by date

รหัส
คำอธิบาย
ภาษา
วันที่ *
Release

รหัส

+402200230

คำอธิบาย

Monitoraggio della temperatura per la qualità del cibo Temperature monitoring for food quality

ภาษา

ENG ITA

วันที่

05/02/2009

Release

1.0
Images
High resolution images

* Entries are ordered by date

รหัส
คำอธิบาย
ภาษา
วันที่ *
Release

รหัส

PH08LWS304-BP-sensor-range

คำอธิบาย

CAREL BP Wireless sensor - Wireless sensor - Sensor and protection device

ภาษา

ALL

วันที่

11/03/2022

Release

R.0