T and H sensors for wall-mounting
DPW* RS485 - DPW* analogic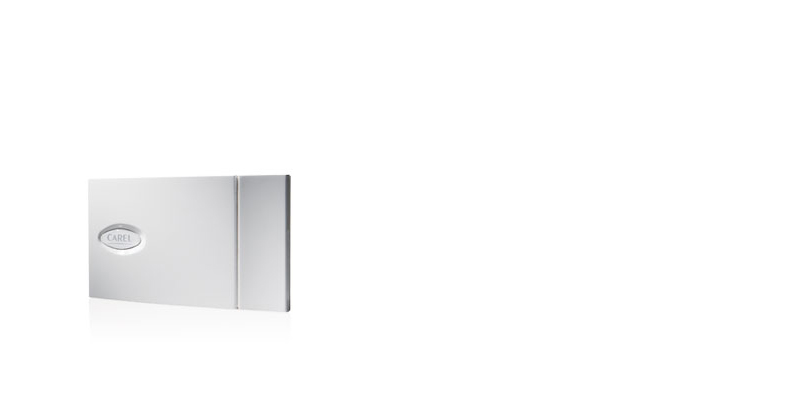 ลักษณะทั่วไป

The CAREL DPW* series serial probes are devices used for applications in the air-conditioning, refrigeration, heating and air handling sectors. These are installed in combination with the controllers that feature the serial connection. As well as the wall-mounted room probes, industrial and duct versions are also available.

These probes use a RS485 serial connection. This brings significant savings in installation costs, a reduction in the connections and the simplification of the connections, as a large number of probes can be connected to the same serial channel: maximum 32 units, within the limits defined by the controller used. The family is made up of various models that differ based on the combination of the temperature and humidity sensor and with or without optical isolation of the RS485 serial connection.

The combined models (temperature and humidity) include the function for calculating the dewpoint, available as a read-only variable. The temperature and humidity measurement precision is better than probes with voltage or current output, as the conversion of the signal and the analogue measurement by the controllers is avoided.
เอกสาร
Commercial
Brochure

* Entries are ordered by date

รหัส
คำอธิบาย
ภาษา
วันที่ *
Release

รหัส

+302239510

คำอธิบาย

Sensori di temperatura e umidità

ภาษา

ITA

วันที่

07/02/2008

Release

1.0

Other related documentation

* Entries are ordered by date

รหัส
คำอธิบาย
ภาษา
วันที่ *
Release

รหัส

+800004030

คำอธิบาย

Soluzioni per Unità Trattamento Aria: Tecnologia e competenza per la qualità dell'aria e il risparmio energetico

ภาษา

ITA

วันที่

05/04/2023

Release

1.2
Images
High resolution images

* Entries are ordered by date

รหัส
คำอธิบาย
ภาษา
วันที่ *
Release

รหัส

PH08LDP301-air-quality-sensor-wall

คำอธิบาย

CAREL T and H sensors for wall-mounting - Temperature, humidity and Indoor Air Quality sensor - Sensors and protection device

ภาษา

ALL

วันที่

17/03/2022

Release

R.0