KEC OEM kit
KEC*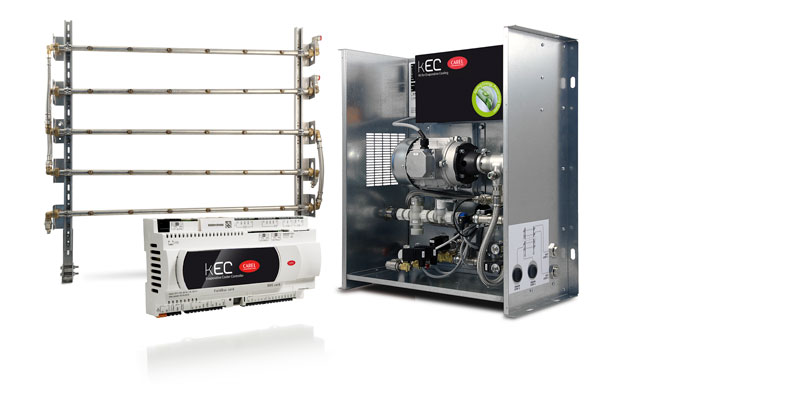 ลักษณะทั่วไป

The range of KEC kits is the evaporative cooling solution designed for OEMs, responding to the specific needs of flexibility, simplicity, compactness and integration.
The KEC kits include: a water circuit to be installed in a section of the AHU; the inverter and electronic controller to be integrated into the unit's electrical panel; and the components making up the atomisation system in the air duct.


KEC pressurises the water to 14 bars using a rotary vane pump and then atomises it, through nozzles, into very fine droplets that evaporate easily in the air, thus reducing the temperature. This phenomenon can be exploited to indirectly cool a second air flow, through the combined action of KEC and heat recovery unit.
The range includes models with capacities from 50 to 1000 kg/h, all powered at 230 Vac 50/60 Hz single-phase. The feedwater can be mains, softened or demineralised.
The KEC electronic controller manages the inverter and the devices on the pumping unit, based on the production request sent by the AHU controller over the RS485 serial line, with Modbus protocol. The quantity of water is continuously modulated through the combined action of the inverter – which controls motor speed motor and consequently pump flow-rate – and two solenoid valves installed in the water circuit, which control the two pressurised water outlets in such a way as to activate one or both groups of nozzles. Depending on the control mode, the two groups of nozzles can be housed in the same distribution system (two-step continuous modulation in a duct) or can be separate, in two distribution systems (typically, a rack for humidification in winter and a rack for indirect evaporative cooling in summer).


The KEC system does not store any water when not operating, guaranteeing absolute hygiene.


A self-adaptive algorithm implemented in the electronic controller optimises water consumption – information provided by the flow-rate measuring device – while at the same time ensuring constant air cooling. By combining the energy savings obtained by the inverter and the absence of additional pressure drop on the AHU fans, KEC provides the OEM market an advanced and versatile solution for evaporative cooling.

เพิ่ม

Flexibility

Separation between the water circuit and the electronics means KEC can be installed freely inside the OEM's unit.

Modulation

KEC modulates production through the combined action of inverter and on-off solenoid valves.

Water saving

Water inlet is measured by a flow sensor and is optimised using a self-adaptive control algorithm.

Energy saving

KEC does not cause additional pressure drop for the AHU fans, unlike traditional wetted media systems.

Modularity

The design of the atomisation system allows adaptability to all possible installation layouts.

Hygiene

Without any chemical biocides, KEC guarantees absence of bacteria proliferation by emptying the piping during standby and running periodical washing cycles.
เอกสาร
Technical
Manuals

* Entries are ordered by date

รหัส
คำอธิบาย
ภาษา
วันที่ *
Release

รหัส

+030222160

คำอธิบาย

Kit OEM KEC raffreddamento evaporativo evaporative cooling

ภาษา

ENG ITA

วันที่

13/10/2021

Release

1.1

รหัส

+030222165

คำอธิบาย

Kit OEM KEC / NO POWER Software per raff reddamento evaporativo Software for Evaporative Cooling

ภาษา

ENG ITA

วันที่

29/09/2015

Release

1.0

Technical Leaflets

* Entries are ordered by date

รหัส
คำอธิบาย
ภาษา
วันที่ *
Release

รหัส

+0500074ML

คำอธิบาย

KEC Sistema di distribuzione Distribution system

ภาษา

ENG ITA

วันที่

10/01/2020

Release

1.1

รหัส

+0500098IE

คำอธิบาย

KEC00ADH00 - KEC00BDH00 - KEC0PADH00 - KEC0PBDH00: Collegamenti per componenti elettrici KEC / KEC Connections for electrical components

ภาษา

ENG

วันที่

22/07/2015

Release

1.0
Commercial
Other related documentation

* Entries are ordered by date

รหัส
คำอธิบาย
ภาษา
วันที่ *
Release

รหัส

+3000224IT

คำอธิบาย

Educational - Utilizzare nel modo migliore tecnologie e sistemi delle applicazioni HVAC/R

ภาษา

ITA

วันที่

24/01/2022

Release

1.1

รหัส

+3000224EN

คำอธิบาย

Educational - Make the best use of HVAC/R application technologies and systems

ภาษา

ENG

วันที่

24/01/2022

Release

1.1

รหัส

+3000223FR

คำอธิบาย

Solution complète de services pour les humidificateurs CAREL

ภาษา

FRE

วันที่

21/12/2021

Release

1.0

รหัส

+3000223PL

คำอธิบาย

Kompletne rozwiązanie serwisowe dla nawilżaczy CAREL

ภาษา

POL

วันที่

21/12/2021

Release

1.0

รหัส

+3000223ES

คำอธิบาย

Solución completa de servicios dedicada a los humidificadores CAREL

ภาษา

SPA

วันที่

21/12/2021

Release

1.0

รหัส

+3000223IT

คำอธิบาย

Soluzione completa di servizi dedicata agli umidificatori CAREL

ภาษา

ITA

วันที่

21/12/2021

Release

1.0

รหัส

+3000223EN

คำอธิบาย

Complete services solution for CAREL humidifiers

ภาษา

ENG

วันที่

21/12/2021

Release

1.0

รหัส

+3000054FR

คำอธิบาย

Solutions permettant d'économiser l'énergie dans les centres de données

ภาษา

FRE

วันที่

11/10/2016

Release

2.0
Images
High resolution images

* Entries are ordered by date

รหัส
คำอธิบาย
ภาษา
วันที่ *
Release

รหัส

PH16SKC309-KEC-with-recuperator

คำอธิบาย

KEC-CAREL-Adiabatic humidifiers-Atomisers- evaporative cooling

ภาษา

ALL

วันที่

06/09/2021

Release

R.0

รหัส

PH16SKC305-KEC-complete

คำอธิบาย

KEC-CARELAdiabatic humidifiers-Atomisers- evaporative cooling

ภาษา

ALL

วันที่

06/09/2021

Release

R.0

รหัส

PH16SKC301-KEC

คำอธิบาย

KEC-CAREL-Adiabatic humidifiers-Atomisers- evaporative cooling

ภาษา

ALL

วันที่

06/09/2021

Release

R.0