ultimateSAM
SA*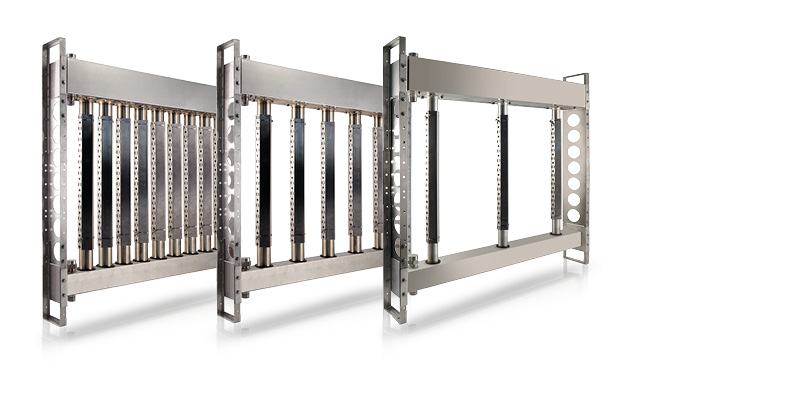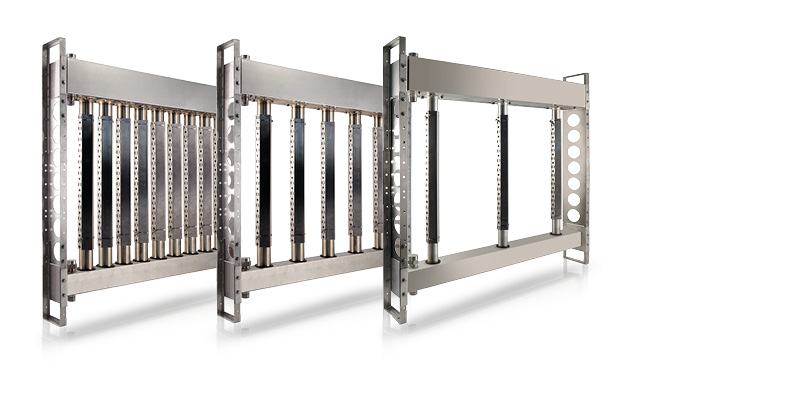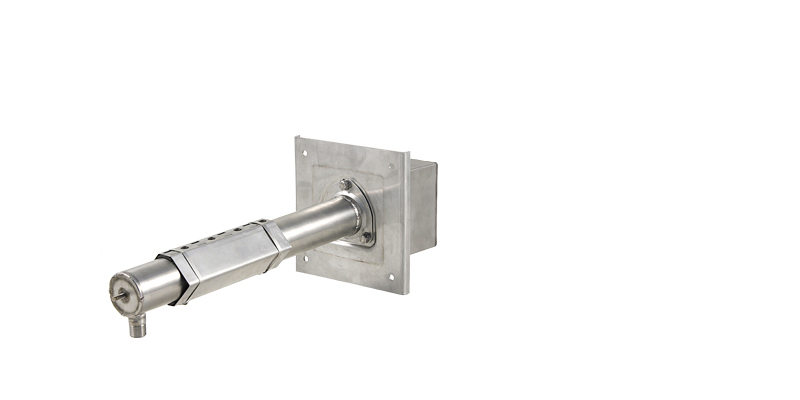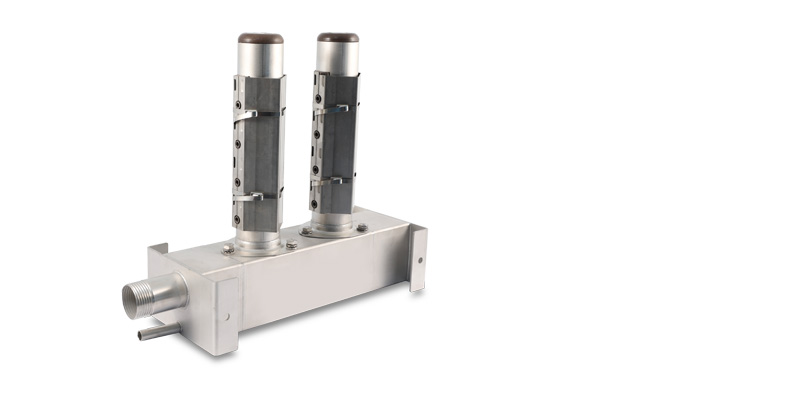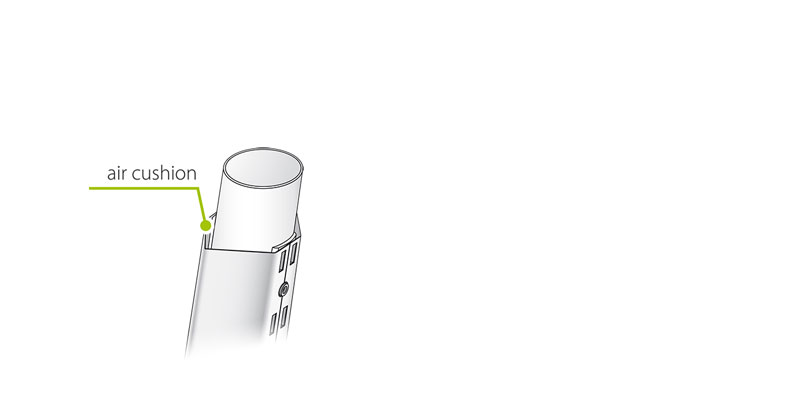 ลักษณะทั่วไป

Multi-lance (SAB/SAT)
The ultimateSAM system can use steam both from a network under pressure and from an atmospheric pressure generator (humidifier). In the first case, the fluid reaches the distributor via a regulating valve, by means of which there is an expansion that almost reaches atmospheric pressure. In the second case, ultimateSAM is connected directly to the steam producer; in this case the modulation of the flow of steam is carried out directly by the humidifier.

In order to minimize condensation, the lances for the distribution of steam have been designed with deflectors and nozzles so as to ensure that only dry steam is released into the air handler unit/duct.
The vertical air distribution pipes can be equipped with air gap insulation to reduce both parasitic heat gain in the air and condensate formation.
The distributors with insulation have press-fitted nozzles in the pipes, which take the dry steam from the centre of the distributors to avoid delivering droplets of condensate into the air flow. Non-insulated distributors do not have nozzles. The use of models with insulated lances with nozzles allows a reduction of 30% condensation compared to non-insulated ones. In both cases, of course, a short absorption distance is guaranteed (of the order of 200mm).

UltimateSAM compact (SAB**M*)
ultimateSAM steam distributor version designed specifically for small ducts. The smaller version has two pipes and can be installed in 300mm x 300 mm ducts. ultimateSAM compact does not require steam inlet kits or condensate drain kits, as these are fitted as standard on the product. On the compact version all the pipes are insulated.

Single lance (SA0)

It can be used for pressurized steam or with steam at atmospheric pressure. In this case, the manifold separates the condensation as it is equipped with an internal deflector, as well as a condensate drain. The single lance is provided with insulation and nozzles to reduce the formation of condensation and the absorption distance.

เพิ่ม

Energy efficiency

Maximum energy savings. Insulated models reduce air heating and condensation.

Precision

Suitable for high-precision humidification thanks to uniform steam distribution in the AHU/duct and the valves with electrical operation for even more accurate modulation.

Hygiene and materials

Made from AISI 304, with PPS components (Ryton with a continuous operating temperature of 220°C/428°F). The gaskets in contact with the steam are made from silicone for high temperatures (150°C/300°F max) or EPDM for those not in contact with the steam.
เอกสาร
Commercial
Brochure

* Entries are ordered by date

รหัส
คำอธิบาย
ภาษา
วันที่ *
Release

รหัส

+3000032ZH

คำอธิบาย

ultimateSAM: 高效型干蒸汽加湿器

ภาษา

CHI

วันที่

28/06/2022

Release

4.0

รหัส

+3000032DE

คำอธิบาย

ultimateSAM: Hocheffizienter Dampfverteiler für Druckdampf oder Dampf bei Atmosphärendruck

ภาษา

GER

วันที่

26/05/2022

Release

4.0

รหัส

+3000032EN

คำอธิบาย

ultimateSAM: High-efficiency pressurised or atmospheric pressure steam distributors

ภาษา

ENG

วันที่

26/05/2022

Release

4.0

รหัส

+3000032FR

คำอธิบาย

ultimateSAM: distributeur de vapeur à haut rendement énergétique

ภาษา

FRE

วันที่

26/05/2022

Release

4.0

รหัส

+3000032IT

คำอธิบาย

ultimateSAM: Distributore di vapore in pressione o a pressione atmosferica ad alta efficienza

ภาษา

ITA

วันที่

26/05/2022

Release

4.0

รหัส

+3000032NL

คำอธิบาย

ultimateSAM: Hoogrenderende stoomverdelers voor stoom onder atmosferische- en lagedruk

ภาษา

DUT

วันที่

26/05/2022

Release

4.0

รหัส

+3000032ES

คำอธิบาย

ultimateSAM: Distribuidor de vapor a presión o a presión atmosférica de alta eficiencia

ภาษา

SPA

วันที่

26/05/2022

Release

4.0

รหัส

+3000032KR

คำอธิบาย

ultimateSAM - 고효율 가압 또는 대기압 증기 분배기

ภาษา

KOR

วันที่

26/05/2022

Release

4.0

รหัส

+30U0032EN

คำอธิบาย

ultimateSAM: energy-efficient steam dispersion system ( USA)

ภาษา

ENG

วันที่

02/01/2012

Release

2.0

Other related documentation

* Entries are ordered by date

รหัส
คำอธิบาย
ภาษา
วันที่ *
Release

รหัส

+800004030

คำอธิบาย

Soluzioni per Unità Trattamento Aria: Tecnologia e competenza per la qualità dell'aria e il risparmio energetico

ภาษา

ITA

วันที่

05/04/2023

Release

1.2

รหัส

+800004031

คำอธิบาย

Solutions for Air Handling Units: Technology and expertise for indoor air quality and energy saving

ภาษา

ENG

วันที่

05/04/2023

Release

1.2

รหัส

+3000224IT

คำอธิบาย

Educational - Utilizzare nel modo migliore tecnologie e sistemi delle applicazioni HVAC/R

ภาษา

ITA

วันที่

24/01/2022

Release

1.1

รหัส

+3000224EN

คำอธิบาย

Educational - Make the best use of HVAC/R application technologies and systems

ภาษา

ENG

วันที่

24/01/2022

Release

1.1

รหัส

+3000223IT

คำอธิบาย

Soluzione completa di servizi dedicata agli umidificatori CAREL

ภาษา

ITA

วันที่

21/12/2021

Release

1.0

รหัส

+3000223EN

คำอธิบาย

Complete services solution for CAREL humidifiers

ภาษา

ENG

วันที่

21/12/2021

Release

1.0

รหัส

+3000223ES

คำอธิบาย

Solución completa de servicios dedicada a los humidificadores CAREL

ภาษา

SPA

วันที่

21/12/2021

Release

1.0

รหัส

+3000223FR

คำอธิบาย

Solution complète de services pour les humidificateurs CAREL

ภาษา

FRE

วันที่

21/12/2021

Release

1.0

รหัส

+3000223PL

คำอธิบาย

Kompletne rozwiązanie serwisowe dla nawilżaczy CAREL

ภาษา

POL

วันที่

21/12/2021

Release

1.0

รหัส

+3000018IT

คำอธิบาย

L'umidità è importante! Umidificatori CAREL, una soluzione per ogni richiesta

ภาษา

ITA

วันที่

15/09/2020

Release

4.1

รหัส

+3000018DE

คำอธิบาย

Die Feuchte zählt! CAREL-Befeuchter, eine Lösung für jedes Anliegen.

ภาษา

GER

วันที่

15/09/2020

Release

4.1

รหัส

+3000018EN

คำอธิบาย

Humidity matters! CAREL humidifiers, a solution for every need

ภาษา

ENG

วันที่

15/09/2020

Release

4.1

รหัส

+3000018ES

คำอธิบาย

¡La humedad es importante! Humidificadores CAREL, una solución para cada necesidad

ภาษา

ENG SPA

วันที่

15/09/2020

Release

4.1

รหัส

+3000018FR

คำอธิบาย

L'humidité est importante! Les humidificateurs CAREL, une solution pour chaque application

ภาษา

FRE

วันที่

15/09/2020

Release

4.1

รหัส

+3000018PL

คำอธิบาย

Nawilżanie ma znaczenie! Rozwiązania CAREL dla twoich potrzeb nawilżania

ภาษา

POL

วันที่

15/09/2020

Release

4.1

รหัส

+3000018PT

คำอธิบาย

A humidade é importante! Soluções CAREL para as suas necessidades de humidificação

ภาษา

POR

วันที่

19/02/2015

Release

3.0

รหัส

+3000018ZH

คำอธิบาย

湿度问题! CAREL解决方案 满足您的加湿需求

ภาษา

CHI

วันที่

19/02/2015

Release

3.0

รหัส

+3000018KR

คำอธิบาย

최고의 습도 조절을 위한 CAREL solutions

ภาษา

KOR

วันที่

19/02/2015

Release

3.0

รหัส

+3000018CS

คำอธิบาย

Na vlhkosti záleží! CAREL - řešení Vašich potřeb zvlhčování

ภาษา

CZE

วันที่

01/10/2012

Release

2.0

รหัส

+3000018SV

คำอธิบาย

Fukt är viktigt! Med befuktare från CAREL inns det en lösning för alla behov

ภาษา

SWE

วันที่

01/10/2012

Release

2.0

รหัส

+3000018FI

คำอธิบาย

Kosteudella on merkitystä! CAREL kostuttimet, ratkaisu kostutustarpeisiin.

ภาษา

FIN

วันที่

01/10/2012

Release

2.0

รหัส

+30U0018EN

คำอธิบาย

Humidity matters! CAREL solutions for your humidification needs ( USA)

ภาษา

ENG

วันที่

01/10/2012

Release

2.0

Success Story

* Entries are ordered by date

รหัส
คำอธิบาย
ภาษา
วันที่ *
Release

รหัส

+4000024DE

คำอธิบาย

Gesündere Krankenhäuser durch korrekte Befeuchtung

ภาษา

GER

วันที่

01/04/2013

Release

1.0

รหัส

+4000024EN

คำอธิบาย

Healthier hospital environments with the right humidification

ภาษา

ENG

วันที่

01/04/2013

Release

1.0

รหัส

+4000024ES

คำอธิบาย

Un ambiente hospitalario más sano con la humectación correcta

ภาษา

SPA

วันที่

01/04/2013

Release

1.0

รหัส

+4000024IT

คำอธิบาย

Un ambiente ospedaliero più sano con la corretta umidificazione

ภาษา

ITA

วันที่

01/04/2013

Release

1.0

รหัส

+4000024ZH

คำอธิบาย

Healthier hospital environments with the right humidification

ภาษา

CHI

วันที่

04/01/2013

Release

1.0
Images
High resolution images

* Entries are ordered by date

รหัส
คำอธิบาย
ภาษา
วันที่ *
Release

รหัส

PH15LSA303-UltimateSam

คำอธิบาย

CAREL ultimateSAM - Centralised Steam Distributor - Isothermal Humidifier

ภาษา

ALL

วันที่

18/07/2022

Release

R.0

รหัส

PH21LSA302-UltimateSam-compact

คำอธิบาย

CAREL ultimateSAM - Centralised Steam Distributor - Isothermal Humidifier

ภาษา

ALL

วันที่

18/07/2022

Release

R.0

รหัส

PH15LSA302-UltimateSam

คำอธิบาย

CAREL-ultimateSAM-Centralised Steam Distributor-Isothermal Humidifier

ภาษา

ALL

วันที่

01/07/2021

Release

R.0