Single-phase for stand-alone unit (FCP)
FCP*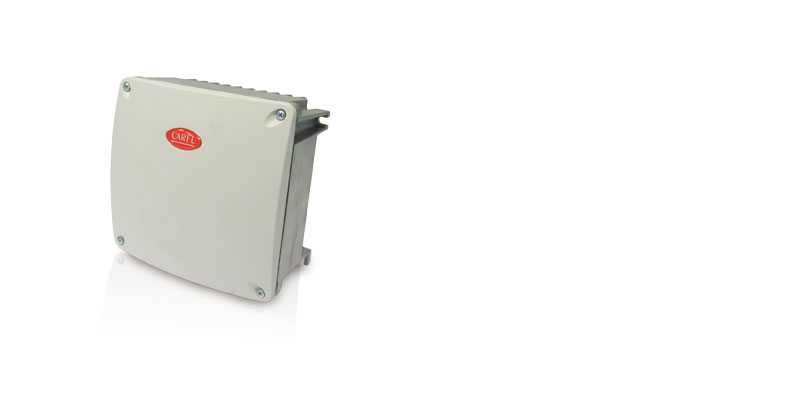 ลักษณะทั่วไป

FCP is a speed controller for single-phase fans on stand-alone units with up to two circuits. It controls the fan speed according to the variation in pressure in the condenser circuit, so as to maintain the set point, via a 0 to 5 V signal from the ratiometric pressure transducer (SPKT*R0) positioned in the water circuit.
This device is used for air-conditioning and refrigeration applications, and is installed directly on the condensing unit, thanks to the case with IP54 index of protection.
It can control single-phase electric motors, with a load of up to 8 A/230 Vac.
Available in the Main/Secondary or power version (as for the current MCHRTF80A0, in the IP54 version).
เอกสาร
Technical
2D/3D drawings

* Entries are ordered by date

รหัส
คำอธิบาย
ภาษา
วันที่ *
Release

รหัส

2d-3d FCP

คำอธิบาย

2D-3D dreawings

ภาษา

ALL

วันที่

30/10/2017

Release

R1

Manuals

* Entries are ordered by date

รหัส
คำอธิบาย
ภาษา
วันที่ *
Release

รหัส

+030220391

คำอธิบาย

FCP/1 regulator with microprocessor control

ภาษา

ENG

วันที่

31/05/2016

Release

1.4

รหัส

+030220390

คำอธิบาย

FCP/1: regolatore con controllo a microprocessore

ภาษา

ITA

วันที่

31/05/2016

Release

1.4

รหัส

+030220394

คำอธิบาย

FCP/1 регулятор с микропроцессорным управлением

ภาษา

RUS

วันที่

27/06/2012

Release

1.3

Technical Leaflets

* Entries are ordered by date

รหัส
คำอธิบาย
ภาษา
วันที่ *
Release

รหัส

+050000693

คำอธิบาย

FCP/1 - Регулятор скорости с управлением фазным напряжением / Speed regulator with phase cutting control

ภาษา

ENG RUS

วันที่

31/05/2016

Release

1.4

รหัส

+050000691

คำอธิบาย

FCP/1 - Régulateur de vitesse avec contrôle à coupure de phase / Drehzahlregler mit Phasenanschnittregelung

ภาษา

FRE GER

วันที่

31/05/2016

Release

1.4

รหัส

+050000690

คำอธิบาย

FCP/1 - Regolatore di velocità con controllo a taglio di fase / Speed regulator with phase cutting control

ภาษา

ENG ITA

วันที่

31/05/2016

Release

1.4
Commercial
Brochure

* Entries are ordered by date

รหัส
คำอธิบาย
ภาษา
วันที่ *
Release

รหัส

+302235393

คำอธิบาย

FCP: Drehzahlregler für die autonomer Verflüssigerregelung

ภาษา

GER

วันที่

19/12/2006

Release

1.1

รหัส

+302235391

คำอธิบาย

FCP: Stand-alone condenser control

ภาษา

ENG

วันที่

19/12/2006

Release

1.1

รหัส

+302235390

คำอธิบาย

FCP: Controllo di condensazione stand-alone

ภาษา

ITA

วันที่

19/12/2006

Release

1.1

รหัส

+302239381

คำอธิบาย

precision and shelter units

ภาษา

ENG

วันที่

01/03/2006

Release

1.0

รหัส

+30C235391

คำอธิบาย

FCP: 独立式冷凝风机控制器

ภาษา

CHI

วันที่

15/02/2006

Release

1.0
Images
High resolution images

* Entries are ordered by date

รหัส
คำอธิบาย
ภาษา
วันที่ *
Release

รหัส

PH06LFC301-FCP

คำอธิบาย

CAREL Single-phase for stand-alone unit (FCP) - Cut phase speed controller - Speed controller and inverter

ภาษา

ALL

วันที่

17/03/2022

Release

R.0