Data Center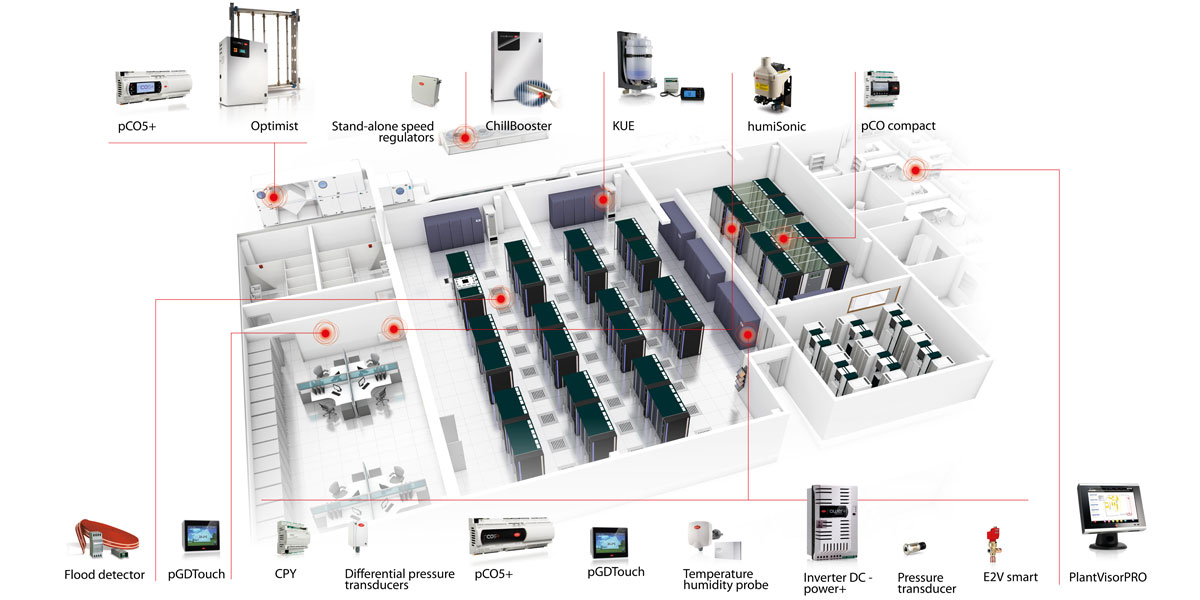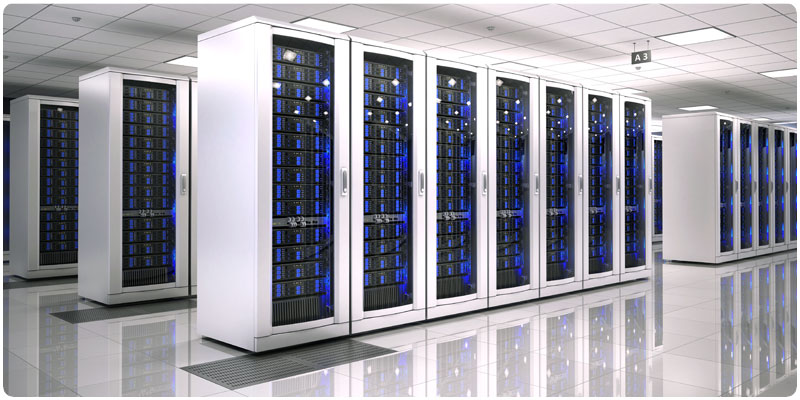 ลักษณะทั่วไป

The air conditioning system of data centers is one of the essential infrastructures for the operation of information technology equipment (ITE): the processing and storage devices generate heat (up to several kW per square meter of plant) that must be disposed of to keep the temperature within values ​​which ensure optimum operating conditions. Humidity also must be controlled, since values too low increase the probability for electrostatic discharge, while excessive values accelerate any corrosion process and affect the performance of some devices.
There are various types of data centers that differ both in size and in tne configuration of the air conditioning system. The most traditional ones are the systems with the servers positioned at the center of the environment and conditioning units arranged along the perimeter (CCU or CRAC) while for the air flow, the floor and ceiling are exploited come plenum. In layouts with hot/cold aisle the servers are arranged so as to create two separate areas, with air conditioning units (in row cooling installed directly next to the ITE) that suck the exhaust air from the hot aisle servers and enter it cooled in the cold aisle. The air conditioning systems can be with direct expansion, with external condensing units, or water cooled, with remote chiller. We also see more and more data centers that fully exploit the potential of the freecooling, possibly upgraded with direct (DEC) or indirect (IEC) evaporative cooling systems. Lately we are witnessing the development of modular data centers provided with containers that include all the necessary infrastructure: ITE, UPS, "mechanic" air conditioning systems, freecooling with DEC and/or IEC. .
In this field, where continuity of operation (Mission Critical) is essential, the ongoing technological development and research on energy savings are reflected in a constant evolution of air conditioning solutions. Thanks to its 40 years of experience in this field and to the continuous research, Carel provides integrated solutions for temperature and humidity control, based on an extensive offer of innovative, reliable and energy saving products: programmable electronic controls, sensors, humidifiers, evaporative coolers, electronic expansion valves, BLDC inverters and monitoring systems.

เพิ่ม

The Carel solutions guarantee:

Maximum precision: they ensure ideal temperature and humidity for the ITEs;
Energy Saving: thanks to the Evaporative Cooling Systems, EEV and Power+;
Flexibility and Integration: with the pCO programmable controls;
Connectivity: collection and sharing information from the devices to the BMS;
Reliability and optimization: thanks to the Tera and PlantVisor remote control.
เอกสาร
เชิงพาณิชย์
Other related documentation

* Entries are ordered by date

| รหัส | คำอธิบาย | ภาษา | วันที่ * | Release |
| --- | --- | --- | --- | --- |
| +3000054EN | Energy saving solutions for data centers | ENG | 26/05/2023 | 3.0 |
| +3000193IT | Umidificazione diretta: Soluzioni all'avanguardia per ambienti industriali e commerciali | ITA | 15/11/2019 | 1.1 |
| +3000193EN | Direct humidification: Advanced solutions for industrial and commercial environments | ENG | 15/11/2019 | 1.1 |
| +3000054FR | Solutions permettant d'économiser l'énergie dans les centres de données | FRE | 11/10/2016 | 2.0 |
| +3000054DE | Energiesparlösungen für Rechenzentren | GER | 11/10/2016 | 2.0 |
| +3000054ZH | 数据中心节能解决方案 | CHI | 11/10/2016 | 2.0 |