Hospitals and Operating Rooms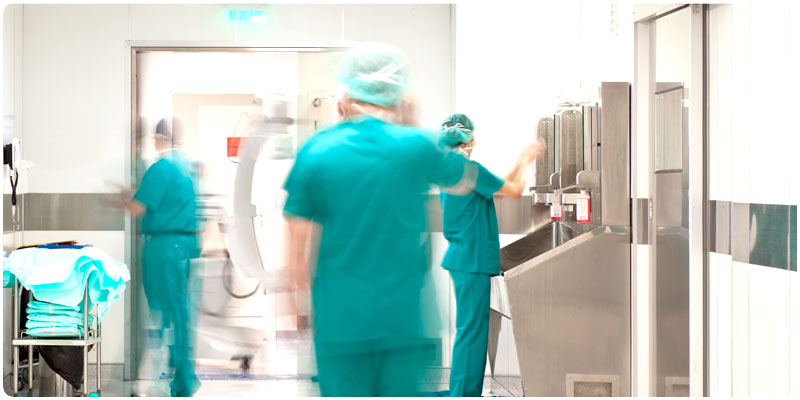 ลักษณะทั่วไป

Low air humidity affects both health and well being of people. During the wintertime, the air inside buildings is heated to a temperature of 20-25°C with the consequence that relative humidity decreases to values of 10-30%, which is perceived as dry air, even if there is fog outside. The dry air favours thenevaporation of water from the skin, which cracks and causes dryness of the throat and nose and the respiratory tract etc. favouring the onset of typical winter illnesses. It is for this reason that air-conditioning systems that control both temperature and humidity of the air are used in hospital wards; the latter being maintained not too low but also not too high.To prevent propagation and proliferation of biological contaminants, the humidity should ideally be kept between 40% to 60%R.H. Accurate control of the humidity also contributes to protecting the electronic equipment from electrostatic discharges, making the hospital safer for staff and visitors and protecting the health of the patient at the same time. Dry air in the winter increases the dust in the air deriving from pieces of material and particles of skin that people lose. This causes problems for persons with allergies or asthma, which can be reduced by a correct level of humidity in the air. According to European Directive 2002/91/ EC, EN ISO 13790:2008, EN 13779:2008 VDI 6022, DIN 1946-4, Italian Presidential Decree dated 14 January 1997, UNI11425 (just to mention a few) ventilation and air-conditioning systems in operating theatres must ensure ideal temperaturehumidity conditions for the work of doctors, also considering the patient's needs. The humidification systems must be designed in a way not to contribute to the production and spread of contaminants, be easy to access, clean and control. Emphasis is given to continuity of service, in particular in operating theatres: humidifiers are used that guarantee operating continuity and "do not stop" for maintenance. Accurate humidity control is therefore not only an accessory, but a legal requirement.

เพิ่ม

Keep humidity within controlled levels to guarantee:




• Well-being of patients and staff;




• Health: prevent the proliferation of biological contaminants;




• Safety: reduce the risk of electrical discharges that damage the equipment;




• Quality: reduce the level of dust in the air;




• Regulatory requirements: maintain the temperature-humidity conditions of the environment.
เอกสาร
เชิงพาณิชย์
Success Story

* Entries are ordered by date

| รหัส | คำอธิบาย | ภาษา | วันที่ * | Release |
| --- | --- | --- | --- | --- |
| +4000023EN | Humidity control and energy saving for a sustainable hospital | ENG | 01/04/2013 | 1.0 |
| +4000023ES | Control de la humedad y ahorro energético para un hospital sostenible | ENG SPA | 01/04/2013 | 1.0 |
| +4000023FR | Régulation de l'humidité et économie d'énergie pour un hôpital écologique | FRE | 01/04/2013 | 1.0 |
| +4000023IT | Controllo dell'umidità e risparmio energetico per un ospedale sostenibile | ITA | 01/04/2013 | 1.0 |
| +4000023DE | Feuchteregelung und Energieeinsparung für ein nachhaltiges Krankenhaus | GER | 01/04/2013 | 1.0 |
| +4000023ZH | Humidity control and energy saving for a sustainable hospital, Thiene-Schio Hospital | CHI | 04/01/2013 | 1.0 |