µChiller
UCHBP* UCHBD*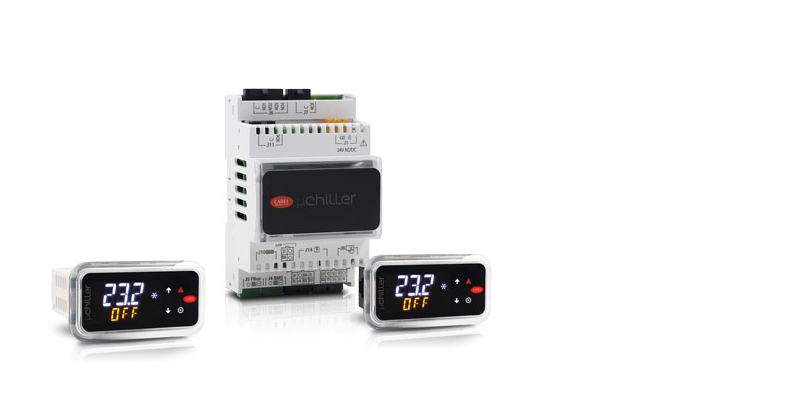 ลักษณะทั่วไป

μChiller is the CAREL solution for complete management of commercial air/water and water/water chillers and heat pumps with on-off and/or DC compressors.
The maximum configuration manages 2 compressors per circuit with up to 2 circuits (using the I/O expansion for the second circuit).
The product is available in panel and DIN rail versions, according to user needs.
The distinctive element of the product is complete control of high-efficiency units through integrated management of devices such as electronic expansion valves and brushless DC compressors. This ensures greater compressor protection and reliability and, at the same time, high unit efficiency.
The application features more than 50 models of BLDC compressors by different manufacturers, all tested and certified by CAREL in its laboratories.
μChiller provides complete control of the compressor envelope at different frequencies, with the aim of guaranteeing compressor operation in ideal conditions, thus ensuring maximum reliability.

เพิ่ม

Efficiency and reliability

Increases in unit COP during part load operation, resulting in higher Seasonal Performance Factor values.
Complete control of the compressor envelope, ensuring maximum reliability
Advanced management of DC inverter compressors with EEV synchronisation and protection functions.

Wireless connectivity by APPLICA

Easy to use for all users who interact with μChiller.
Quick unit commissioning.
Simple diagnostics and maintenance.

Refrigerants

Compatibility with natural refrigerants and low-GWP mixtures to meet the needs of unit manufacturers in terms of regulations such as F-Gas, EPA, ...

User experience

Two-row LED display for better information usability.
pGDX as a unit terminal or remote terminal, offering high aesthetic quality and easy and intuitive availability of information.
เอกสาร
Commercial
Brochure

* Entries are ordered by date

รหัส
คำอธิบาย
ภาษา
วันที่ *
Release

รหัส

+3000166IT

คำอธิบาย

μChiller La soluzione per unità chiller/hp commerciali ad alta efficienza

ภาษา

ITA

วันที่

01/10/2018

Release

1.0

รหัส

+3000166EN

คำอธิบาย

μChiller Solution for high-efficiency commercial chiller/HP units

ภาษา

ENG

วันที่

01/10/2018

Release

1.0
Images
High resolution images

* Entries are ordered by date

รหัส
คำอธิบาย
ภาษา
วันที่ *
Release

รหัส

PH17LUC301-µChiller

คำอธิบาย

CAREL-HVAC controls-μChiller Series-μChiller

ภาษา

ALL

วันที่

01/09/2021

Release

R.0