pCO sistema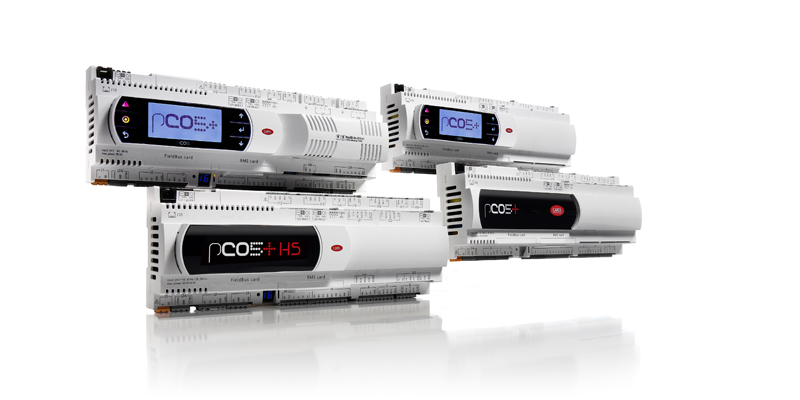 ลักษณะทั่วไป

pCO sistema is the solution CAREL offers its customers for managing HVAC/R applications and systems. It consists of programmable controllers, user interfaces, gateways and communication interfaces, remote management systems to offer the OEMs working in HVAC/R a control system that is powerful yet flexible, can be easily interfaced to the more widely-used Building Management Systems, and can also be integrated into proprietary supervisory systems.

pCO sistema guarantees reliability, while being easily modifiable, so as to differentiate between the air-conditioning and refrigeration unit in terms of both appearance and functions.
Several sizes are available, based on the number and type of inputs/outputs, whether the Built-In terminal is fitted and the size of flash memory provided. The plastic case with DIN rail mounting guarantees high mechanical protection of the board and reduces the risk of electrostatic discharges, as well as housing an optional built-in user interface with 8x22 LCD and 6 buttons backlit by LEDs.

เพิ่ม

Interface - The pCO sistema terminals are available in panel or wall-mounted versions, with LED, alphanumeric and graphic LCD displays, allowing the messages to be shown in Chinese, Cyrillic, Arabic, Japanese.
Communication - It can interface to the more widely used communication standards, either directly or via gateways (Modbus®, BACnet™, Johnson Metasys®, DLL for Windows®, TCP/IP, SNMP, LonWorks®, Konnex®). It can also interface to intranets or the internet using a gateway that converts the CAREL protocol to TCP/IP Ethernet™ 10 MB/s. In addition pCO sistema controllers are able to receive and send SMS messages using a simple GSM modem. All the pCO sistema components can be connected without requiring additional cards to pLAN networks for exchanging data and information.
High technology - A 32-bit microprocessor guarantees high program running speed including control of faster transients. The parameters can be protected by various password levels.

Thanks to the high capacity of the flash memory and the clock with battery the first value even for extended periods.

Programmability - CAREL 1tool system development system allows customisation of the software. The software can be transferred directly from a personal computer or alternatively using an electronic "plug & play" key, or USB key (on models where featured).
Applications - The programmability of the pCO series means that applications are possible for chillers, air-conditioners, shelters, roof top units, heat pumps, compressor racks, AHU.