Combined Sensor Light and Presence detection
DPWA*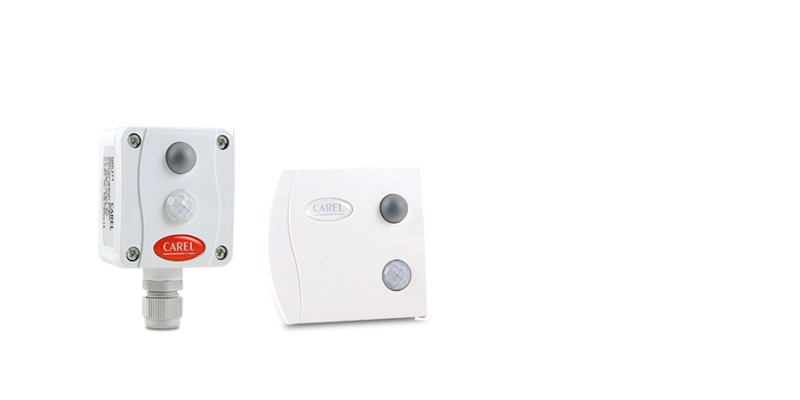 ลักษณะทั่วไป

Sensors for measuring ambient light and occupancy, to be used in combination with CAREL or third-party electronic controllers. These sensors contribute to ensuring intelligent management of electrical loads, rationalising power consumption and consequently saving energy.

The combined light and presence detection sensor DPWA series for indoor and outdoor installation are instrument that detects motions and light intensity as well as the presence of persons and is used to recognize environment conditions.

The output signal is 4...20 mA for light intensity and has a switching (changeover contact SPDT) output for the detection of motions. Those combined sensors are installed, where is necessary use a device for the observation and recognition of

conditions and for a motion dependent control of room functions, e.g. as motion detector to lower temperatures in unused

rooms.
เอกสาร
Technical
Quick Guide

* Entries are ordered by date

รหัส
คำอธิบาย
ภาษา
วันที่ *
Release

รหัส

+040010026

คำอธิบาย

'Sondes et capteurs / Fühler und Sensoren Guide pour le choix et l'installation optimale Auswahl- und Installationshilfe

ภาษา

FRE GER

วันที่

25/06/2021

Release

1.2

รหัส

+040010025

คำอธิบาย

Sonde e sensori / Probes and sensors Guida alla scelta e all'installazione ottimale Selection and optimal installation guide

ภาษา

ENG ITA

วันที่

25/06/2021

Release

1.2

รหัส

+040000045

คำอธิบาย

Installazione sensori Luce e Presenza Installation Light and Presence detection Sensor

ภาษา

ENG ITA

วันที่

21/10/2014

Release

1.0

Technical Leaflets

* Entries are ordered by date

รหัส
คำอธิบาย
ภาษา
วันที่ *
Release

รหัส

+0500078ML

คำอธิบาย

Sensore combinato di luce e presenza - Versione interna ed esterna / Combined Sensor - Light and Presence detection – indoor and outdoor version / Capteurs combiné de présence et lumière - version d'intérieur et d'extérieur / Kombinierter Licht- und Bewegungssensor - Innen- und Außenversion / Sensor combinado de luz y presencia - Versión interna y externa

ภาษา

ENG FRE GER ITA SPA

วันที่

14/03/2018

Release

2.0