AHU - Steam distributors
DP***D**R*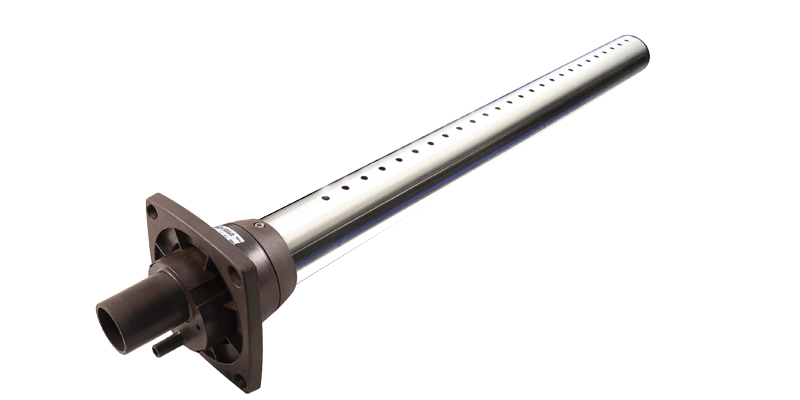 ลักษณะทั่วไป

The wide range of linear steam distributors for ducts in the "DP" series is made up of perforated stainless steel pipes supported by a fastening bracket made from Ryton®.

This material combines excellent mechanical characteristics with extraordinary resistance to high temperatures.

The new fastening bracket allows the steam distributor to be fastened vertically to a wall, guaranteeing the correct incline of the distributor for draining condensate.

The stainless steel linear steam distributors are available in 3 different diameters (35, 45 and 60 mm), which couple respectively to the 22, 30 and 40 mm diameter steam hoses used on the entire range of CAREL humidifiers.

These distributors are designed to release steam in a uniform manner along the entire length, so as to minimise non-wetting distance.
เอกสาร
Technical
Technical Leaflets

* Entries are ordered by date

รหัส
คำอธิบาย
ภาษา
วันที่ *
Release

รหัส

+050001110

คำอธิบาย

DP***D**R0 / DP***D**RU - Distributori lineari di vapore / Linear steam distributors

ภาษา

ENG ITA

วันที่

11/01/2023

Release

1.3
Commercial
Other related documentation

* Entries are ordered by date

รหัส
คำอธิบาย
ภาษา
วันที่ *
Release

รหัส

+800004030

คำอธิบาย

Soluzioni per Unità Trattamento Aria: Tecnologia e competenza per la qualità dell'aria e il risparmio energetico

ภาษา

ITA

วันที่

05/04/2023

Release

1.2

รหัส

+800004031

คำอธิบาย

Solutions for Air Handling Units: Technology and expertise for indoor air quality and energy saving

ภาษา

ENG

วันที่

05/04/2023

Release

1.2

รหัส

+3000224IT

คำอธิบาย

Educational - Utilizzare nel modo migliore tecnologie e sistemi delle applicazioni HVAC/R

ภาษา

ITA

วันที่

24/01/2022

Release

1.1

รหัส

+3000224EN

คำอธิบาย

Educational - Make the best use of HVAC/R application technologies and systems

ภาษา

ENG

วันที่

24/01/2022

Release

1.1

รหัส

+3000223ES

คำอธิบาย

Solución completa de servicios dedicada a los humidificadores CAREL

ภาษา

SPA

วันที่

21/12/2021

Release

1.0

รหัส

+3000223FR

คำอธิบาย

Solution complète de services pour les humidificateurs CAREL

ภาษา

FRE

วันที่

21/12/2021

Release

1.0

รหัส

+3000223PL

คำอธิบาย

Kompletne rozwiązanie serwisowe dla nawilżaczy CAREL

ภาษา

POL

วันที่

21/12/2021

Release

1.0

รหัส

+3000223IT

คำอธิบาย

Soluzione completa di servizi dedicata agli umidificatori CAREL

ภาษา

ITA

วันที่

21/12/2021

Release

1.0

รหัส

+3000223EN

คำอธิบาย

Complete services solution for CAREL humidifiers

ภาษา

ENG

วันที่

21/12/2021

Release

1.0