AHU - High-efficiency steam distributors
DP******RH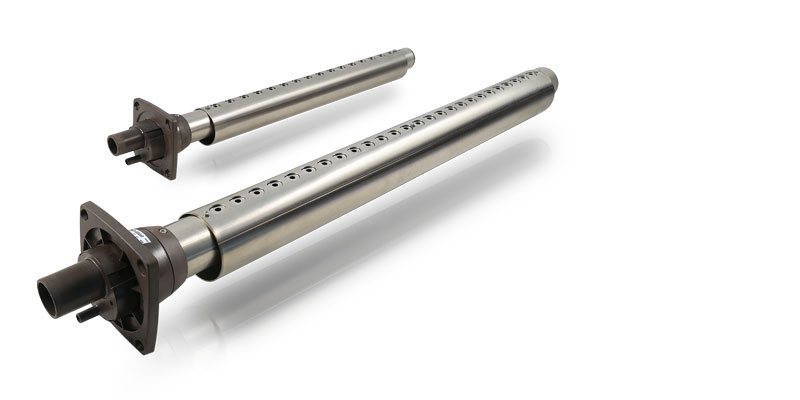 ลักษณะทั่วไป

These new steam distributors complete the current product range, thus providing a response to all customer needs, also in terms of energy savings.

The air cushion, acting as an insulator between the steam pipe and the outer jacket, reduces heat exchange between the hot steam inside the distributor and the lower-temperature air in the duct/AHU: this reduces condensation by at least 20%.

Just like in the other versions, excellent steam distribution is ensured by the modular construction, making it possible to virtually cover all duct/AHU widths and exploit as much air flow as possible.

The lengths range from 350 mm to 2050 mm, in 30 mm or 40 mm diameters.
เอกสาร
Commercial
Other related documentation

* Entries are ordered by date

รหัส
คำอธิบาย
ภาษา
วันที่ *
Release

รหัส

+800004030

คำอธิบาย

Soluzioni per Unità Trattamento Aria: Tecnologia e competenza per la qualità dell'aria e il risparmio energetico

ภาษา

ITA

วันที่

05/04/2023

Release

1.2

รหัส

+800004031

คำอธิบาย

Solutions for Air Handling Units: Technology and expertise for indoor air quality and energy saving

ภาษา

ENG

วันที่

05/04/2023

Release

1.2

รหัส

+3000224EN

คำอธิบาย

Educational - Make the best use of HVAC/R application technologies and systems

ภาษา

ENG

วันที่

24/01/2022

Release

1.1

รหัส

+3000224IT

คำอธิบาย

Educational - Utilizzare nel modo migliore tecnologie e sistemi delle applicazioni HVAC/R

ภาษา

ITA

วันที่

24/01/2022

Release

1.1

รหัส

+3000223ES

คำอธิบาย

Solución completa de servicios dedicada a los humidificadores CAREL

ภาษา

SPA

วันที่

21/12/2021

Release

1.0

รหัส

+3000223FR

คำอธิบาย

Solution complète de services pour les humidificateurs CAREL

ภาษา

FRE

วันที่

21/12/2021

Release

1.0

รหัส

+3000223PL

คำอธิบาย

Kompletne rozwiązanie serwisowe dla nawilżaczy CAREL

ภาษา

POL

วันที่

21/12/2021

Release

1.0

รหัส

+3000223IT

คำอธิบาย

Soluzione completa di servizi dedicata agli umidificatori CAREL

ภาษา

ITA

วันที่

21/12/2021

Release

1.0

รหัส

+3000223EN

คำอธิบาย

Complete services solution for CAREL humidifiers

ภาษา

ENG

วันที่

21/12/2021

Release

1.0
Images
High resolution images

* Entries are ordered by date

รหัส
คำอธิบาย
ภาษา
วันที่ *
Release

รหัส

PH18LDP301-linear-distributor

คำอธิบาย

CAREL-AHU - High-efficiency steam distributors-Steam distribution system-Isothermal Humidifier

ภาษา

วันที่

01/07/2021

Release

R.0