Steam blowers
VSDU* , VRDX*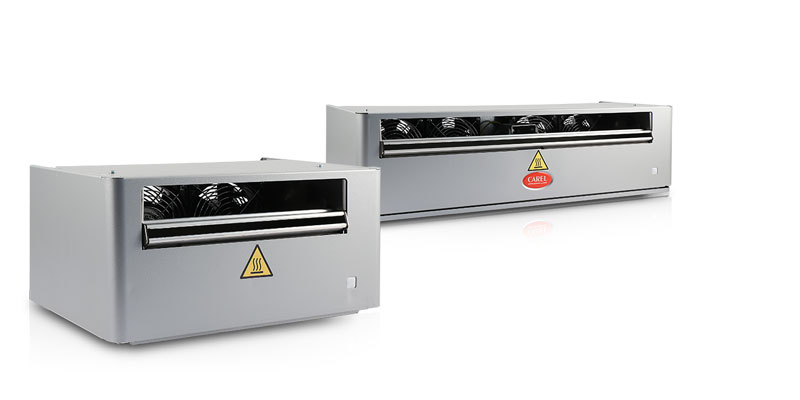 ลักษณะทั่วไป

The steam blowers for rooms (VSDU0A0003) are suitable for humidifiers up to 18 kg/h. The steam blower can be fitted directly onto the humidifier, or in a remote position. In the latter case, a support is required for mounting the blower (VSDBAS0001), as well as a steam hose to connect the blower to the humidifier. The steam blower works in ON/OFF mode, and is controlled by a temperature device that is activated when steam is produced.

For humidifiers larger than 18 kg/h, the VRDXL00001 steam blowers are available, with 230 Vac power supply; these are designed for installation separately from the humidifier, and require two 40 mm diameter steam hoses.

The new generation of blowers guarantees:

a steam absorption distance of around one metre, allowing the unit to be positioned in complete safety;
a range of steam production modulation from 0 to 100%;
backward compatibility with existing installations.
เอกสาร
Technical
BIM files

* Entries are ordered by date

รหัส
คำอธิบาย
ภาษา
วันที่ *
Release

รหัส

BIM files Steam blower

คำอธิบาย

ภาษา

ALL

วันที่

08/07/2020

Release

R0

Manuals

* Entries are ordered by date

รหัส
คำอธิบาย
ภาษา
วันที่ *
Release

รหัส

+030222191

คำอธิบาย

VSDU0A0003 - Tête de ventilation

ภาษา

FRE

วันที่

11/02/2021

Release

1.4

รหัส

+030222192

คำอธิบาย

VSDU0A0003 - Dampfgebläse

ภาษา

GER

วันที่

11/02/2021

Release

1.4

รหัส

+030222193

คำอธิบาย

VSDU0A0003 - Distribuidor de vapor ambiente

ภาษา

SPA

วันที่

11/02/2021

Release

1.4

รหัส

+030222195

คำอธิบาย

VRDXL00001 - Testata ventilante / Steam blower

ภาษา

ENG ITA

วันที่

11/02/2021

Release

1.4

รหัส

+030222196

คำอธิบาย

VRDXL00001 - Tête de ventilation

ภาษา

FRE

วันที่

11/02/2021

Release

1.4

รหัส

+030222197

คำอธิบาย

VRDXL00001 - Dampfgebläse

ภาษา

GER

วันที่

11/02/2021

Release

1.4

รหัส

+030222198

คำอธิบาย

VRDXL00001 - Distribuidor de vapor ambiente

ภาษา

SPA

วันที่

11/02/2021

Release

1.4

รหัส

+030222190

คำอธิบาย

VSDU0A0003 - Testata ventilante / Steam blower

ภาษา

ENG ITA

วันที่

11/02/2021

Release

1.4
Commercial
Other related documentation

* Entries are ordered by date

รหัส
คำอธิบาย
ภาษา
วันที่ *
Release

รหัส

+3000224IT

คำอธิบาย

Educational - Utilizzare nel modo migliore tecnologie e sistemi delle applicazioni HVAC/R

ภาษา

ITA

วันที่

24/01/2022

Release

1.1

รหัส

+3000224EN

คำอธิบาย

Educational - Make the best use of HVAC/R application technologies and systems

ภาษา

ENG

วันที่

24/01/2022

Release

1.1

รหัส

+3000223ES

คำอธิบาย

Solución completa de servicios dedicada a los humidificadores CAREL

ภาษา

SPA

วันที่

21/12/2021

Release

1.0

รหัส

+3000223FR

คำอธิบาย

Solution complète de services pour les humidificateurs CAREL

ภาษา

FRE

วันที่

21/12/2021

Release

1.0

รหัส

+3000223PL

คำอธิบาย

Kompletne rozwiązanie serwisowe dla nawilżaczy CAREL

ภาษา

POL

วันที่

21/12/2021

Release

1.0

รหัส

+3000223IT

คำอธิบาย

Soluzione completa di servizi dedicata agli umidificatori CAREL

ภาษา

ITA

วันที่

21/12/2021

Release

1.0

รหัส

+3000223EN

คำอธิบาย

Complete services solution for CAREL humidifiers

ภาษา

ENG

วันที่

21/12/2021

Release

1.0