pGD1 / pGDe
PGD1*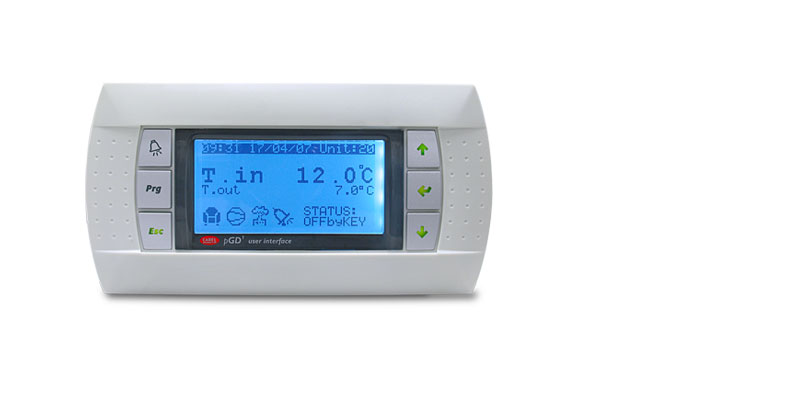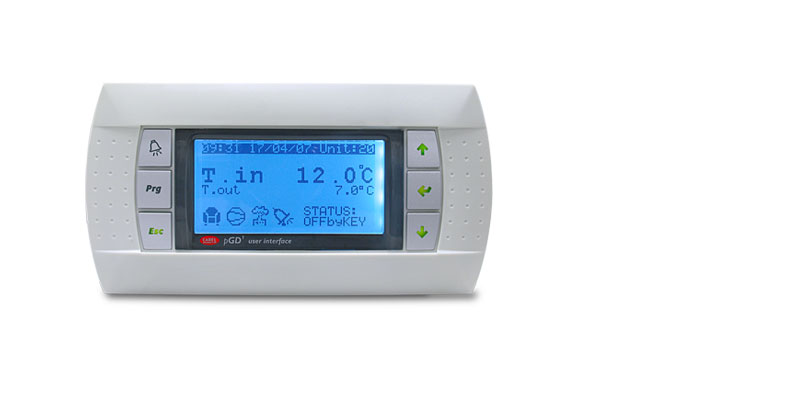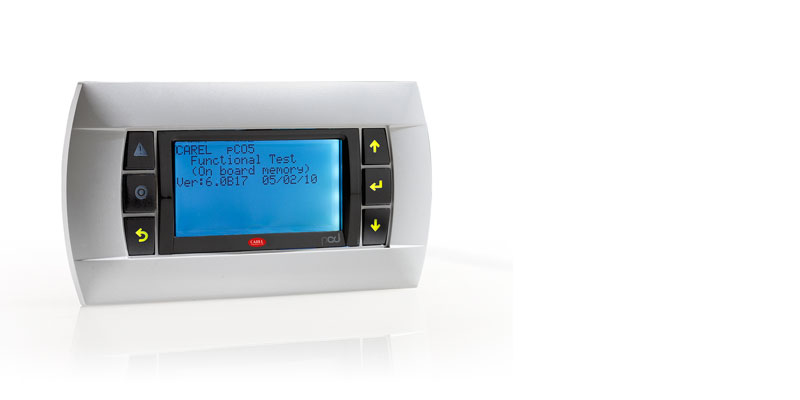 ลักษณะทั่วไป

The pGD1/pGD Evolution semigraphic terminals are part of the range of pCO sistema user interfaces designed to offer higher versatility and extensive customisation possibilities. When designing these terminals, CAREL focused special attention on simplicity of programming and the quality of performance, while maintaining a high aesthetic standard. The terminals have a 132x64 pixel backlit display, green or white, and a 6 button keypad.
pGD1 features a keypad that repeats the symbols used on the pCO2/3 built-in display, while pGDE uses the symbols from the built-in keypad on the pCO5/5+/c.pCO controllers.
These terminals can display graphic symbols of various sizes and the main international alphabets, and respond to the logic of flexibility and ease of customisation that is the basis for the design of the CAREL pCO sistema family products, offering more demanding customers several customisation possibilities at affordable costs even for limited quantities. Connection to the pCO controller is available over the RS485 network using the pLAN protocol.
เอกสาร
Technical
2D/3D drawings

* Entries are ordered by date

รหัส
คำอธิบาย
ภาษา
วันที่ *
Release

รหัส

2d-3d pGD1 panel

คำอธิบาย

2D-3D drawings

ภาษา

ALL

วันที่

14/01/2014

Release

R0

Manuals

* Entries are ordered by date

รหัส
คำอธิบาย
ภาษา
วันที่ *
Release

รหัส

+030220335

คำอธิบาย

pCO sistema: Manuale generale

ภาษา

ITA

วันที่

17/04/2013

Release

1.6

รหัส

+030220336

คำอธิบาย

pCO sistema: General manual

ภาษา

ENG

วันที่

17/04/2013

Release

1.6

รหัส

+03C220336

คำอธิบาย

pCO sistema 通用手册

ภาษา

CHI

วันที่

11/05/2007

Release

1.0

Technical Leaflets

* Entries are ordered by date

รหัส
คำอธิบาย
ภาษา
วันที่ *
Release

รหัส

+050001050

คำอธิบาย

PGD1000F*0/PGD1000W* 0 / PGD1010YW0 pCO display grafico / pCO Graphic Display

ภาษา

ENG ITA

วันที่

15/12/2011

Release

1.3

รหัส

+050001051

คำอธิบาย

PGD1000F*0/PGD1000W* 0 / PGD1010YW0 pCO afficheur graphique / pCO-Grafikdisplay

ภาษา

FRE GER

วันที่

15/12/2011

Release

1.3

รหัส

+050001059

คำอธิบาย

PGD1000F*0/PGD1000W* 0 / PGD1010YW0 Графический дисплей pCO / pCO Graphic Display

ภาษา

ENG RUS

วันที่

15/12/2011

Release

1.3

รหัส

+050001052

คำอธิบาย

PGD1000F*0/PGD1000W*0 / PGD1010YW0 Wyświetlacz graficzny pCO / pCO Graphic Display

ภาษา

ENG POL

วันที่

15/12/2011

Release

1.3

รหัส

+05C001450

คำอธิบาย

PGDE000F*0/PGDE000W*0 pCO 图形显示手操器 / pCO Graphic Display

ภาษา

CHI ENG

วันที่

18/05/2010

Release

1.0

รหัส

+050001450

คำอธิบาย

PGDE000F*0/PGDE000W* 0 pCO display grafico / pCO Graphic Display

ภาษา

ENG ITA

วันที่

18/05/2010

Release

1.0

รหัส

+05C001050

คำอธิบาย

PGD1000F* 0/PGD1000W*0 pCO 图形显示手操器 / pCO Graphic Display

ภาษา

CHI ENG

วันที่

13/10/2008

Release

1.2

รหัส

+05C001060

คำอธิบาย

PGD0000N00/PGD1000N*0 pCO 图形显示手操器 / pCO graphic display

ภาษา

CHI ENG

วันที่

13/10/2008

Release

1.2

รหัส

+050001055

คำอธิบาย

PGD1000I00 pCO display grafico / pCO Graphic Display

ภาษา

ENG ITA

วันที่

13/10/2008

Release

1.2

รหัส

+050001060

คำอธิบาย

PGD0000N00/PGD1000N*0 pCO display grafico / pCO graphic display

ภาษา

ENG ITA

วันที่

13/10/2008

Release

1.2

รหัส

+050001069

คำอธิบาย

PGD0000N00/PGD1000N*0 Графический дисплей pCO / pCO graphic display

ภาษา

ENG RUS

วันที่

13/10/2008

Release

1.2
Commercial
Brochure

* Entries are ordered by date

รหัส
คำอธิบาย
ภาษา
วันที่ *
Release

รหัส

+302240373

คำอธิบาย

Retail sistema...the one solution

ภาษา

GER

วันที่

09/06/2010

Release

4.0

รหัส

+3000021DE

คำอธิบาย

PCO SISTEMA+

ภาษา

GER

วันที่

01/03/2010

Release

1.0

รหัส

+3000021EN

คำอธิบาย

PCO SISTEMA+

ภาษา

ENG

วันที่

01/03/2010

Release

1.0

รหัส

+3000021IT

คำอธิบาย

PCO SISTEMA+

ภาษา

ITA

วันที่

01/03/2010

Release

1.0

รหัส

+3000021SV

คำอธิบาย

integrerade lösningar för högpresterande enheter

ภาษา

SWE

วันที่

01/03/2010

Release

1.0

รหัส

+302240480

คำอธิบาย

retail sistema: soluzione integrata per il controllo e il risparmio energetico nella refrigerazione commerciale

ภาษา

ITA

วันที่

01/03/2008

Release

1.1

รหัส

+302240481

คำอธิบาย

retail sistema integrated solution for control and energy savings in commercial refrigeration

ภาษา

ENG

วันที่

01/03/2008

Release

1.1

รหัส

+30C240481

คำอธิบาย

retail sistema 商业制冷中 控制与节能的 整体解决方案

ภาษา

CHI

วันที่

01/03/2008

Release

1.1

รหัส

+302240374

คำอธิบาย

Retail sistema...the one solution

ภาษา

SPA

วันที่

07/02/2007

Release

4.1

รหัส

+302240375

คำอธิบาย

retail sistema...the one solution

ภาษา

POR

วันที่

07/02/2007

Release

4.1

รหัส

+302240377

คำอธิบาย

retail... the one solution

ภาษา

RUS

วันที่

07/02/2007

Release

4.1

รหัส

+302240370

คำอธิบาย

Retail Solutions... the one solution

ภาษา

IND

วันที่

09/10/2006

Release

4.0

รหัส

+302240371

คำอธิบาย

Retail sistema...the one solution

ภาษา

ENG

วันที่

09/10/2006

Release

4.0

รหัส

+302239450

คำอธิบาย

Soluzioni integrate per rooftop

ภาษา

ITA

วันที่

01/10/2006

Release

1.0

รหัส

+302239451

คำอธิบาย

Integrated solutions for rooftop units

ภาษา

ENG

วันที่

01/10/2006

Release

1.0

รหัส

+302239381

คำอธิบาย

precision and shelter units

ภาษา

ENG

วันที่

01/03/2006

Release

1.0

รหัส

+302238321

คำอธิบาย

pCO sistema: programmable controllers

ภาษา

ENG

วันที่

15/02/2006

Release

1.0

รหัส

+302238320

คำอธิบาย

pCO sistema: controlli programmabili

ภาษา

ITA

วันที่

15/02/2006

Release

1.0

รหัส

+302238323

คำอธิบาย

pCO sistema: Programmierbare Steuerungen

ภาษา

GER

วันที่

15/02/2006

Release

1.0

รหัส

+30C238321

คำอธิบาย

pCO sistema 可编程控制器

ภาษา

CHI

วันที่

15/02/2006

Release

1.0

รหัส

+302238301

คำอธิบาย

pCO sistema: Programmable graphic displays

ภาษา

ENG

วันที่

10/10/2005

Release

1.0

รหัส

+30C238301

คำอธิบาย

pCO sistema: 可编程图形化显示器

ภาษา

CHI

วันที่

10/10/2005

Release

1.0

รหัส

+302238300

คำอธิบาย

pCO sistema: Display grafici programmabili

ภาษา

ITA

วันที่

10/10/2005

Release

1.0

รหัส

+302235350

คำอธิบาย

Soluzioni di controllo per panificazione e abbattitori

ภาษา

ITA

วันที่

01/10/2005

Release

1.0
Images
High resolution images

* Entries are ordered by date

รหัส
คำอธิบาย
ภาษา
วันที่ *
Release

รหัส

PH11LPG30G-pGD1

คำอธิบาย

pGD1-CAREL-TerminalsUnit-Terminals

ภาษา

ALL

วันที่

01/09/2021

Release

R.0

รหัส

PH11LPG30F-pGD1

คำอธิบาย

pGD1-CARELT-erminals-UnitTerminals

ภาษา

ALL

วันที่

01/09/2021

Release

R.0

รหัส

PH11LPG30A-pGDe

คำอธิบาย

pGDe-CAREL-Terminals-Unit Terminals

ภาษา

ALL

วันที่

01/09/2021

Release

R.0