easy milk chiller
PJS1*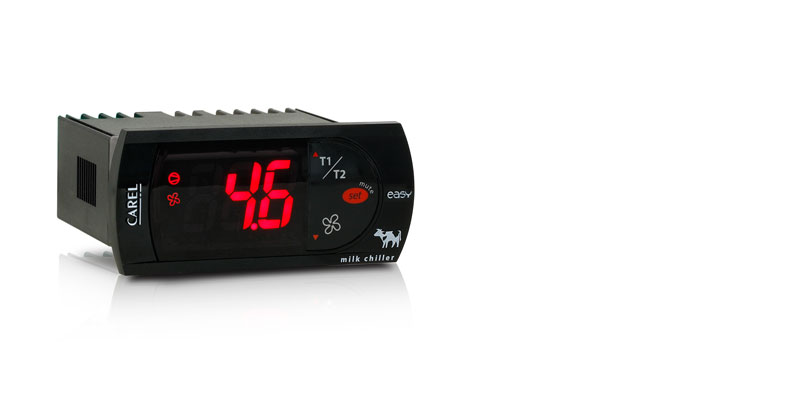 ลักษณะทั่วไป

milk chiller is the new controller of the easy series range, specific for the conservation and refrigeration of milk.
It shares the same features and functions of the easy series range: aesthetically pleasant, easy to install, customise and configure.

milk chiller can be also used for other applications: dryers, metering devices, mixers. The second output can in fact be used to manage a generic actuator (cyclical on/off with variable duty cycle). In these cases, the milk chiller faceplate can be replaced with the CAREL standard.
เอกสาร
Technical
2D/3D drawings

* Entries are ordered by date

รหัส
คำอธิบาย
ภาษา
วันที่ *
Release

รหัส

2d-3d easy

คำอธิบาย

2D-3D drawings

ภาษา

ALL

วันที่

15/10/2013

Release

R0

Technical Leaflets

* Entries are ordered by date

รหัส
คำอธิบาย
ภาษา
วันที่ *
Release

รหัส

+050004141

คำอธิบาย

PJS1* easy - controlli elettronici per milk chiller / electronic controller for milk chiller

ภาษา

ENG ITA

วันที่

03/06/2009

Release

1.1

รหัส

+050004143

คำอธิบาย

PJEZ* easy - controller electronic pentru unitati statice/ventilate pentru temperature joase / Sterownik elektroniczny dla jednostek nisko i średnio temperaturowych z bez wentylatora parownika i wyposażonych w wentylator parownika

ภาษา

ENG FRE GER POL ROM SPA

วันที่

03/06/2009

Release

1.5
Commercial
Brochure

* Entries are ordered by date

รหัส
คำอธิบาย
ภาษา
วันที่ *
Release

รหัส

+30C240621

คำอธิบาย

easy milk chiller 牛奶质量尽在掌控

ภาษา

CHI

วันที่

14/11/2008

Release

1.1

รหัส

+302240620

คำอธิบาย

easy milk chiller: qualità del latte sotto controllo

ภาษา

ITA

วันที่

14/11/2008

Release

1.1

รหัส

+302240621

คำอธิบาย

easy milk chiller: milk quality under control

ภาษา

ENG

วันที่

14/11/2008

Release

1.1

รหัส

+302240625

คำอธิบาย

easy milk chiller: qualidade do leite sob controle

ภาษา

POR

วันที่

Release

รหัส

+302240626

คำอธิบาย

easy milk chiller

ภาษา

RUS

วันที่

14/11/2008

Release

1.1
Images
High resolution images

* Entries are ordered by date

รหัส
คำอธิบาย
ภาษา
วันที่ *
Release

รหัส

PH11LEZ30B-easy-milk-chiller

คำอธิบาย

CAREL easy milk chiller - easy series for display cabinets, showcase and refrigerated cabinets - Refrigeration Parametric Controls

ภาษา

ALL

วันที่

10/03/2022

Release

R.0