iJ platform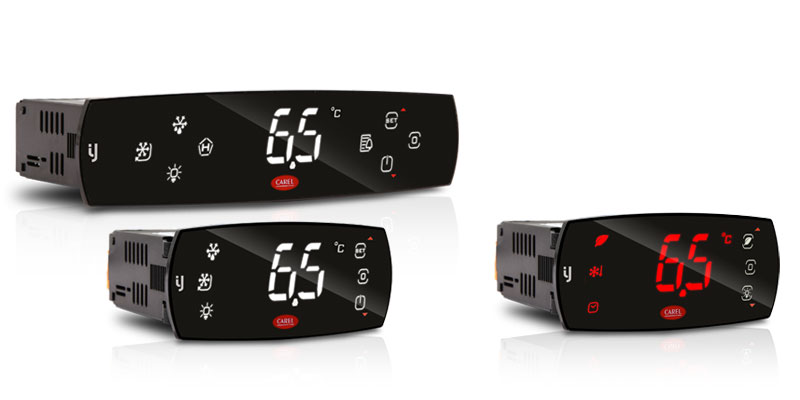 ลักษณะทั่วไป

The new iJ controller platform has been designed to meet the needs of the commercial refrigeration controller market. The range features highly appealing aesthetics, customisable elements and NFC and Bluetooth®.
The technical specifications also stand out, including management of variable-speed compressors (VCC), humidity and modulating devices.
The iJ product family has been developed as the synthesis between the ir33 and PJ easy ranges.

The iJ platform offers two product variants: the SMALL version, capable of managing up to 4 relays, and the LARGE version, capable of managing up to 6 relays.

Each version is available in different formats:

PANEL, built-in, all-in-one solution
SPLIT + Human Machine Interface (HMI), offering the possibility to install the power board and interface separately, so as to adapt to the space available.
SPLIT with the stand-alone power board only. This does not need the HMI to function: interaction with the controller is available to authorised service personnel only, using a dedicated app.

The dimensions of the drilling template are standard for all available formats: PANEL, HMI and SPLIT.


เพิ่ม

Create your style

Wide range of parametric controllers for commercial refrigeration with a distinctive and elegant design, and a high degree of customisation. Custom aesthetics can be created using design elements such as textures and brand graphics and colours. The display can be customised with a specific keypad for the application.

Simply connected

The new iJ platform focuses on the user experience, moving interaction from the controller keypad to mobile devices, using dedicated apps. NFC connectivity, available on the entire range, allows the unit to be programmed even when the controller is powered off, while the Bluetooth® option enables temperature logging functions with the data exported in Excel format and live monitoring of the variables.

Fit and empower your unit

The most suitable hardware is available for every solution, with all-in-one option modules for humidity management via dedicated probe, management of VCC compressors, and control of modulating loads. The best configuration can be chosen for each application so as to obtain the highest performance.