iJW for smarter field commissioning
IJW*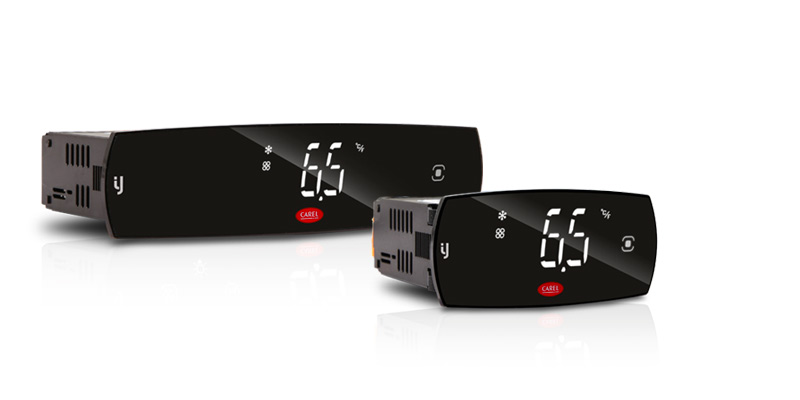 ลักษณะทั่วไป

iJW is the new range of CAREL controllers for refrigeration, aimed at refrigeration engineers operating in the distribution channel. Suitable for both new installations and retrofits, iJW has been designed to simplify the replacement and configuration of the controller on display cabinets, bottle coolers, plug-ins, chest freezers and in many other applications.

Native NFC and Bluetooth connectivity allows quick and intuitive interfacing to smartphones via the CAREL APPLICA app. The new Wizard for configuring iJW based on the application requirements and system specifications, makes it much simpler to set up the new controller.

The built-in BMS connectivity port can be used for local and/or remote monitoring without needing for a converter for communication with the supervisor system.

The frameless, capacitive touch design gives an elegant and professional touch, while also making cleaning easier. The controller's minimal appearance makes it easy to integrate aesthetically into any type of application and context.

Product part number
Format
Application
(No. of relays)
BT
IJWPSA2N01S0724
Small
Medium temperature
(2)
No
IJWPSA2B02S0519
Small
Medium temperature
(2)
Yes
IJWPSA4N01S0527
Small
Low temperature
Medium temperature
(4)
No
IJWPSA4R02S0518
Small
Low temperature (BMS CAREL protocol)
Medium temperature (BMS CAREL protocol)
(4)
No
IJWPSA4B02S0523
Small
Low temperature
Medium temperature
(4)
Yes
IJWPSA4B07S0517
Small
Low temperature
Medium temperature
Humidity
(4)
Yes
IJWPLA6B07S0516
Large
Low temperature
Medium temperature
Humidity
(6)
Yes

เพิ่ม

Versatility

The ideal solution for technical service in the field, both for new installations and for replacement and/or maintenance. A small number of product versions can cover a wide variety of refrigeration applications, such as catering displays, bottle coolers, multiplexed cabinets, refrigerated display cases, chest freezers, etc.

Connectivity and simplicity

iJW simplifies the initial configuration of the controller using the Wizard, a multilingual procedure that guides users step-by-step through the entire unit commissioning process. The configuration can then be saved to a smartphone, shared with contacts and subsequently imported to other similar units, saving time and optimising the scheduling of activities.

HACCP

The Bluetooth® option also enables live monitoring of variables and access to the temperature log. The temperature and alarm logs are easy to export, simplifying compliance with the HACCP protocol for the end user.

Usability and navigability

Removable connectors simplify wiring and installation. In addition, the capacitive touch screen keypad, backlit icons and buttons and wide display provide clear visibility and easy and immediate interaction, also for end users.
เอกสาร
Technical
Manuals

* Entries are ordered by date

รหัส
คำอธิบาย
ภาษา
วันที่ *
Release

รหัส

+0300103ES

คำอธิบาย

iJW Controlador electrónico para intervenciones in situ y en nuevas instalaciones

ภาษา

SPA

วันที่

14/09/2022

Release

1.0

รหัส

+0300103FR

คำอธิบาย

iJW Commande électronique d'intervention in situ et nouvelles installations

ภาษา

FRE

วันที่

14/09/2022

Release

1.0

รหัส

+0300103PT

คำอธิบาย

iJW Controle eletrônico para intervenções em campo e novas instalações

ภาษา

POR

วันที่

14/09/2022

Release

1.0

รหัส

+0300103PL

คำอธิบาย

'iJW Sterownik elektroniczny dla serwisu terenowego i nowych instalacji

ภาษา

POL

วันที่

14/09/2022

Release

1.0

รหัส

+0300103ZH

คำอธิบาย

iJW Electronic controller for field service and new installations - CHI

ภาษา

CHI

วันที่

14/09/2022

Release

1.0

รหัส

+0300103IT

คำอธิบาย

iJW Controllo elettronico per interventi sul campo e nuove installazioni

ภาษา

ITA

วันที่

14/09/2022

Release

1.0

รหัส

+0300103EN

คำอธิบาย

iJW Electronic controller for field service and new installations

ภาษา

ENG

วันที่

14/09/2022

Release

1.0

รหัส

+0300103DE

คำอธิบาย

iJW Elektronische Steuerung für Vor-Ort-Einsätze und Neuinstallationen

ภาษา

GER

วันที่

14/09/2022

Release

1.0

Technical Leaflets

* Entries are ordered by date

รหัส
คำอธิบาย
ภาษา
วันที่ *
Release

รหัส

+0500167ML

คำอธิบาย

iJW Tecnical Characteristics

ภาษา

ARA CHI DAN ENG FIN FRE GER GRE HUN IND ITA KOR NOR POL POR RUS SER SLO SPA SWE THA

วันที่

06/03/2023

Release

2.1

รหัส

+0500166ML_SPA

คำอธิบาย

iJW* SMALL DE CUATRO RELÉS GUÍA RÁPIDA

ภาษา

SPA

วันที่

28/07/2022

Release

2.0

รหัส

+0500165ML_FRE

คำอธิบาย

iJW* LARGE 6 RELAY GUIDE RAPIDE

ภาษา

FRE

วันที่

28/07/2022

Release

2.0

รหัส

+0500165ML_GER

คำอธิบาย

iJW* LARGE 6 RELAIS SCHNELLANLEITUNG

ภาษา

GER

วันที่

28/07/2022

Release

2.0

รหัส

+0500165ML_ITA

คำอธิบาย

iJW* LARGE 6 RELÈ GUIDA RAPIDA

ภาษา

ITA

วันที่

28/07/2022

Release

2.0

รหัส

+0500165ML_SPA

คำอธิบาย

iJW* LARGE DE SEIS RELÉS GUÍA RÁPIDA

ภาษา

SPA

วันที่

28/07/2022

Release

2.0

รหัส

+0500166ML_FRE

คำอธิบาย

iJW* SMALL 4 RELAY GUIDE RAPIDE

ภาษา

FRE

วันที่

28/07/2022

Release

2.0

รหัส

+0300166ML_GER

คำอธิบาย

iJW* SMALL 4 RELAY START GUIDE

ภาษา

GER

วันที่

28/07/2022

Release

2.0

รหัส

+03001166ML_ITA

คำอธิบาย

iJW* SMALL 4 RELÈ GUIDA RAPIDA

ภาษา

ITA

วันที่

28/07/2022

Release

2.0

รหัส

+0500168ML_FRE

คำอธิบาย

iJW* SMALL 2 RELAY GUIDE RAPIDE

ภาษา

FRE

วันที่

28/07/2022

Release

2.0

รหัส

+0500168ML_GER

คำอธิบาย

iJW* SMALL 2 RELAIS SCHNELLANLEITUNG

ภาษา

GER

วันที่

28/07/2022

Release

2.0

รหัส

+0500168ML_SPA

คำอธิบาย

iJW* SMALL DE DOS RELÉS GUÍA RÁPIDA

ภาษา

SPA

วันที่

28/07/2022

Release

2.0

รหัส

+0500168ML_ITA

คำอธิบาย

iJW* SMALL 2 RELÈ GUIDA RAPIDA

ภาษา

ITA

วันที่

28/07/2022

Release

2.0

รหัส

+0500166ML

คำอธิบาย

iJW Small 4 Relay Start Guide

ภาษา

ENG

วันที่

28/07/2022

Release

2.0

รหัส

+0500168ML

คำอธิบาย

iJW Small 2 Relay Start Guide

ภาษา

ENG

วันที่

28/07/2022

Release

2.0

รหัส

+0500169ML

คำอธิบาย

Warnings

ภาษา

ARA CHI DAN ENG FIN FRE GER GRE HUN IND ITA KOR NOR POL POR RUS SER SLO SPA SWE THA

วันที่

28/07/2022

Release

2.0

รหัส

+0500165ML

คำอธิบาย

iJW Large 6 Relay Start Guide

ภาษา

ENG

วันที่

28/07/2022

Release

2.0
Commercial
Brochure

* Entries are ordered by date

รหัส
คำอธิบาย
ภาษา
วันที่ *
Release

รหัส

+3000235PL

คำอธิบาย

iJw - Inteligentne rozwiązanie dla chłodnictwa do modernizacji istniejących systemów i nowych instalacji

ภาษา

POL

วันที่

29/09/2022

Release

1.1

รหัส

+3000235FR

คำอธิบาย

iJw - La solution «smart» de réfrigération pour des équipements déjà en place ou nouvellement installés

ภาษา

FRE

วันที่

29/09/2022

Release

1.1

รหัส

+3000235EN

คำอธิบาย

iJW - The smart solution for refrigeration for field service and new installations

ภาษา

ENG

วันที่

29/09/2022

Release

1.1

รหัส

+3000235IT

คำอธิบาย

iJW - La soluzione "smart" per la refrigerazione per interventi sul campo e nuove installazioni

ภาษา

ITA

วันที่

29/09/2022

Release

1.1
Images
High resolution images

* Entries are ordered by date

รหัส
คำอธิบาย
ภาษา
วันที่ *
Release

รหัส

PH21LIJ309-iJ-w

คำอธิบาย

CAREL iJW for smarter field commissioning - iJ platform - Refrigeration Parametric Controls

ภาษา

ALL

วันที่

29/09/2022

Release

R.0

รหัส

PH21LIJ30B-iJ-w-large

คำอธิบาย

CAREL iJW for smarter field commissioning - iJ platform - Refrigeration Parametric Controls

ภาษา

ALL

วันที่

29/09/2022

Release

R.0