compactSteam
CH*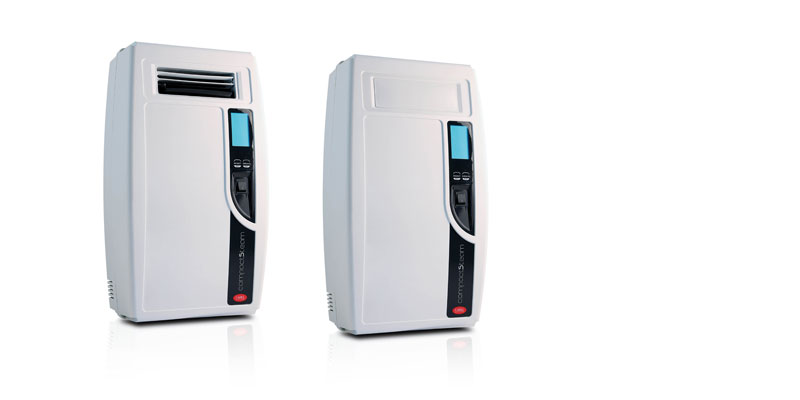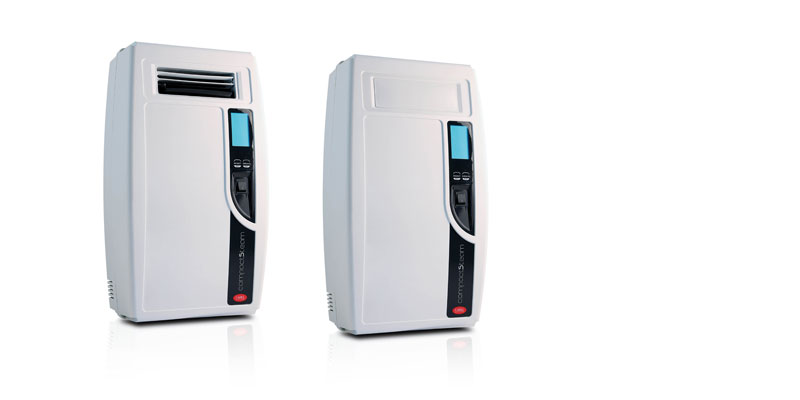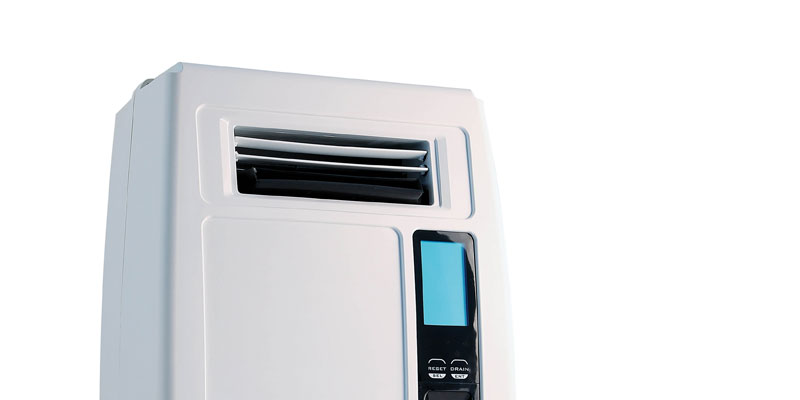 ลักษณะทั่วไป

compactSteam is the CAREL proposal for the humidification of prestigious residential environments, professional offices or small and medium retail premises.
compactSteam is an immersed electrode humidifier, with following main features:

elegant and discrete design, ideal for installation in any environment;

silent, built-in steam dispenser, with adjustable louvers;

large graphic LCD for easy understanding;

market-leading functionality, safety and user friendliness;

models from 1.6 to 5.4 kg/h;

electrical and water connections can be completely concealed, and drain water temperature never exceeds 60 °C.

If no humidification is needed for more than 3 days in a row, the unit is automatically drained for maximum hygiene.
A version without built-in dispenser is also available, for steam distribution in the duct.

Control
The sophisticated microprocessor controller automatically manages all unit functions, and includes a self-diagnostic system with simple and intuitive indications, both numeric and icons, on the large LCD.
The controller includes an ON/OFF and proportional 0 to 10 V input, a remote enabling input, an alarm relay, an input for a flow sensor and a 24 V power supply output. Steam production is modulated continuously from 20% to maximum capacity, and water level is controlled by a solenoid fill valve and a drain pump.
Room humidity control is managed by an external humidistat (e.g. clima); this is powered by compactSteam and can manage the unit proportionally, for even more precise and comfortable humidity control.

TECHNICAL SPECIFICATIONS
Steam production: 1.6-5.4 kg/h (1 cylinder)
Power supply:
CH*01V1*, CH*02V1*: 110 Vac single-phase (-15/+10%) 50/60 Hz
CH*01V2*, CH*02V2*, CH*03V2*,CH*05V2: 208/230 Vac single-phase (-15/+10%) 50/60 Hz
Power consumption: 1.2-3.9 kW
Steam pressure (Pa): built-in fan: 400; duct: 1000
Steam hose: Ø 22 mm
Operating conditions: 1T40 °C, 10-90% rH non-condensing
Storage conditions: -10T70 °C, 5-95% rH non-condensing
Ingress protection: IP20

เพิ่ม

elegant and discrete design

maximum capacity selectable in steps of 5%;

0-10 V proportional control and modulation from 20 to 100%;

automatic management of water concentration and foam;

remote enabling signal input and alarm relay;

automatic water drain after 3 days of inactivity

resettable cylinder operating hour counter.
เอกสาร