Power module 3PH remote
WT00*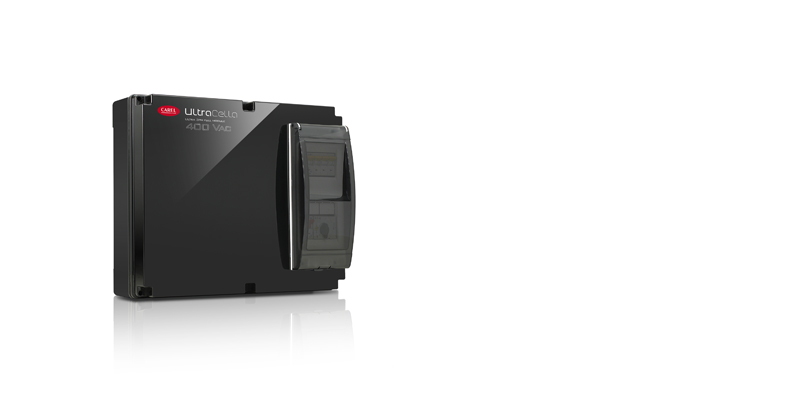 ลักษณะทั่วไป

Remote 3PH power module is an additional module that can expand the application range of the UltraCella controller by increasing load power management in three-phase applications, while assuring protection via circuit breakers, defrost thermostat and fan thermal protector.
Remote 3PH ensures ample flexibility in applications where design is an important factor. The module can be installed near the three-phase line, optimising installation times and costs thanks to the RS485 connection between the module and UltraCella.
Available in a version for management of three-phase evaporators with defrosts up to 20 kW and fans up to 4 kW, plus a version for complete management of a three-phase cold room with compressor up to 20 A.
เอกสาร
Technical
2D/3D drawings

* Entries are ordered by date

Technical Leaflets

* Entries are ordered by date

รหัส
คำอธิบาย
ภาษา
วันที่ *
Release

รหัส

+0500095IE

คำอธิบาย

Ultra 3PH Evaporator Module Modulo di espansione di UltraCella per il controllo di evaporatori trifase UltraCella expansion module for the control of evaporator units

ภาษา

ENG ITA

วันที่

30/09/2020

Release

1.3

รหัส

+0500095FD

คำอธิบาย

'Module d'expansion Ultracella pour le contrôle d'évaporateurs triphasés / UltraCella-Erweiterungsmodul für die Ansteuerung von dreiphasigen Verdampfern

ภาษา

FRE GER

วันที่

30/09/2020

Release

1.3

รหัส

+0500096FD

คำอธิบาย

'Module d'expansion Ultracella pour le contrôle des unités de condensation et des évaporateurs triphasés UltraCella-Erweiterungsmodul für die Ansteuerung von Verflüssigersätzen und dreiphasigen Verdampfern

ภาษา

FRE GER

วันที่

18/11/2015

Release

1.2

รหัส

+0500096IE

คำอธิบาย

UltraCella 3PH Full Module Modulo di espansione di UltraCella per il controllo di moto condensanti ed evaporatori trifase UltraCella expansion module for the control of three-phase condensing and evaporator units

ภาษา

ENG ITA

วันที่

08/11/2015

Release

1.2
Commercial
Other related documentation

* Entries are ordered by date

รหัส
คำอธิบาย
ภาษา
วันที่ *
Release

รหัส

+3000192IT

คำอธิบาย

Cella Range Soluzioni per celle frigorifere

ภาษา

ITA

วันที่

02/10/2019

Release

2.0

รหัส

+3000192EN

คำอธิบาย

Cella Range Solutions for cold rooms

ภาษา

ENG

วันที่

02/10/2019

Release

2.0

รหัส

+3000192DE

คำอธิบาย

Cella Range Lösungen für Kühlräume

ภาษา

GER

วันที่

02/10/2019

Release

2.0

รหัส

+3000192ES

คำอธิบาย

Cella Range Soluciones para cámaras frigoríficas

ภาษา

SPA

วันที่

02/10/2019

Release

2.0