MasterCella
MD33*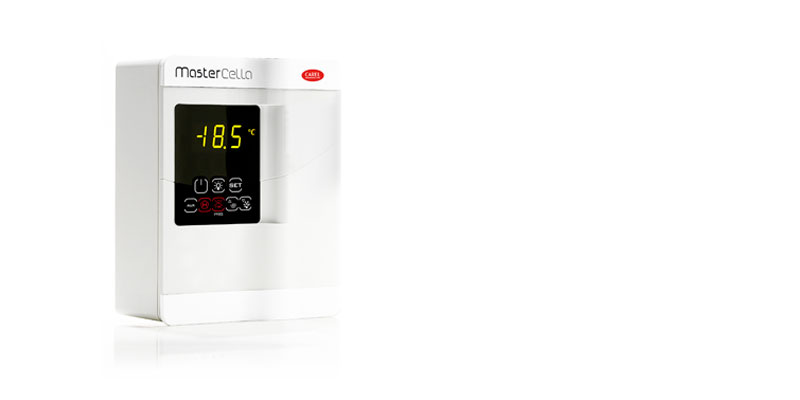 ลักษณะทั่วไป

MasterCella represents one of the leading products in the refrigeration range offered by CAREL.
Exploiting the experience acquired over recent years, MasterCella has been upgraded and proposed in a modern design, so as to better respond to customer expectations.
The new generation MasterCella is the response to the need for integrated cold room solutions.
Its innovative design and series of functions make MasterCella the benchmark in the refrigeration market.

เพิ่ม

More space available for wiring;
possibility to install a main switch;
cables enter from below or above;
clock for real time defrosts;
HACCP functions;
large number of customisation options, thanks to the removable plastic front panel.

These features ensure that MasterCella is the best solution available on the market.
เอกสาร
Technical
2D/3D drawings

* Entries are ordered by date

รหัส
คำอธิบาย
ภาษา
วันที่ *
Release

รหัส

2d-3d MasterCella_MD33

คำอธิบาย

2d-3d drawings

ภาษา

ALL

วันที่

07/04/2015

Release

R0

Manuals

* Entries are ordered by date

รหัส
คำอธิบาย
ภาษา
วันที่ *
Release

รหัส

+030220447

คำอธิบาย

ir33 platform conexiones / connections

ภาษา

ENG SPA

วันที่

31/05/2016

Release

2.3

รหัส

+030220445

คำอธิบาย

ir33 platform connessioni / connections

ภาษา

ENG ITA

วันที่

27/04/2011

Release

2.3

รหัส

+03C220445

คำอธิบาย

ir33 platform

ภาษา

CHI

วันที่

27/04/2011

Release

2.3

รหัส

+030220441

คำอธิบาย

ir33 platform

ภาษา

ENG

วันที่

16/06/2010

Release

2.5

รหัส

+030220444

คำอธิบาย

ir33 platform

ภาษา

SPA

วันที่

16/06/2010

Release

2.5

รหัส

+030220449

คำอธิบาย

ir33 platform

ภาษา

RUS

วันที่

16/06/2010

Release

2.5

รหัส

+030220440

คำอธิบาย

ir33 platform

ภาษา

ITA

วันที่

16/06/2010

Release

2.5

Technical Leaflets

* Entries are ordered by date

รหัส
คำอธิบาย
ภาษา
วันที่ *
Release

รหัส

+050004109

คำอธิบาย

MasterCella - Caratteristiche tecniche e fasi di montaggio / Technical specifications and assembly phases / Caractéristiques techniques et phases de montage / Technische daten und Montage / Características técnicas y fases de montaje / Caracteristicas tecnicas e fases da montagem

ภาษา

ENG FRE GER POR ROM

วันที่

08/01/2008

Release

2.1
Commercial
Brochure

* Entries are ordered by date

รหัส
คำอธิบาย
ภาษา
วันที่ *
Release

รหัส

+3000192PL

คำอธิบาย

Linia Cella Rozwiązania dla chłodni

ภาษา

POL

วันที่

02/10/2019

Release

2.0

รหัส

+302238185

คำอธิบาย

Controlador electrónico para câmaras frigorífi cas

ภาษา

POR

วันที่

02/05/2007

Release

1.1

รหัส

+302238184

คำอธิบาย

Control electrónico para cámaras frigorífi cas

ภาษา

SPA

วันที่

01/09/2006

Release

1.0

รหัส

+302238180

คำอธิบาย

Controllo elettronico per celle frigorifere

ภาษา

ITA

วันที่

01/09/2006

Release

1.0

รหัส

+302238181

คำอธิบาย

Electronic controller for cold rooms

ภาษา

ENG

วันที่

01/09/2006

Release

1.0

รหัส

+302238182

คำอธิบาย

Contrôle électronique pour chambres froides

ภาษา

FRE

วันที่

01/09/2006

Release

1.0

รหัส

+302238183

คำอธิบาย

Elektronische Steuerung für Kühlräume

ภาษา

GER

วันที่

01/09/2006

Release

1.0

รหัส

+302238186

คำอธิบาย

Электронный контроллер для холодильных камер

ภาษา

RUS

วันที่

01/09/2006

Release

1.0

Other related documentation

* Entries are ordered by date

รหัส
คำอธิบาย
ภาษา
วันที่ *
Release

รหัส

+3000192IT

คำอธิบาย

Cella Range Soluzioni per celle frigorifere

ภาษา

ITA

วันที่

02/10/2019

Release

2.0

รหัส

+3000192EN

คำอธิบาย

Cella Range Solutions for cold rooms

ภาษา

ENG

วันที่

02/10/2019

Release

2.0

รหัส

+3000192DE

คำอธิบาย

Cella Range Lösungen für Kühlräume

ภาษา

GER

วันที่

02/10/2019

Release

2.0

รหัส

+3000192ES

คำอธิบาย

Cella Range Soluciones para cámaras frigoríficas

ภาษา

SPA

วันที่

02/10/2019

Release

2.0

Success Story

* Entries are ordered by date

รหัส
คำอธิบาย
ภาษา
วันที่ *
Release

รหัส

+4000057EN

คำอธิบาย

Energy savings in cold rooms

ภาษา

ENG

วันที่

20/11/2023

Release

2.0

รหัส

+4000057IT

คำอธิบาย

Risparmio energetico nelle celle frigo

ภาษา

ITA

วันที่

20/11/2023

Release

2.0

รหัส

+4000057ES

คำอธิบาย

Ahorro energético en las cámaras frigoríficas

ภาษา

SPA

วันที่

20/04/2017

Release

1.0

รหัส

+4000057NL

คำอธิบาย

Energiebesparing in koelcellen

ภาษา

DUT

วันที่

20/04/2017

Release

1.0

รหัส

+4000057FR

คำอธิบาย

Économie d'énergie dans les cellules frigorifiques

ภาษา

FRE

วันที่

20/04/2017

Release

1.0

รหัส

+4000057DE

คำอธิบาย

Energie sparen bei Kühlräumen

ภาษา

GER

วันที่

20/04/2017

Release

1.0
Images
High resolution images

* Entries are ordered by date

รหัส
คำอธิบาย
ภาษา
วันที่ *
Release

รหัส

PH15LMD301-MasterCella

คำอธิบาย

CAREL-Refrigeration Parametric Controls-Cella Range-MasterCella

ภาษา

ALL

วันที่

21/09/2021

Release

R.0