µRack
U20R00MRK0*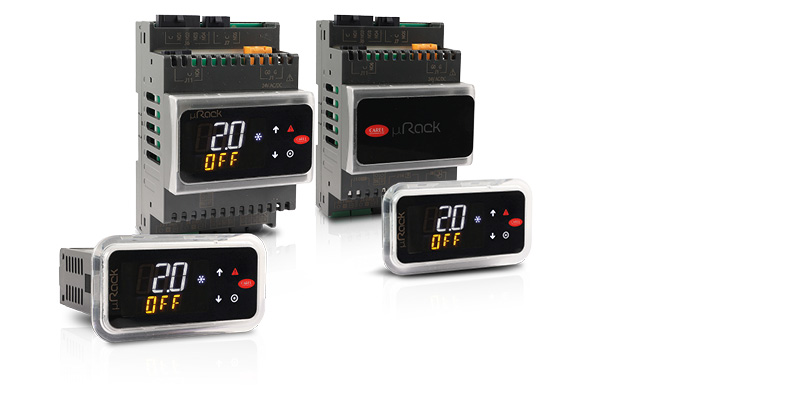 ลักษณะทั่วไป

uRack is the CAREL controller for condensing units and compact compressor racks operating with HFCs and HFOs. The completely new and upgraded hardware platform places the focus firmly on connectivity. Indeed, all uRack functions can be configured directly in the Applica app on your smartphone, connected the controller via Bluetooth or NFC. Two compressor lines (with up to 4+2 compressors), energy saving options (floating condensing stage control, compressor and fan modulation), compressor protection against liquid return and generic functions that can be set directly in the palm of your hand using the Applica app: everything can be easily configured via a user interface that simplifies unit configuration and commissioning in the field.
Completing the connectivity options is a BMS port, available on the entire range, for connection to supervisory systems.

| | |
| --- | --- |
| | µRack CO2: transcritical CO2 management |

เพิ่ม

Complete management of the compressor rack or condensing unit

Energy saving functions, compressor protection from liquid return, up to two suction lines with 4 and 2 compressors respectively, up to 4 condenser fans.

Simplified unit configuration

Configuration wizard to guide the user, intuitive interface in the Applica app connected to the controller via BLE or NFC.

Versatile controller

Compact dimensions, with panel or DIN rail mounting, suitable for various applications such as condensing units and compressor racks.

Built-in supervisor connection

Thanks to the BMS port available on the entire range.
เอกสาร
Technical
Manuals

* Entries are ordered by date

รหัส
คำอธิบาย
ภาษา
วันที่ *
Release

รหัส

+0300026IT

คำอธิบาย

μRack Soluzione per moto-condensanti e centrali frigorifere compatte

ภาษา

ITA

วันที่

30/01/2023

Release

1.0

รหัส

+0300026EN

คำอธิบาย

μRack Controller for condensing units and compact compressor racks

ภาษา

ENG

วันที่

30/01/2023

Release

1.0

รหัส

+0300026PL

คำอธิบาย

μRack Sterownik dla skraplaczy i kompaktowych zespołów sprężarkowych

ภาษา

POL

วันที่

30/01/2023

Release

2.0

รหัส

+0300026ZH

คำอธิบาย

μRack Controller for condensing units and compact compressor racks

ภาษา

CHI

วันที่

30/01/2023

Release

2.0

Technical Leaflets

* Entries are ordered by date

รหัส
คำอธิบาย
ภาษา
วันที่ *
Release

รหัส

+0500149IE

คำอธิบาย

ACU product technical leaflet Controllo elettronico / Electronic control

ภาษา

ENG ITA

วันที่

31/08/2023

Release

1.8

รหัส

+0500210IE

คำอธิบาย

μRack Soluzione per motocondensanti e centrali frigorifere compatte / Solution for condensing units and compact compressor racks

ภาษา

ENG ITA

วันที่

21/02/2023

Release

1.0
Commercial
Brochure

* Entries are ordered by date

รหัส
คำอธิบาย
ภาษา
วันที่ *
Release

รหัส

+3000233EN

คำอธิบาย

μRack - Solution for condensing units and compact compressor racks

ภาษา

ENG

วันที่

03/02/2023

Release

1.2

รหัส

+3000233IT

คำอธิบาย

μRack - Soluzione per moto-condensanti e centrali frigorifere compatte

ภาษา

ITA

วันที่

03/02/2023

Release

1.2

Success Story

* Entries are ordered by date

รหัส
คำอธิบาย
ภาษา
วันที่ *
Release

รหัส

+4000085IT

คำอธิบาย

Connettività e risparmio energetico con il nuovo µRack

ภาษา

ITA

วันที่

06/12/2022

Release

1.0

รหัส

+4000085EN

คำอธิบาย

Connectivity and energy saving with the new µRack

ภาษา

ENG

วันที่

06/12/2022

Release

1.0
Images
High resolution images

* Entries are ordered by date

รหัส
คำอธิบาย
ภาษา
วันที่ *
Release

รหัส

PH21LPR307-µRack-range

คำอธิบาย

CAREL µRack range - Compressor rack - Food Retail

ภาษา

ALL

วันที่

08/11/2022

Release

R.0

รหัส

PH21LPR304-µRack-DIN-Advanced

คำอธิบาย

CAREL µRack DIN-Advanced - Compressor rack - Food Retail

ภาษา

ALL

วันที่

08/11/2022

Release

R.0

รหัส

PH21LPR303-µRack-DIN-Medium

คำอธิบาย

CAREL µRack DIN-Medium - Compressor rack - Food Retail

ภาษา

ALL

วันที่

08/11/2022

Release

R.0

รหัส

PH21LPR305-µRack-range

คำอธิบาย

CAREL µRack range - Compressor rack - Food Retail

ภาษา

ALL

วันที่

08/11/2022

Release

R.0

รหัส

PH21LPR302-µRack-panel

คำอธิบาย

CAREL µRack panel - Compressor rack - Food Retail

ภาษา

ALL

วันที่

08/11/2022

Release

R.0