Condensing units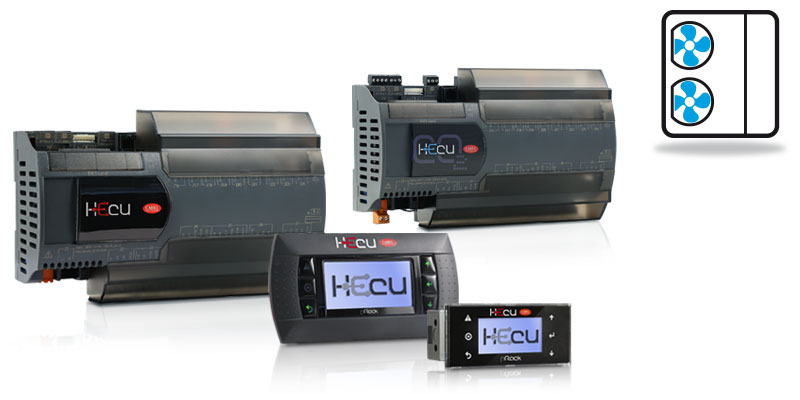 ลักษณะทั่วไป

Hecu is the High Efficiency Condensing Unit proposed by CAREL for commercial refrigeration systems using traditional HFC refrigerants or natural refrigerants such as CO2.
It is part of the fastest growing food retail segment, i.e. small supermarkets and convenience stores, thanks to its ability to serve up to five cabinets with a compact condensing unit.
Its distinctive features are the use of DC inverter technology and real-time synchronisation with the refrigeration units, through synergy with the MPXPRO cabinet controllers in Hecu Sistema.
Hecu ensures compliance with the new regulations in terms of environmental sustainability that promote low energy consumption (Eco-design directive) and low GWP refrigerants (F-Gas regulation).
Control stability ensures high quality preservation of foodstuffs, drastically reducing waste.
Hecu Sistema is also compatible with all CAREL supervisors for monitoring each individual system or groups of systems, generating control dashboards for easier understanding and analysis of operation.


เพิ่ม

DC technology

The most efficient and widest range of modulation on the market (25-100% of capacity).

Integration with cabinets

Constant communication for dynamic set points, minimum power consumption and stable temperatures.

Solid system reliability

Safe control of compressors with DC Power+ driver, specific functions for oil management.

Optimal food preservation

Continuous modulation of the compressor and EEV electronic valves ensures perfect temperature maintenance in the cabinets: +/- 0.3°C.

Local and remote supervision

Cloud-based management of the refrigeration systems with boss and RED digital services.

Integrated all-in-one management of cold rooms

DC Cella is the combination of Hecu + UltraCella that offers all the advantages of this synergy to ensure fast installation, ease of use and optimised performance.