pR300T
PRK30T*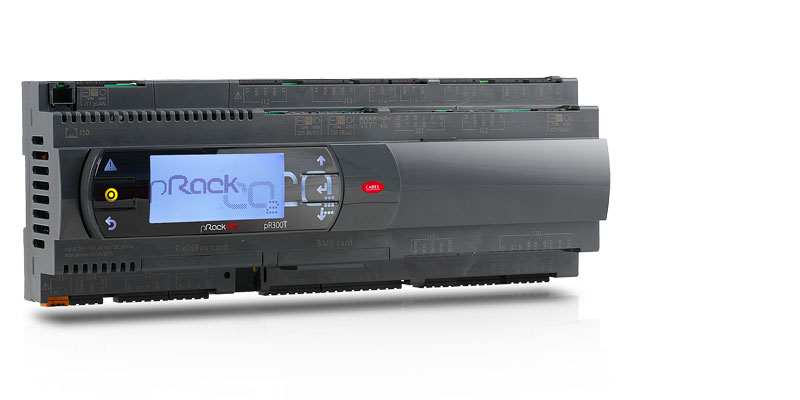 ลักษณะทั่วไป

pR300T is the ideal controller for managing CO2 booster systems.
The pRack pR300T platform is proposed on the transcritical CO2 system market as an increasingly high-performance product that helps users manage intrinsically complex units:

Complete management of transcritical CO2 systems on a single controller.
Simple and intuitive user interfaces.
Easy access to supervisory systems via BMS and programming (via serial or USB).
Safety and backup procedures.
High flexibility (multiboard layout, I/O configurability).

pRack 300T comes with a long list of functions, including:

HPV valve control (optimal algorithm for pressure calculation).
Pressure control at liquid receiver via flash valve or parallel compression line.
Management of additional backup or supplementary high pressure and flash gas valves.
Oil management (cooling-injection-separation).
Heat recovery (dual heat exchanger and gas cooler bypass).
Integration with Chillbooster (adiabatic cooling system for air-cooled condensers).
Water chiller system feature.

เพิ่ม

All of CAREL's experience in CO2 management

pR300T manages everything a transcritical system needs, from the flash valve to the high pressure valve, with advanced algorithms to maximise operating efficiency.

Custom functions

pRack offers the possibility to configure truly custom logic, adding further flexibility to the design of the compressor rack.

Local and remote supervision

Advanced local and remote supervision experience through integration with Boss and RED systems.

High Efficiency Solutions

Advanced configurations available based on pR300T using modulating DC compressors (multiDC) and EmJ ejectors.
เอกสาร
Technical
2D/3D drawings

* Entries are ordered by date

Manuals

* Entries are ordered by date

รหัส
คำอธิบาย
ภาษา
วันที่ *
Release

รหัส

+030220595

คำอธิบาย

Recupero di calore per pRack pR300T Funzionamento e configurazione Heat recovery for pRack pR300T Operation and configuration

ภาษา

ENG FRE GER ITA SPA

วันที่

13/08/2020

Release

1.2

รหัส

+0300018EN

คำอธิบาย

pRack pR300T user manual for the management of CO2 systems in transcritical conditions

ภาษา

ENG

วันที่

23/07/2020

Release

1.6

รหัส

+0300018IT

คำอธิบาย

Manuale d'uso pRack pR300T per la gestione di impianti a CO2 in regime transcritico

ภาษา

ITA

วันที่

23/07/2020

Release

1.6

รหัส

+0300018FR

คำอธิบาย

Mode d'emploi pRack pR300T pour la gestion des équipements CO2 en régime transcritique

ภาษา

FRE

วันที่

23/07/2020

Release

1.6

รหัส

+0300018DE

คำอธิบาย

Technisches Handbuch pRack pR300T für den Betrieb von transkritischen CO2-Anlagen

ภาษา

GER

วันที่

23/07/2020

Release

1.6

รหัส

+0300018ES

คำอธิบาย

pRack pR300T para la gestión de instalaciones de CO2 en régimen transcrítico

ภาษา

SPA

วันที่

23/07/2020

Release

1.6

รหัส

+0300018SV

คำอธิบาย

Användarmanual pRack pR300T för styrning av CO2-anläggningar med transkritisk drift

ภาษา

SWE

วันที่

02/05/2017

Release

1.5

รหัส

+0300018PL

คำอธิบาย

Sterownik programowalny pRack pR300T

ภาษา

POL

วันที่

02/05/2017

Release

1.5

รหัส

+030220735

คำอธิบาย

EVD EVO driver management with pRack Operation and configuration

ภาษา

ENG ITA

วันที่

19/05/2016

Release

1.0

รหัส

+030220585

คำอธิบาย

Compressione parallela per centrali transcritiche Funzione disponibile per il controllo pRack pR300T Parallel compression for transcritical systems Function available for pRack pR300T controller

ภาษา

ENG FRE GER ITA SPA

วันที่

10/12/2015

Release

1.1

Technical Leaflets

* Entries are ordered by date

รหัส
คำอธิบาย
ภาษา
วันที่ *
Release

รหัส

+0500059FR

คำอธิบาย

P+E*: c.pCOe – Expansion commande programmable / Programmable controller expansion

ภาษา

ENG FRE

วันที่

14/02/2022

Release

1.4

รหัส

+0500059IE

คำอธิบาย

P+E*: c.pCOe – Espansione controllo programmabile / Programmable controller expansion

ภาษา

ENG ITA

วันที่

14/02/2022

Release

1.4

รหัส

+050001262

คำอธิบาย

pRack HS Hardware change

ภาษา

FRE GER POR SPA

วันที่

14/09/2021

Release

1.1

รหัส

+050001261

คำอธิบาย

pRack HS Hardware change

ภาษา

ENG ITA

วันที่

14/09/2021

Release

1.1

รหัส

+0500067IE

คำอธิบาย

pRack pR300 Centrale frigorifera pRack / Rack controller pRack

ภาษา

ENG ITA

วันที่

20/02/2013

Release

1.0
Commercial
Brochure

* Entries are ordered by date

รหัส
คำอธิบาย
ภาษา
วันที่ *
Release

รหัส

+3000008DE

คำอธิบาย

pRack platform

ภาษา

GER

วันที่

18/11/2014

Release

3.2

รหัส

+3000008ES

คำอธิบาย

pRack platform solución de vanguardia para centrales frigoríficas

ภาษา

SPA

วันที่

18/11/2014

Release

3.2

รหัส

+3000008IT

คำอธิบาย

pRack platform soluzione d'avanguardia per centrali frigorifere

ภาษา

ITA

วันที่

18/11/2014

Release

3.2

รหัส

+3000008RU

คำอธิบาย

pRack platform Идеальное решение для компрессорных установок

ภาษา

RUS

วันที่

18/11/2014

Release

3.2

รหัส

+3000008FR

คำอธิบาย

pRack: solution d'avant-gard pour les centrales frigorifiques

ภาษา

FRE

วันที่

18/11/2014

Release

3.2

รหัส

+3000008EN

คำอธิบาย

pRack platform: the complete solution for compressor racks

ภาษา

ENG

วันที่

18/11/2014

Release

3.2

รหัส

+3000008PT

คำอธิบาย

pRack: Solução de vanguarda para centrais frigoríficas

ภาษา

POR

วันที่

14/02/2011

Release

2.1

Compendium

* Entries are ordered by date

รหัส
คำอธิบาย
ภาษา
วันที่ *
Release

รหัส

+4000038PT

คำอธิบาย

Tudo para as aplicações de retalho CO2

ภาษา

POR

วันที่

02/03/2015

Release

1.0

รหัส

+4000038IT

คำอธิบาย

Tutto per le applicazioni retail CO2

ภาษา

ITA

วันที่

02/03/2015

Release

1.0

รหัส

+4000038EN

คำอธิบาย

Everything for CO2 retail applications

ภาษา

ENG

วันที่

02/03/2015

Release

1.0

รหัส

+4000038FR

คำอธิบาย

Tout pour les applications de la distribution au détail CO2

ภาษา

FRE

วันที่

02/03/2015

Release

1.0

รหัส

+4000038DE

คำอธิบาย

Alles für CO2-Anwendungen im Einzelhandel

ภาษา

GER

วันที่

02/03/2015

Release

1.0

รหัส

+4000038ES

คำอธิบาย

Todo para las aplicaciones retail de CO2

ภาษา

SPA

วันที่

02/03/2015

Release

1.0

Success Story

* Entries are ordered by date

รหัส
คำอธิบาย
ภาษา
วันที่ *
Release

รหัส

+4000069EN

คำอธิบาย

First METRO Transcritical CO2 store in China Efficiency and reliability with CAREL Retail sistema

ภาษา

ENG

วันที่

26/03/2018

Release

1.0

รหัส

+4000043EN.pdf

คำอธิบาย

New BITZER training center - Fischer transcritical CO2 compressor rack with CAREL electronics at the BITZER Schaufler academy

ภาษา

ENG

วันที่

01/12/2015

Release

1.0

รหัส

+4000043IT

คำอธิบาย

Nuovo training center BITZER - Centrale frigorifera a CO2 transcritica Fischer con elettronica CAREL nella Schaufler academy BITZER

ภาษา

ITA

วันที่

01/12/2015

Release

1.0

รหัส

+4000041IT

คำอธิบาย

Refrigerazione naturale: Carrefour a CO2 con CAREL

ภาษา

ITA

วันที่

12/10/2015

Release

1.0

รหัส

+4000041EN

คำอธิบาย

Natural refrigeration: Carrefour on CO2 with CAREL

ภาษา

ENG

วันที่

12/10/2015

Release

1.0

รหัส

+4000041FR

คำอธิบาย

Réfrigération naturelle : Carrefour adopte le CO2 avec CAREL

ภาษา

FRE

วันที่

12/10/2015

Release

1.0

รหัส

+4000026ES

คำอธิบาย

CAREL full green, sistema de CO2 transcrítico. Doble recuperación de calor y triple línea de aspiración en el sistema Carrefour de Aosta.

ภาษา

SPA

วันที่

23/09/2015

Release

2.0

รหัส

+4000036IT

คำอธิบาย

Sistemi a CO2 transcritica sono oggi realtà in Lituania con CAREL nei supermercati Rimi

ภาษา

ITA

วันที่

05/11/2014

Release

1.0

รหัส

+4000036EN

คำอธิบาย

Deployment of CO2 transcritical system is a reality with CAREL in Rimi Lithuania

ภาษา

ENG

วันที่

05/11/2014

Release

1.0

รหัส

+4000036DE

คำอธิบาย

Mit CAREL Einsatz von transkritischen CO2-Systemen in Rimi-Supermärkten in Litauen

ภาษา

GER

วันที่

05/11/2014

Release

1.0

รหัส

+4000027FR

คำอธิบาย

Solution intégrée CO2 seulement pour HVAC/R Système de nouvelle génération pour l'intégration de la réfrigération, de la climatisation et du chauffage

ภาษา

FRE

วันที่

16/10/2013

Release

1.1

รหัส

+4000027ES

คำอธิบาย

Solución integral con sólo CO2 para HVAC/R Sistema de nueva generación para la integración de refrigeración, acondicionamiento y calefacción

ภาษา

SPA

วันที่

16/10/2013

Release

1.1

รหัส

+4000026FR

คำอธิบาย

CAREL full green, système CO2 transcritique. Double récupération de la chaleur et triple ligne d'aspiration dans le système Carrefour d'Aoste.

ภาษา

FRE

วันที่

Release

รหัส

+4000036ES

คำอธิบาย

Los Sistemas de CO2 transcrítico son hoy realidad en Lituania con CAREL en los supermercados Rimi

ภาษา

SPA

วันที่

05/11/2014

Release

1.0

รหัส

+4000026DE

คำอธิบาย

Transkritisches Full-Green-CO2-System von CAREL. Doppelte Wärmerückgewinnung und dreifache Saugleitung im Carrefour-System in Aosta (Italien)

ภาษา

GER

วันที่

07/10/2013

Release

1.0

รหัส

+4000026EN

คำอธิบาย

CAREL full green, transcritical CO2 system. Double heat recovery and three suction lines in Carrefour Aosta.

ภาษา

ENG

วันที่

07/10/2013

Release

1.0

รหัส

+4000026IT

คำอธิบาย

CAREL full green, sistema CO2 transcritico. Doppio recupero di calore e tripla linea di aspirazione nel sistema Carrefour di Aosta

ภาษา

ITA

วันที่

07/10/2013

Release

1.0

รหัส

+4000027DE

คำอธิบาย

Integrierte CO2-Lösung für HLKK. Innovatives System für die Integration von Kühlung, Klimatisierung und Brauchwassererwärmung

ภาษา

GER

วันที่

07/10/2013

Release

1.0

รหัส

+4000027EN

คำอธิบาย

Integrated CO2-only solution for HVAC/R New-generation system for integration of refrigeration, air-conditioning and heating

ภาษา

ENG

วันที่

07/10/2013

Release

1.0

รหัส

+4000027IT

คำอธิบาย

Soluzione integrata solo CO2 per HVAC/R. Sistema di nuova generazione per l'integrazione di refrigerazione, condizionamento e riscaldamento

ภาษา

ITA

วันที่

07/10/2013

Release

1.0