powercold
CLDRMS*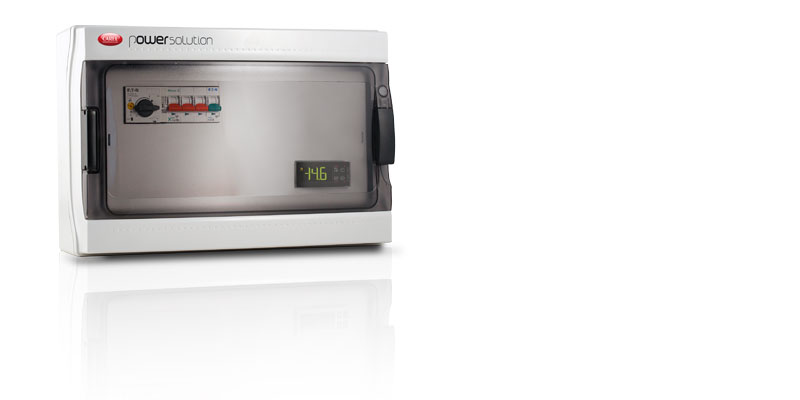 ลักษณะทั่วไป

This is a wide range of solutions for threephase cold rooms. High power electric heaters can be managed for defrosting. Cold room management is performed using the extremely new ir33+ line or the wellknown MPXPRO. The application is suitable for both standalone rooms as well as for those with compressor racks (retail).

The CLDRMS* panels for cold room applications are housed inside a highly sturdy fibreglass container (impact resistance rating IK 09) that ensures an IP65 protection rating and are equipped with a removable transparent tinted door that is lock-ready. Also, an innovative hinge system allows the door to be opened flush with the wall, thus preventing detachment and breakage in the event of accidental impact.

The final aesthetic finish is perfect, the colour is RAL7035, case certifications are IMQ CEI 23-48/-23/49, IMQ EN 62208 compliant with IECEE CB SCHEME IEC 60670-24. The outside door opening also allows front access to the compressor protectors, defrosting heaters and auxiliary circuit via overload switches and circuit breakers. The general switch on the electrical panel is the rotating type with yellow/red handle and lateral control. Various technical combinations are available for each application, therefore, a combination of characteristics that is different from those offered in the catalogue can be requested:

with original case or with holes and/or cable glands to make installation easier;
With electromechanical devices that allow the management of other types and sizes of units
with model ir33+ or preferred accessories.

The wiring diagram provided, in the user's language, also suggests the wiring method if the application requires pump-down. The CLDRMS* panels are, therefore, a high efficiency and highly versatile solution in managing three-phase cold rooms.
เอกสาร
Technical
Manuals

* Entries are ordered by date

รหัส
คำอธิบาย
ภาษา
วันที่ *
Release

รหัส

+030221141

คำอธิบาย

Quadro elettrico / Electrical panel / Tableau électrique / Manuale di istruzioni per l'installazione, uso e manutenzione / Installation user & maintenance manual / Manuel d'instructions pour l'installation, l'utilisation et l'entretien

ภาษา

ENG FRE ITA

วันที่

27/07/2022

Release

1.0