Unit for fan cooled condensers and liquid coolers
CONDROF*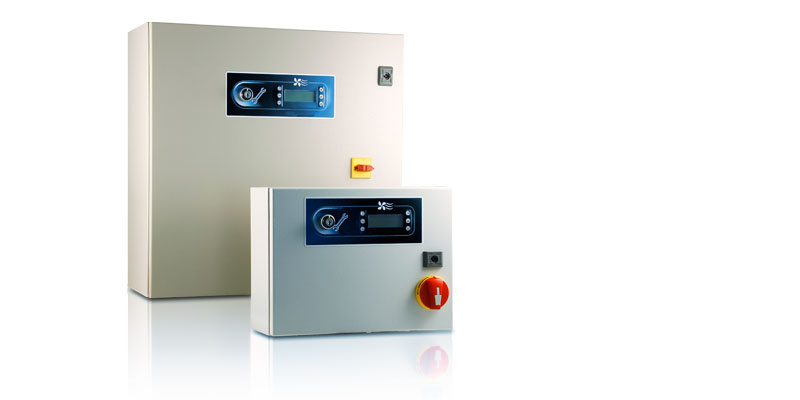 ลักษณะทั่วไป

The electrical panel is built with 15/10 painted steel plate structure, lockable door and continuous gasket. The application controls the operation of fans, condensers and coolers. Various combinations are possible that are suitable for each application controlled, both by temperature and pressure, such as:

electronic fan speed control with inverter, either inside the panel (IP22) or external (IP54);
electronic fan speed control through phase cutting;
EC (electronic) fan speed control;
staged electronic fan speed control;
external fan control.

Upon request, power supply and control can be provided for one or more chillboosters for liquid cooler application. Each CAREL controller is installed inside the already configured electrical panel and is ready for use. The measurement probes are not included. These can be requested when the order is placed. For applications in extreme environments, electrical panels are built inside stainless steel cases.
เอกสาร
Technical
Manuals

* Entries are ordered by date

รหัส
คำอธิบาย
ภาษา
วันที่ *
Release

รหัส

+030221141

คำอธิบาย

Quadro elettrico / Electrical panel / Tableau électrique / Manuale di istruzioni per l'installazione, uso e manutenzione / Installation user & maintenance manual / Manuel d'instructions pour l'installation, l'utilisation et l'entretien

ภาษา

ENG FRE ITA

วันที่

27/07/2022

Release

1.0
Images
High resolution images

* Entries are ordered by date

รหัส
คำอธิบาย
ภาษา
วันที่ *
Release

รหัส

PH12LQU30D-LUVE-panel

คำอธิบาย

CAREL Unit for fan cooled condensers and liquid coolers - Electrical panel for speed and capacity control in heat exchangers - Powersolution

ภาษา

ALL

วันที่

17/03/2022

Release

R.0