Heosone
HZR*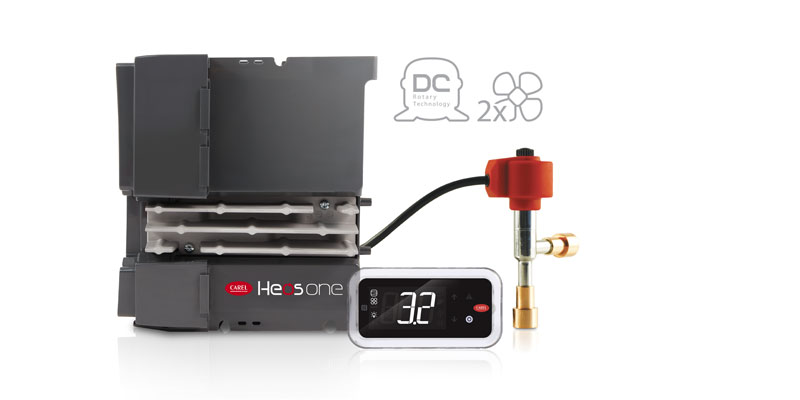 ลักษณะทั่วไป

Heosone is a solution for the control and management of chest freezers and wall-standing plug-in showcase coolers for supermarkets and professional refrigerators.
The kit of components can be applied to both low temperature and medium temperature applications operating on propane.

The complete package includes:

BLDC compressor. DC technology allows greater efficiency through permanent magnet brushless motors, the widest range of modulation (25-100%), high reliability due to a reduction in electrical and mechanical stress, low noise and extremely compact dimensions.
Control unit with integrated DC driver. All of the advantages of CAREL drivers (electrical efficiency, reliability of both the driver and the entire solution, electromagnetic compatibility) are combined with the Heosone controller to form an integrated unit for:
- cabinet temperature and superheat control
- compressor management (COP calculation, oil recovery procedures)
- condensing stage control
- lights, defrosts, fans and alarms
Electronic expansion valve with stepper motor. Operation is managed perfectly in synch with the variable-speed compressor, the evaporation temperature can be controlled continuously to ensure efficiency in all operating conditions. The use of electronic valves also allows preventive and alarm monitoring actions, for greater reliability of the entire solution.
DC motors for EC fans. High efficiency and low noise, available for the condenser and/or evaporator.
HMI with BLE/NFC connectivity.

The sensor and probe kit and the WiFi gateway option (serial - WiFi converter) complete the offering.
The cooling capacity varies from 0.8 kW to 1.6 kW, depending on the application, with a propane charge of up to 150 g.
Heosone can be perfectly integrated into supervisory and remote monitoring systems.

เพิ่ม

Risk-free green solution

All the benefits of propane without the safety risks (charge limited to 150 g)

One stop shop

CAREL as the sole supplier and partner for the entire control package.

Usability

Advanced connectivity thanks to BLE, NFC and dedicated app

Continuous system modulation

Variable speed compressors (BLDC), electronic expansion valves with stepper motor, DC motors for fans.

Energy efficiency

The decentralised approach and continuous modulation make it possible to adapt operation perfectly to the demands of the cabinet in all conditions. Synchronisation of control actions and possibility to read COP in real time.

Maximum food preservation quality

Continuous modulation of the compressor and EEV electronic valves ensures excellent temperature and humidity stability in the showcases.
เอกสาร
Technical
2D/3D drawings

* Entries are ordered by date

รหัส
คำอธิบาย
ภาษา
วันที่ *
Release

รหัส

2d - 3d Heosone IP00

คำอธิบาย

2D-3D drawings IP00

ภาษา

ALL

วันที่

09/05/2022

Release

R0

รหัส

2d - 3d Heosone IP44

คำอธิบาย

2D-3D drawings IP44

ภาษา

ALL

วันที่

09/05/2022

Release

R0

Manuals

* Entries are ordered by date

รหัส
คำอธิบาย
ภาษา
วันที่ *
Release

รหัส

+0300099IT

คำอธิบาย

Heosone Soluzione ad alta efficienza per unità plug-in a propano

ภาษา

ITA

วันที่

16/11/2021

Release

1.2

รหัส

+0300099EN

คำอธิบาย

Heosone High-efficiency solution for propane plug-in units

ภาษา

ENG

วันที่

16/11/2021

Release

1.2

Technical Leaflets

* Entries are ordered by date

รหัส
คำอธิบาย
ภาษา
วันที่ *
Release

รหัส

+050002740

คำอธิบาย

Heosone Soluzione ad alta efficienza per unità plug-in a propano High-efficiency solution for propane plug-in units

ภาษา

ENG ITA

วันที่

16/11/2021

Release

1.2

รหัส

+050002742

คำอธิบาย

Heosone Энергоэффективное решение для пропановых установок High-efficiency solution for propane plug-in units

ภาษา

ENG RUS

วันที่

16/11/2021

Release

1.2
Commercial
Brochure

* Entries are ordered by date

รหัส
คำอธิบาย
ภาษา
วันที่ *
Release

รหัส

+3000217IT

คำอธิบาย

Heosone - Soluzione ad alta efficienza per unità plug-in a propano

ภาษา

ITA

วันที่

19/03/2021

Release

1.0

รหัส

+3000217EN

คำอธิบาย

Heosone - High-efficiency solution for propane plug-in units

ภาษา

ENG

วันที่

19/03/2021

Release

1.0