Heosbox HFC
HB1*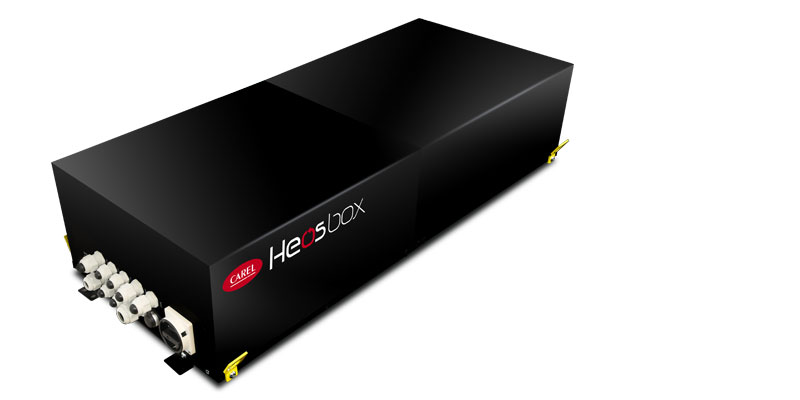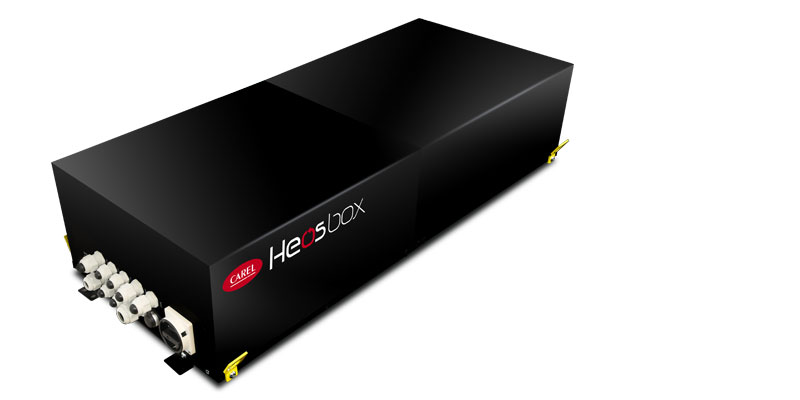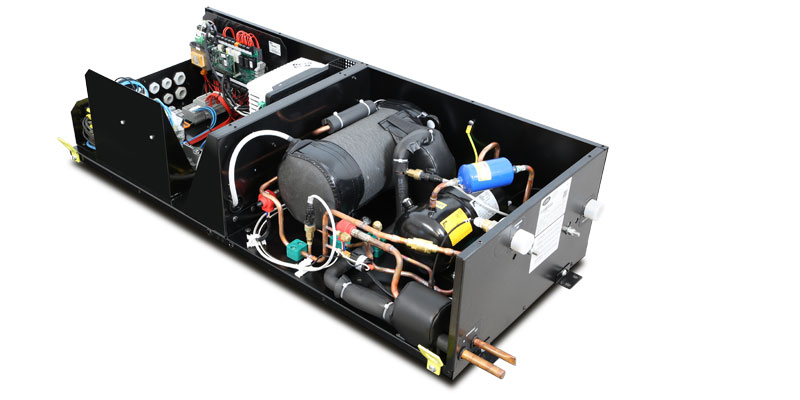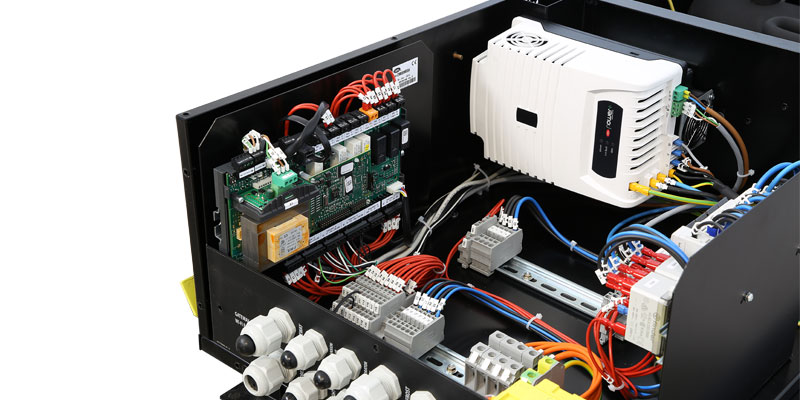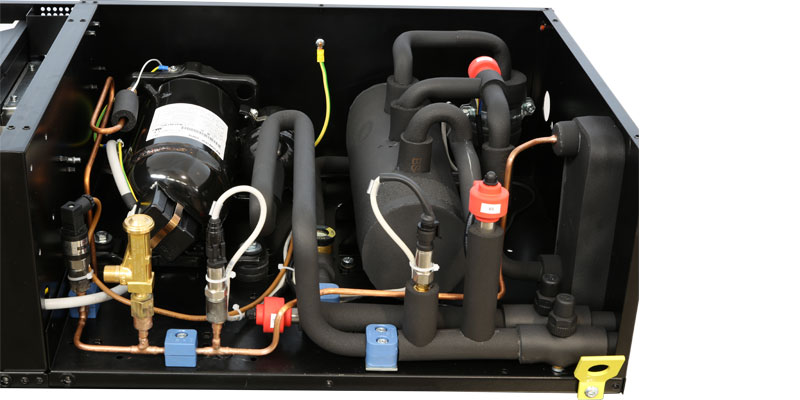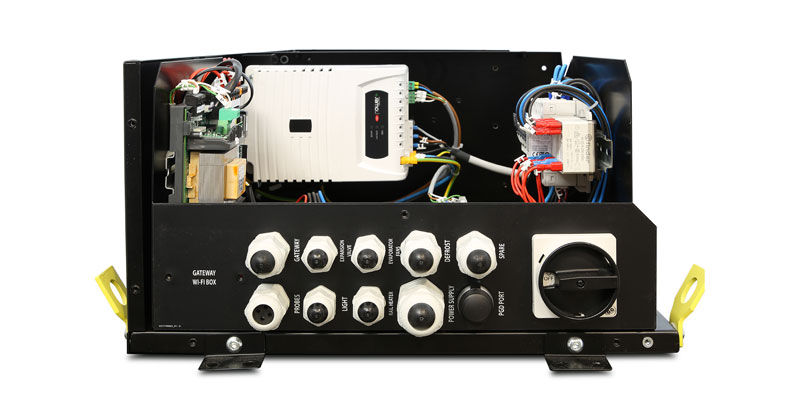 ลักษณะทั่วไป

Heosbox is a condensing unit for waterloop applications entirely engineered and manufactured by CAREL.
Heosbox incorporates all of the features of the Heos solution, starting with the controller and the components for continuous modulation:

BLDC compressors. DC technology allows greater efficiency through permanent magnet brushless motors, the widest range of modulation (25-100%), high reliability due to a reduction in electrical and mechanical stress, low noise and extremely compact dimensions. Both vertical and horizontal solutions are available, with a wide range of brands and performance.
DC drivers. CAREL drivers for Heos applications feature high electrical efficiency and reliability of both the driver and the entire solution, thanks to perfect integration with the system (envelope control, safe torque off, crankcase heater...), as well as electromagnetic compatibility . Class B firmware is available, with integrated protection and consequent savings in installation costs.
Electronic expansion valve with stepper motor. Operation is managed perfectly in synch with the variable-speed compressor, the evaporation temperature can be controlled continuously to ensure efficiency in all operating conditions. The use of electronic valves also allows preventive and alarm monitoring actions, for greater reliability of the entire solution.
Heos controller. All-in-one solution for:
- cabinet temperature and superheat control
- compressor management (envelope, COP calculation, oil recovery procedures)
- condensing stage control
- lights, defrosts, fans and alarms

Heosbox is available for R448A/R449A, R410A synthetic refrigerants, with both CE and UL certification. Capacities up to 10 kW in MT conditions (-10°C/40°C) and 3.5 kW in LT conditions (-30°C/40°C) to satisfy a wide range of applications.
Performance combined with ease of use thanks to the default pre-configuration for immediate use.

Heosbox is also supplied with integrated services developed specifically for this solution, which include remote monitoring, data analysis tools and advanced algorithms for predictive maintenance.

เพิ่ม

Heos solution available

Faster time-to-market for early adopters.

Quality and reliability

All of the experience and know-how available in a 100% Carel solution

One stop shop

CAREL as the sole supplier and partner

Usability

Pre-configured and ready-to-use unit.

Local and remote supervision

Dedicated advanced IOT services included in the offering.

All the unique features and advantages of Heos technology:

Continuous system modulation

Variable speed compressors (BLDC) and electronic expansion valves with stepper motor.

Energy efficiency

The decentralised approach and continuous modulation make it possible to adapt operation perfectly to the demands of the cabinet in all conditions. Synchronisation of control actions and possibility to read COP in real time.

Maximum food preservation quality

Continuous modulation of the compressor and EEV electronic valves ensures excellent temperature and humidity stability in the cabinets.



เอกสาร
Technical
Manuals

* Entries are ordered by date

รหัส
คำอธิบาย
ภาษา
วันที่ *
Release

รหัส

+0300089IE

คำอธิบาย

HEOS BOX Manuale d'uso/User manual

ภาษา

ENG ITA

วันที่

27/01/2022

Release

1.4

รหัส

+0300097EF

คำอธิบาย

Heosbox Assembly instructions, including information for use and maintenance North America version Instructions pour l'assemblage, avec des informations relatives à l'utilisation et à l'entretien Versions North America

ภาษา

ENG FRE

วันที่

17/06/2021

Release

1.0

Selection tool

* Entries are ordered by date

รหัส
คำอธิบาย
ภาษา
วันที่ *
Release

รหัส

HFC sizing tool

คำอธิบาย

ภาษา

ALL

วันที่

27/03/2023

Release

6.1
Commercial
Brochure

* Entries are ordered by date

รหัส
คำอธิบาย
ภาษา
วันที่ *
Release

รหัส

+3000207IT

คำอธิบาย

Heosbox L'avanguardia della tecnologia per i tuoi cabinet semi plug-in

ภาษา

ITA

วันที่

08/09/2020

Release

1.0

รหัส

+3000207EN

คำอธิบาย

Heosbox Cutting-edge technology for your semi plug-in cabinets

ภาษา

ENG

วันที่

08/09/2020

Release

1.0
Images
High resolution images

* Entries are ordered by date

รหัส
คำอธิบาย
ภาษา
วันที่ *
Release

รหัส

PH20LUP304-heosbox

คำอธิบาย

CAREL-Plug-in and Semi plug-in-Heos-Heosbox HFC

ภาษา

ALL

วันที่

17/09/2021

Release

R.0

รหัส

PH20LUP307-heosbox-open

คำอธิบาย

CAREL-Plug-in and Semi plug-in-Heos-Heosbox HFC

ภาษา

ALL

วันที่

17/09/2021

Release

R.0

รหัส

PH20DUP301-heosbox-detail

คำอธิบาย

CAREL-Plug-in and Semi plug-in-Heos-Heosbox HFC

ภาษา

ALL

วันที่

17/09/2021

Release

R.0

รหัส

PH20DUP302-heosbox-detail

คำอธิบาย

CAREL-Plug-in and Semi plug-in-Heos-Heosbox HFC

ภาษา

ALL

วันที่

17/09/2021

Release

R.0

รหัส

PH20DUP304-heosbox-detail

คำอธิบาย

CAREL-Plug-in and Semi plug-in-Heos-Heosbox HFC

ภาษา

ALL

วันที่

17/09/2021

Release

R.0