Hecu
ECU50* ECU70*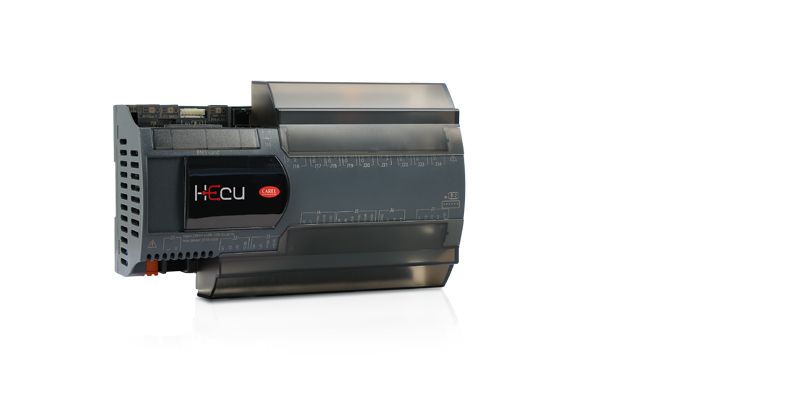 ลักษณะทั่วไป

Hecu is the High Efficiency Condensing Unit proposed by CAREL for condensing units with traditional HFC refrigerants, designed specifically for convenience stores.
By exploiting DC inverter technology, Hecu sistema offers true modulation of cooling capacity, thus achieving low energy consumption, especially at part loads. The high performance achievable with CO2 both allows compliance with the Eco-Design directive on energy performance, and exceeds the limits set by the F-Gas Regulation in condensing unit applications.
Hecu sistema stands out in the segment of small commercial refrigeration systems for real-time communication with the refrigeration units, allowing the implementation of advanced system optimisation logic, with dynamic set points and extremely stable control, ensuring perfect food preservation and thus reducing waste.
Features include:

Oil management with evaporator washing and speed boost functions
Safe compressor control with Power+ functions
constant modulation of cooling capacity based on demand from the cabinets
simplified configuration using the Wizard procedure
ease of use with clear and intuitive menus

CAREL supervisors can be used to monitor and optimise the operation of every system, prevent any malfunctions and plan maintenance, so as to guarantee a high service level.

เพิ่ม

DC technology

The most efficient and widest range of modulation on the market (25-100% of capacity), scientifically tested in the field [ipertesto che rimanda a Fraunhofer case study]

Integration with cabinets

Constant communication for dynamic set points, minimum power consumption and stable temperatures.

Solid system reliability

Safe control of compressors with DC Power+ driver, specific functions for oil management.

Optimal food preservation

Continuous modulation of the compressor and EEV electronic valves ensures perfect temperature maintenance in the cabinets: +/- 0.3°C.

Local and remote supervision

Cloud-based management of the refrigeration systems with boss and RED digital services.

Integrated all-in-one management of cold rooms

DC Cella is the combination of Hecu + UltraCella that offers all the advantages of this synergy to ensure fast installation, ease of use and optimised performance.
เอกสาร
Technical
Manuals

* Entries are ordered by date

รหัส
คำอธิบาย
ภาษา
วันที่ *
Release

รหัส

+0300023EN

คำอธิบาย

Hecu sistema: High efficiency condensing unit

ภาษา

ENG

วันที่

14/12/2021

Release

1.2

รหัส

+0300023IT

คำอธิบาย

Hecu sistema: High efficiency condensing unit

ภาษา

ITA

วันที่

14/12/2021

Release

1.2

Technical Leaflets

* Entries are ordered by date

รหัส
คำอธิบาย
ภาษา
วันที่ *
Release

รหัส

+050001890

คำอธิบาย

HECU - SUCTION PIPE SIZING (multi-split confi guration)

ภาษา

ENG

วันที่

19/01/2021

Release

1.2

รหัส

+050001885

คำอธิบาย

HECU - CONSIDERATIONS ABOUT OIL RETURN

ภาษา

ENG

วันที่

19/01/2021

Release

1.1

รหัส

+050001880

คำอธิบาย

HECU - sistema requirements

ภาษา

ENG

วันที่

19/01/2021

Release

1.2

รหัส

+050001835

คำอธิบาย

Hecu Tabella compressori DC disponibili / DC compressor availability table

ภาษา

ENG ITA

วันที่

27/08/2018

Release

1.4

รหัส

+050001830

คำอธิบาย

Hecu - Controllo programmabile integrato / Programable built-in controller

ภาษา

ENG ITA

วันที่

09/04/2018

Release

2.0