MPXzero
S0M*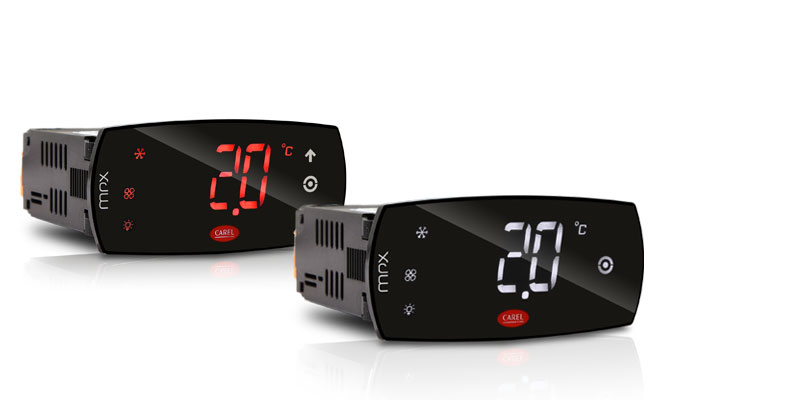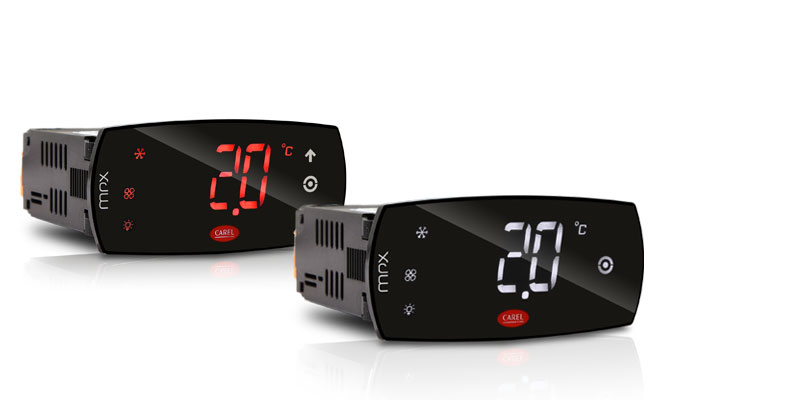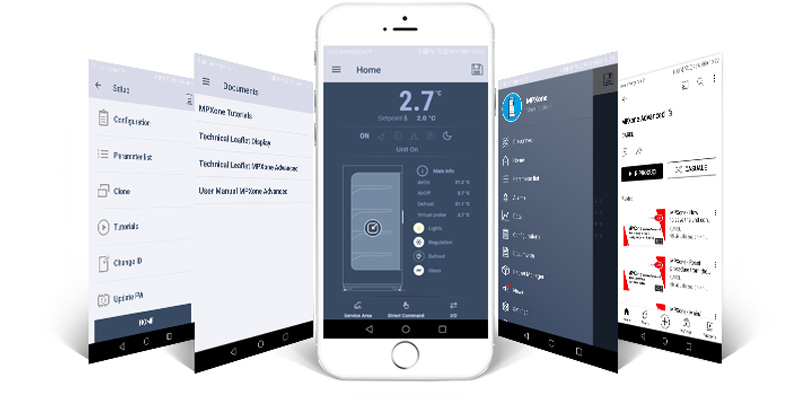 ลักษณะทั่วไป

MPXzero is the series especially developed for the complete control of entry-level plug-in units or multiplexed units.

In addition to the standard management of a refrigerated cabinet (control, defrosting, fans and lights), it has the following strengths:

the management of main/secondary local networks or VCC compressors (in frequency or serial mode);
the ease of use of a typical plug-and-play product, without the need to add external modules;
captivating 'Made in Italy' aesthetics for more modern units, both in terms of appearance and functions.

The user experience is fundamental and is always at the centre of the product. Wireless connectivity (NFC, Bluetooth) via smartphone applications extends the traditional user interface from the actual display to the user's mobile device, simplifying day-to-day tasks.

เพิ่ม

Immediate integration into BMS systems

The BMS serial port can be used connect directly to supervisory systems, without needing an external converter.

Local network management

The Fieldbus serial port can be used to synchronise actions (such as defrosts and lights and share probes) between uniform groups of cabinets.

Management of variable-speed compressors

The plug-in unit can control a VCC compressor (in frequency or serial mode) or manage two ON/OFF compressors with an activation delay.

Touchscreen display and real-time interaction

The capacitive display, the wide viewing angle and the frameless and linear design improve the aesthetics of the units. All this, plus the app for mobile devices, make access to control information, documentation and operating conditions intuitive and immediate.
เอกสาร
Technical
2D/3D drawings

* Entries are ordered by date

Manuals

* Entries are ordered by date

รหัส
คำอธิบาย
ภาษา
วันที่ *
Release

รหัส

+0300106RU

คำอธิบาย

MPXzero Электронный контроллер для холодильного оборудования

ภาษา

RUS

วันที่

29/11/2021

Release

1.0

รหัส

+0300106ES

คำอธิบาย

MPXzero Controlador electrónico para aplicaciones de refrigeración

ภาษา

SPA

วันที่

29/11/2021

Release

1.0

รหัส

+0300106ZH

คำอธิบาย

MPXzero 冷冻冷藏应用电子控制器

ภาษา

CHI

วันที่

29/11/2021

Release

1.0

รหัส

+0300106PL

คำอธิบาย

MPXzero Sterownik elektroniczny do zastosowań w chłodnictwie

ภาษา

POL

วันที่

29/11/2021

Release

1.0

รหัส

+0300106EN

คำอธิบาย

MPXzero Electronic controller for refrigeration applications

ภาษา

ENG

วันที่

29/11/2021

Release

1.0

รหัส

+0300106ML

คำอธิบาย

MPXzero Controllo elettronico per applicazioni di refrigerazione

ภาษา

ITA

วันที่

29/11/2021

Release

1.0

Technical Leaflets

* Entries are ordered by date

รหัส
คำอธิบาย
ภาษา
วันที่ *
Release

รหัส

+0500154IE

คำอธิบาย

MPXzero-Vcc

ภาษา

ENG ITA

วันที่

06/03/2023

Release

2.0

รหัส

+0500153IE

คำอธิบาย

MPXzero

ภาษา

ENG ITA

วันที่

06/03/2023

Release

2.0
Commercial
Brochure

* Entries are ordered by date

รหัส
คำอธิบาย
ภาษา
วันที่ *
Release

รหัส

+3000163DE

คำอธิบาย

mpx - Umfassende Konnektivität und hohe Leistungsfähigkeit für das Management von gewerblichen Kühlmöbeln

ภาษา

GER

วันที่

07/02/2023

Release

3.2

รหัส

+3000163IT

คำอธิบาย

MPX - Connettività totale e alta efficienza per la gestione completa di unità frigorifere da supermercato

ภาษา

ITA

วันที่

07/02/2023

Release

3.2

รหัส

+3000163PT

คำอธิบาย

MPXone - Conectividade total e alta eficiência para o gerenciamento completo de unidades frigoríficas de supermercados

ภาษา

POR

วันที่

07/02/2023

Release

3.2

รหัส

+3000163ES

คำอธิบาย

mpx - Conectividad total y alta eficiencia para la gestión completa de unidades de refrigeración de supermercado

ภาษา

SPA

วันที่

07/02/2023

Release

3.2

รหัส

+3000163PL

คำอธิบาย

MPXone - Pełne możliwości komunikacji i wysoka wydajność dla kompleksowego zarządzania urządzeniami chłodniczymi w supermarketach

ภาษา

POL

วันที่

07/02/2023

Release

3.2

รหัส

+3000163EN

คำอธิบาย

MPX - Total connectivity and high efficiency for the complete management of supermarket refrigeration units

ภาษา

ENG

วันที่

07/02/2023

Release

3.2

รหัส

+3000163ZH

คำอธิบาย

Total connectivity and high efficiency for multiplex showcases

ภาษา

CHI

วันที่

01/10/2018

Release

2.0

รหัส

+3000163RU

คำอธิบาย

MPXone

ภาษา

RUS

วันที่

01/10/2018

Release

2.0
Images
High resolution images

* Entries are ordered by date

รหัส
คำอธิบาย
ภาษา
วันที่ *
Release

รหัส

PH20LS0304-MPXzero-Frontal-red

คำอธิบาย

MPXzero-CAREL-Food Retail-Solutions for cabinets and cold rooms

ภาษา

ALL

วันที่

03/09/2021

Release

R.0

รหัส

PH20LS0302-MPXzero-red

คำอธิบาย

MPXzero-CAREL-Food Retail-Solutions for cabinets and cold rooms

ภาษา

ALL

วันที่

03/09/2021

Release

R.0