MPXone
S1M* / AX3*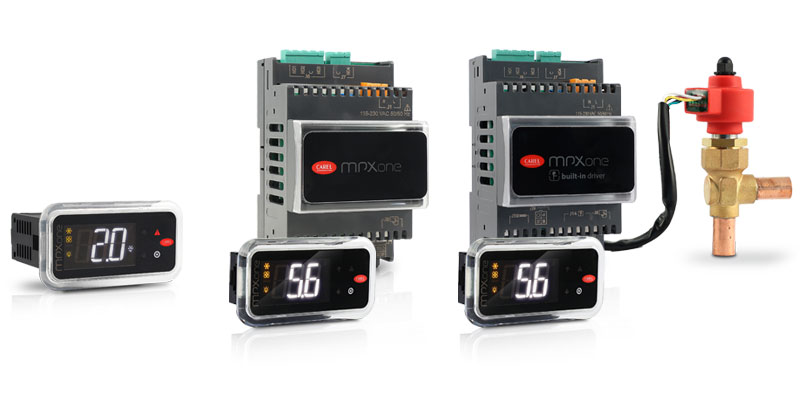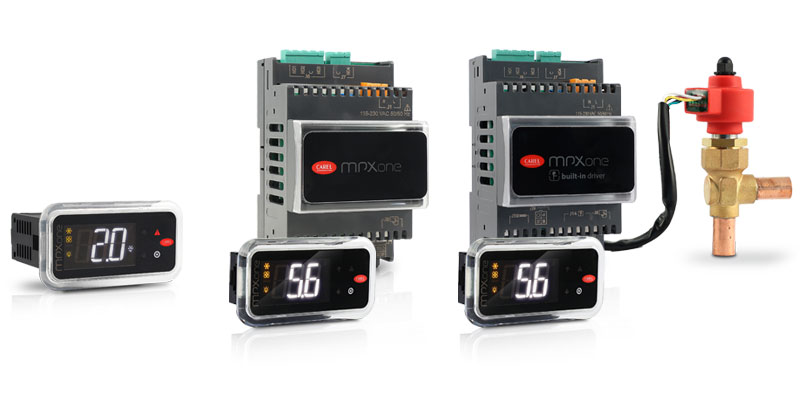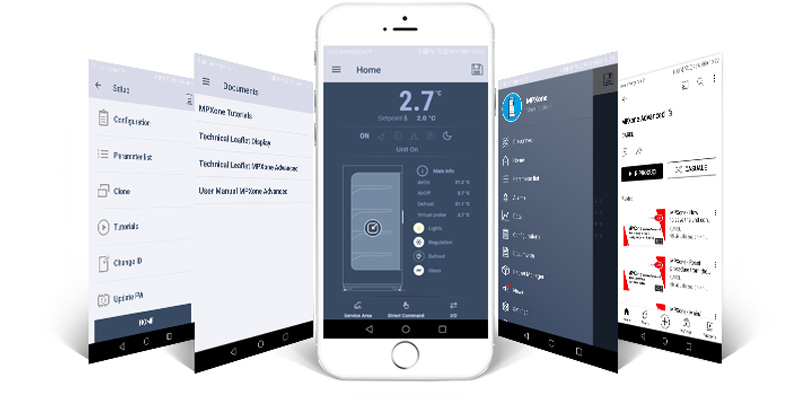 ลักษณะทั่วไป

MPXone is the series of controllers for supermarket refrigeration units that combines the ease of use of an entry-level controller, with the advanced performance typical of top-of-the-range models.

Designed on a flexible and scalable platform, this product is available in different versions (with panel or DIN rail mounting) each featuring an incremental level of performance. From standard management of a cabinet equipped with a thermostatic/solenoid valve, to integration of modulating devices such as fans and unipolar electronic valves (external driver or built-in option).

MPXone also stands out for the extension of the connectivity concept. Indeed, wireless connectivity is integrated using NFC and Bluetooth technologies, thus revolutionising the way of interacting with the controllers, via mobile devices.

The main features of MPXone include:

Integrated BMS for connection to local monitoring systems;
Management of local networks with Main/Secondary architecture, up to 10 devices;
Advanced logic for the control of modulating devices, such as electronic valves, frequency-controlled VCC compressors, fans, rail heaters and antisweat heaters.

เพิ่ม

Energy efficiency

The management of modulating loads, such as VCC (frequency-controlled) compressors, 0-10 V fans, electronic expansion valves and Fieldbus devices, improves unit energy performance by adapting to the actual operating conditions.

System upgrades

The possibility to add management of an electronic valve via serial control by an external EVDice driver facilitates the upgrade of obsolete systems, without replacing the existing cabinets.

Optimal temperature stabilisation

Through precise and constant control of refrigerant flow, together with the most advanced software logic, the shelf life of goods can be extended, without reprocessing.

Simplified interaction

Controlling the unit has never been easier. The design and architecture of the app make access to control information, documentation and operating conditions intuitive and immediate. Everything at your fingertips.
เอกสาร
Technical
2D/3D drawings

* Entries are ordered by date

Manuals

* Entries are ordered by date

รหัส
คำอธิบาย
ภาษา
วันที่ *
Release

รหัส

+0300086FR

คำอธิบาย

MPXone Contrôleur électronique pour applications de réfrigération

ภาษา

FRE

วันที่

21/09/2021

Release

2.1

รหัส

+0300086DE

คำอธิบาย

MPXone Elektronisches Steuergerät für kältetechnische Anwendungen

ภาษา

GER

วันที่

21/09/2021

Release

2.1

รหัส

+0300086IT

คำอธิบาย

MPXone Controllo elettronico per applicazioni di refrigerazione

ภาษา

ITA

วันที่

21/09/2021

Release

2.1

รหัส

+0300086EN

คำอธิบาย

MPXone Electronic control for refrigeration applications

ภาษา

ENG

วันที่

21/09/2021

Release

2.1

รหัส

+0300086RU

คำอธิบาย

MPXone Электронное управление для холодильного оборудования

ภาษา

RUS

วันที่

15/10/2019

Release

2.0

Technical Leaflets

* Entries are ordered by date

รหัส
คำอธิบาย
ภาษา
วันที่ *
Release

รหัส

+0500142IE

คำอธิบาย

Terminale utente e display remoto per MPXone / User terminal and remote display for MPXone

ภาษา

ENG ITA

วันที่

08/06/2022

Release

1.1

รหัส

+0500138IE

คำอธิบาย

MPXone ADVANCED

ภาษา

ENG ITA

วันที่

08/06/2022

Release

1.3

รหัส

+0500142EZ

คำอธิบาย

AX3000* 用户终端控制与远程显示装置MPXone / User terminal and remote display for MPXone

ภาษา

CHI ENG

วันที่

08/06/2022

Release

1.1

รหัส

+0500142FD

คำอธิบาย

AX3000* Terminal utilisateur et affi cheur à distance pour MPXone / Bedienteil und Remote-Display für MPXone

ภาษา

FRE GER

วันที่

08/06/2022

Release

1.1

รหัส

+0500142RU

คำอธิบาย

AX3000* Графический терминал для контроллера MPXone / User terminal and remote display for MPXone

ภาษา

ENG RUS

วันที่

08/06/2022

Release

1.1

รหัส

+0500140FR

คำอธิบาย

MPXone Régulateur électronique pour applications de réfrigération commerciale centralisée

ภาษา

FRE

วันที่

18/05/2022

Release

1.5

รหัส

+0500140EZ

คำอธิบาย

MPXone

ภาษา

CHI

วันที่

18/05/2022

Release

1.5

รหัส

+0500140IT

คำอธิบาย

MPXone Controllo elettronico per applicazioni di refrigerazione commerciale centralizzate

ภาษา

ITA

วันที่

18/05/2022

Release

1.5

รหัส

+0500140EN

คำอธิบาย

MPXone Electronic controller for centralised commercial refrigeration applications

ภาษา

ENG

วันที่

18/05/2022

Release

1.5

รหัส

+0500140RU

คำอธิบาย

Электронный контроллер MPXone для централизованного управления холодильным оборудованием

ภาษา

RUS

วันที่

18/05/2022

Release

1.5

รหัส

+050004232

คำอธิบาย

EVD000RAC0: Modulo Ultracap per MPXone / Ultracap Module for MPXone

ภาษา

ENG ITA

วันที่

27/04/2021

Release

1.1
Commercial
Application Note

* Entries are ordered by date

รหัส
คำอธิบาย
ภาษา
วันที่ *
Release

รหัส

+4000076DE

คำอธิบาย

Anlagenmodernisierung - Modernes Design und Energieeffizienz für die Nachrüstung und Modernisierung von Bestandsanlagen.

ภาษา

GER

วันที่

11/02/2020

Release

1.0

รหัส

+4000076IT

คำอธิบาย

Ammodernamento d'impianto: estetica all'avanguardia ed efficientamento energetico per il rinnovamento di impianti datati.

ภาษา

ITA

วันที่

11/02/2020

Release

1.0

รหัส

+4000076EN

คำอธิบาย

System modernisation Cutting-edge aesthetics and energy efficiency for renovating outdated systems.

ภาษา

ENG

วันที่

11/02/2020

Release

1.0

Brochure

* Entries are ordered by date

รหัส
คำอธิบาย
ภาษา
วันที่ *
Release

รหัส

+3000163DE

คำอธิบาย

mpx - Umfassende Konnektivität und hohe Leistungsfähigkeit für das Management von gewerblichen Kühlmöbeln

ภาษา

GER

วันที่

07/02/2023

Release

3.2

รหัส

+3000163IT

คำอธิบาย

MPX - Connettività totale e alta efficienza per la gestione completa di unità frigorifere da supermercato

ภาษา

ITA

วันที่

07/02/2023

Release

3.2

รหัส

+3000163EN

คำอธิบาย

MPX - Total connectivity and high efficiency for the complete management of supermarket refrigeration units

ภาษา

ENG

วันที่

07/02/2023

Release

3.2

รหัส

+3000163PL

คำอธิบาย

MPXone - Pełne możliwości komunikacji i wysoka wydajność dla kompleksowego zarządzania urządzeniami chłodniczymi w supermarketach

ภาษา

POL

วันที่

07/02/2023

Release

3.2

รหัส

+3000163ES

คำอธิบาย

mpx - Conectividad total y alta eficiencia para la gestión completa de unidades de refrigeración de supermercado

ภาษา

SPA

วันที่

07/02/2023

Release

3.2

รหัส

+3000163PT

คำอธิบาย

MPXone - Conectividade total e alta eficiência para o gerenciamento completo de unidades frigoríficas de supermercados

ภาษา

POR

วันที่

07/02/2023

Release

3.2

รหัส

+3000163RU

คำอธิบาย

MPXone

ภาษา

RUS

วันที่

01/10/2018

Release

2.0

รหัส

+3000163ZH

คำอธิบาย

Total connectivity and high efficiency for multiplex showcases

ภาษา

CHI

วันที่

01/10/2018

Release

2.0
Images
High resolution images

* Entries are ordered by date

รหัส
คำอธิบาย
ภาษา
วันที่ *
Release

รหัส

PH17LS1307-MPXone-range

คำอธิบาย

CAREL-Food Retail-Solutions for cabinets and cold rooms-MPXone

ภาษา

ALL

วันที่

21/09/2021

Release

R.0

รหัส

PH17LS1301-MPXone

คำอธิบาย

CAREL-Food Retail-Solutions for cabinets and cold rooms-MPXone

ภาษา

ALL

วันที่

21/09/2021

Release

R.0

รหัส

PH17LS1305-MPXone-din

คำอธิบาย

CAREL-Food Retail-Solutions for cabinets and cold rooms-MPXone

ภาษา

ALL

วันที่

21/09/2021

Release

R.0

รหัส

PH21LS1301-MPXone-built-in-driver-din

คำอธิบาย

CAREL-Food Retail-Solutions for cabinets and cold rooms-MPXone

ภาษา

ALL

วันที่

21/09/2021

Release

R.0