MasterAria
AHUMSTA*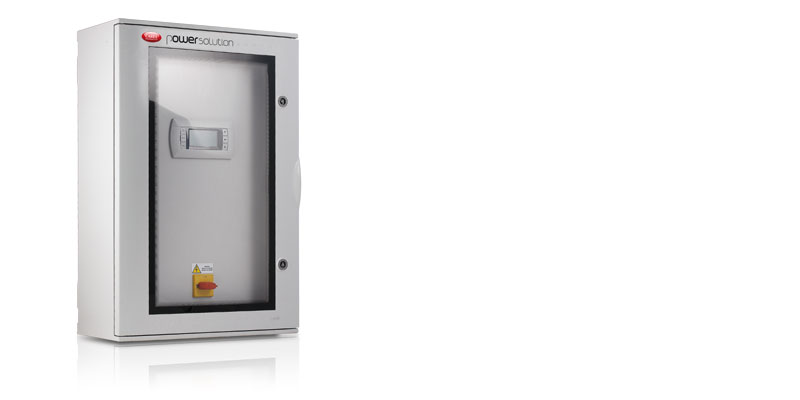 ลักษณะทั่วไป

The panels in the Masteraria series are perfect for controlling standard AHUs which require the management and supply of two fans, a heat recovery unit, an optional external electrical load and actuators, valves, probes, alarms and safety devices, limited to the number of inputs and outputs on the electronic controller.

The Masteraria solution is created inside a fibreglass case with two doors (one of which is transparent) suitable for installations from -25 to 60 °C, very sturdy and impact resistant (IK10), glow wire 650 °C, IP65 protection rating and grey RAL 7035, IMQ CEI 23-48/23-49 and IMQ EN 62208 certifications. Each case is equipped with its own wall installation kit with threaded holes already in place on the bottom. The main panel disconnect switch is located on the inside door, with front control using a rotating handle. In the same way, the user interface is located on the inside door, easily removable with the knife switch closed, to allow easy cabling and start-up. Besides the detailed wiring diagram, provided as standard in paper format, a quick diagram is also made available on glossy adhesive paper and Theoretical diagram attached to the back of the inside door.

The heart of Masteraria are the thermal protectors for the motors, made up of a fixed, wired base and plug & play thermal modules chosen based on the size of the fan. Thus, Masteraria is an off-the-shelf product, as for each project, the only variable to be chosen is which thermal module to install, in just a few seconds, based on the already wired motor protectors inside the panel. The wiring plate also has four power terminals to supply an external electrical load (multistage coil, modulating coil, condensing unit, humidifier, ...): the hardcopy wiring diagrams, with two tables, show the maximum external electrical load that can be supplied through the support terminals according to the size of the fans installed.

Also, all of the inputs and outputs are linked to the support terminal board in order to be able to take full advantage of all of the potential of the pCO sistema.
เอกสาร
Technical
Manuals

* Entries are ordered by date

รหัส
คำอธิบาย
ภาษา
วันที่ *
Release

รหัส

+030221141

คำอธิบาย

Quadro elettrico / Electrical panel / Tableau électrique / Manuale di istruzioni per l'installazione, uso e manutenzione / Installation user & maintenance manual / Manuel d'instructions pour l'installation, l'utilisation et l'entretien

ภาษา

ENG FRE ITA

วันที่

27/07/2022

Release

1.0
Commercial
Other related documentation

* Entries are ordered by date

รหัส
คำอธิบาย
ภาษา
วันที่ *
Release

รหัส

+800004030

คำอธิบาย

Soluzioni per Unità Trattamento Aria: Tecnologia e competenza per la qualità dell'aria e il risparmio energetico

ภาษา

ITA

วันที่

05/04/2023

Release

1.2

รหัส

+800004000

คำอธิบาย

Soluzioni di potenza per la refrigerazione e il condizionamento dell'aria

ภาษา

ITA

วันที่

01/04/2013

Release

1.1

รหัส

+800004001

คำอธิบาย

Power solution for refrigeration and air conditioning unit

ภาษา

ENG

วันที่

01/04/2013

Release

1.1