easy wide
PBEV*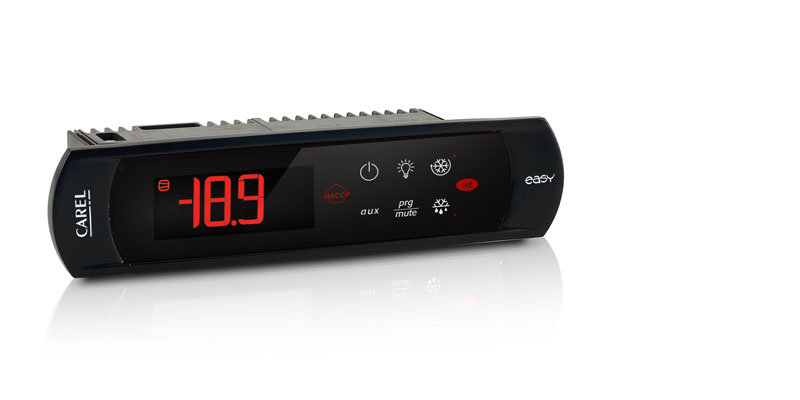 ลักษณะทั่วไป

For the catering, pastry shop and ice cream parlour markets, the easy series is completed by a new product line: easy wide, representing the evolution of the PowerCompact wide family. The shape and position of the buttons in fact mirrors the PJEZ easy. Special focus has been placed on the user interface: as well as the larger display (27% larger than powercompact), available in more colours and polycarbonate keypad. Compatibility with the Powercompact wide (standard and small) has been maintained as regards firmware, parameters, dimensions and wiring diagrams.
For manufacturers of refrigerated cabinets and showcases, CAREL offers the possibility to customise the controllers according to the specific application. The new appearance and new types of assembly mean the controllers can be better integrated into the refrigeration unit, giving a decidedly more attractive and elegant end result.
Available in standard (easy wide, compatible with PowerCompact wide) and small format (easy small wide, compatible with PowerCompact small wide).
เอกสาร
Technical
2D/3D drawings

* Entries are ordered by date

รหัส
คำอธิบาย
ภาษา
วันที่ *
Release

รหัส

2d-3d easy wide

คำอธิบาย

2D-3D drawings

ภาษา

ALL

วันที่

08/02/2017

Release

R0

รหัส

2d - 3d easy small wide

คำอธิบาย

2D-3D drawings

ภาษา

ALL

วันที่

08/02/2017

Release

R0

Manuals

* Entries are ordered by date

รหัส
คำอธิบาย
ภาษา
วันที่ *
Release

รหัส

+0300028FR

คำอธิบาย

ir33+ platform Mode d'emploi

ภาษา

FRE

วันที่

05/05/2017

Release

1.1

รหัส

+0300028ES

คำอธิบาย

ir33+ platform - ir33+, ir33+wide, ir33+ small wide easy wide y easy small wide Manual del usuario Controlador electrónico

ภาษา

SPA

วันที่

05/05/2017

Release

1.1

รหัส

+0300028DE

คำอธิบาย

ir33+ platform: Technisches Handbuch

ภาษา

GER

วันที่

05/05/2017

Release

1.1

รหัส

+0300028IT

คำอธิบาย

ir33+ platform: manuale d'uso

ภาษา

ITA

วันที่

05/05/2017

Release

1.1

รหัส

+0300028EN

คำอธิบาย

ir33+ platform: User manual

ภาษา

ENG

วันที่

05/05/2017

Release

1.1

Technical Leaflets

* Entries are ordered by date

รหัส
คำอธิบาย
ภาษา
วันที่ *
Release

รหัส

+0500014IE

คำอธิบาย

easy wide, easy small wide - regolatore elettronico per unità frigorifere stand alone / electronic controller for for stand-alone refrigerating units

ภาษา

ENG ITA

วันที่

03/09/2020

Release

2.2

รหัส

+0500013ML

คำอธิบาย

ir33+ wide - ir33+ wide small - easy wide - easy wide small /Elettronic controller for stand-alone refrigerating units

ภาษา

ENG FRE GER ITA POR SPA

วันที่

03/09/2020

Release

2.1

รหัส

+0500046ML

คำอธิบาย

MT100D2100 emeter1 - 1PH energy meter

ภาษา

ENG FRE GER ITA SPA

วันที่

30/05/2013

Release

1.1

รหัส

+0500045ML

คำอธิบาย

ir33+ / easy wide / ir33+ wide - montaggio retro pannello tastiera a membrana / wide rear panel mounting with membrane keypad

ภาษา

ENG ITA

วันที่

26/03/2013

Release

1.3

รหัส

+0500043ML

คำอธิบาย

easy wide montaggio retro pannello con policarbonato / easy wide rear panel mounting with polycarbonate

ภาษา

ENG ITA

วันที่

26/10/2012

Release

1.0

รหัส

+0500046EN

คำอธิบาย

easywide mounting of back panel: guidelines for design of the polycarbonate front panel

ภาษา

ENG

วันที่

01/06/2012

Release

1.0
Commercial
Brochure

* Entries are ordered by date

รหัส
คำอธิบาย
ภาษา
วันที่ *
Release

รหัส

+3000042ZH

คำอธิบาย

新一代控制器 应用于厨房、冰淇淋店、 蛋糕店、酒吧和餐厅

ภาษา

CHI

วันที่

16/09/2011

Release

1.0

รหัส

+3000042IT

คำอธิบาย

la nuova gamma di controlli per il catering, gelaterie, pasticcerie, bar e ristoranti

ภาษา

ITA

วันที่

16/09/2011

Release

1.0

รหัส

+3000042EN

คำอธิบาย

the new range of controllers for catering, ice cream parlours, patisseries, bars and restaurants

ภาษา

ENG

วันที่

16/09/2011

Release

1.0

รหัส

+3000042DE

คำอธิบาย

Die neue Produktpalette für professionelles Catering, Eisdielen, Konditoreien, Bars und Restaurants

ภาษา

GER

วันที่

16/09/2011

Release

1.0
Images
High resolution images

* Entries are ordered by date

รหัส
คำอธิบาย
ภาษา
วันที่ *
Release

รหัส

PH11LEZ30O-easy-wide

คำอธิบาย

CAREL easy wide - easy series for display cabinets, showcase and refrigerated cabinets - Refrigeration Parametric Controls

ภาษา

ALL

วันที่

10/03/2022

Release

R.0