ir33+ smart
IREV*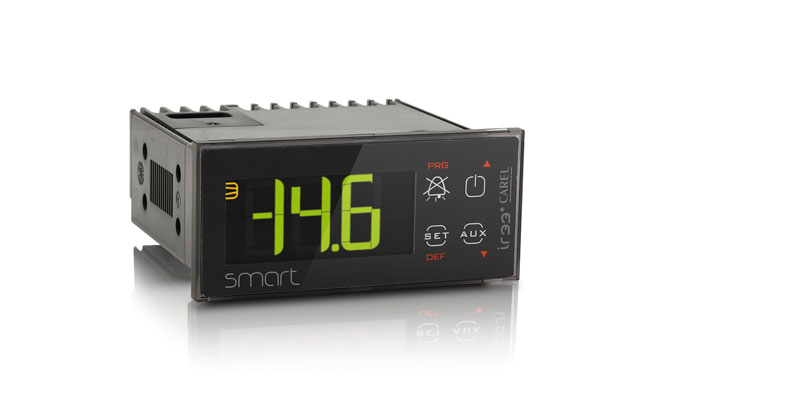 ลักษณะทั่วไป

The new selection of controls ir33+ smart satisfies the main needs of the refrigeration controls market, with particular focus on the distribution channel.

The instrument is equipped with 6 sets of preloaded parameters (depending on the model), each of which identifies a particular application. Selecting and loading the most suitable configuration for every application is a simple operation and it takes no more than 5 seconds.
The information needed for starting and proper operation of the unit is available in the local language (Italian, English, French, German, Spanish and Portuguese). Other languages are available on request.
ir33 smart is especially recommended to technicians who need to configure the unit in little time: once the language of the documents has been identified, all the applications can be managed with just three product codes
The single-relay and 2-relay models have been designed for simple applications. The 4-relay model (compressor control, defrost, fans and auxiliary output) represents the top-of-the-range, integrating the RTC clock and the HACCP reports.
All the codes are fitted with a 115/230Vac switching power supply, a 16A relay for the compressor and NTC and PTC probes control.

เพิ่ม

Easy to select: few codes, many applications

Flexible: power supply switching 115/230Vac, NTC and PTC control

Easy to install and set: a set of parameters corresponding to an equal number of pre-loaded applications, with specific wiring diagrams.
เอกสาร
Technical
Technical Leaflets

* Entries are ordered by date

รหัส
คำอธิบาย
ภาษา
วันที่ *
Release

รหัส

+050001911

คำอธิบาย

ir33+ smart electronic controller for normal and high temperature static refrigeration units

ภาษา

ENG

วันที่

02/07/2014

Release

1.0

รหัส

+050001913

คำอธิบาย

ir33+ smart: Elektronischer Regler für Kältegeräte mit statischem Verdichter im Plusbereich

ภาษา

GER

วันที่

22/08/2013

Release

1.0

รหัส

+050001912

คำอธิบาย

ir33+ smart: Régulateur électronique pour unités frigorifi ques statiques moyenne et haute températures

ภาษา

FRE

วันที่

22/02/2013

Release

1.0

รหัส

+050001932

คำอธิบาย

ir33+ smart : régulateur électronique pour unités frigorifi ques ventilées moyenne et basse température

ภาษา

FRE

วันที่

22/02/2013

Release

1.0

รหัส

+050001933

คำอธิบาย

ir33+ smart: Elektronischer Regler für Kältegeräte mit Luftkühler im Plus- und Tiefkühlbereich

ภาษา

GER

วันที่

22/08/2012

Release

1.0