ir33+
IREV*IREV*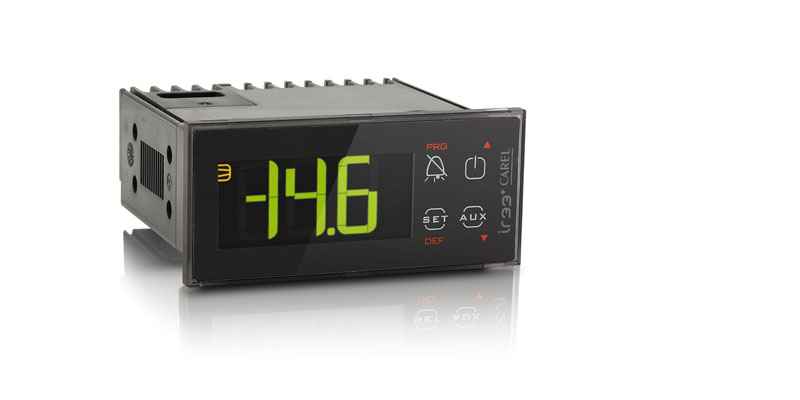 ลักษณะทั่วไป

ir33+ is the new range of controllers for catering, ice cream parlours, patisseries, bars and restaurants.
Special focus has been placed on the user interface: as well as the larger display (27% larger than ir33), available in more colours and the addition of the ON/OFF function, only the main functions have been highlighted, typically those accessed most by the user. There is also a special alarm icon with direct muting of the buzzer.
The main functions are highlighted, such as set point display and auxiliary output activation, while other, less frequent functions for the end user, such as installation parameter settings, are in the background.

เพิ่ม

ir33+ features relays up to 16 A for controlling compressors. The top-of-the-range version comes with 4 relays and clock.
ir33+ power has a 2 HP power relay to directly control high capacity refrigeration compressors. ir33+ power is available with 230 Vac power supply and a maximum of 3 relays.
เอกสาร
Commercial
Brochure

* Entries are ordered by date

รหัส
คำอธิบาย
ภาษา
วันที่ *
Release

รหัส

+3000064EN

คำอธิบาย

ir33+ range...continuity, innovation and design

ภาษา

ENG

วันที่

31/07/2013

Release

1.0

รหัส

+3000064IT

คำอธิบาย

gamma ir33+ ...continuità, innovazione e design

ภาษา

ITA

วันที่

31/07/2013

Release

1.0

รหัส

+3000064FR

คำอธิบาย

gamme ir33+ ...continuité, innovation et design

ภาษา

FRE

วันที่

31/07/2013

Release

1.0

รหัส

+3000042DE

คำอธิบาย

Die neue Produktpalette für professionelles Catering, Eisdielen, Konditoreien, Bars und Restaurants

ภาษา

GER

วันที่

16/09/2011

Release

1.0

รหัส

+3000042EN

คำอธิบาย

the new range of controllers for catering, ice cream parlours, patisseries, bars and restaurants

ภาษา

ENG

วันที่

16/09/2011

Release

1.0

รหัส

+3000042IT

คำอธิบาย

la nuova gamma di controlli per il catering, gelaterie, pasticcerie, bar e ristoranti

ภาษา

ITA

วันที่

16/09/2011

Release

1.0

รหัส

+3000042ZH

คำอธิบาย

新一代控制器 应用于厨房、冰淇淋店、 蛋糕店、酒吧和餐厅

ภาษา

CHI

วันที่

16/09/2011

Release

1.0
Images
High resolution images

* Entries are ordered by date

รหัส
คำอธิบาย
ภาษา
วันที่ *
Release

รหัส

PH11LIR308-ir33-plus

คำอธิบาย

CAREL-Refrigeration Parametric Controls-ir33+ platform

ภาษา

ALL

วันที่

17/09/2021

Release

R.0