ir33
IR33*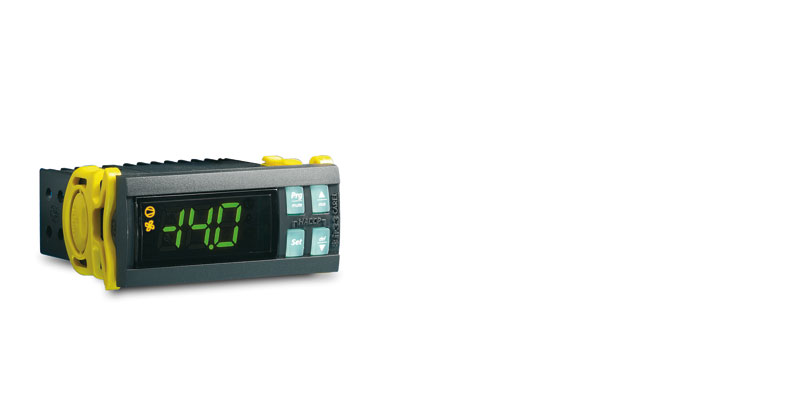 ลักษณะทั่วไป

ir33 represents the basic selection offered by CAREL for applications in refrigeration.
A complete set of controls, from the single-relay version for static refrigerated units with normal temperature, with control only on the compressor, to the 4-relay version for ventilated, low temperature units, with compressor control, resistor or hot gas defrost, evaporation fans and multi-function auxiliary, available in several versions of power supply (12Vac, 12/24Vac, 115Vac, 230Vac and switching 15/230Vac).

Most of the models are equipped with a 16A relay for compressor control and an 8A relay for defrost control, evaporation fans and the auxiliary output. Some models are also available with a 2Hp compressor relay.

In addition to the common setting algorithms, ir33 has some additional features: "Direct" (cold) and "Reverse" (warm) operation with neutral zone, control of a second step regulated compressor, auxiliary evaporator control, condenser fan control, adjustment with supply and return probe with weighted average, display case/cell light control.
For control of the parameters, CAREL offers for free a simple configuration software, called Visual Parameter Manager (VPM), downloadable from: ksa.carel.com


Certifications:
CE, UL, VDE, ATEX

EN 13485, air, S,A,1, -30°C +30°C
The ir33 series, equipped with standard CAREL NTC probe, meets the specifications of the EN 13485 standard (thermometers for measuring the air temperature for applications on storage and distribution units for chilled, frozen, deep-frozen/quick-frozen food and ice cream) set as mandatory for the storage of frozen and deep frozen food by the EC Regulation 37/2005 of January 12, 2005.
เอกสาร
Technical
Manuals

* Entries are ordered by date

รหัส
คำอธิบาย
ภาษา
วันที่ *
Release

รหัส

+030220447

คำอธิบาย

ir33 platform conexiones / connections

ภาษา

ENG SPA

วันที่

31/05/2016

Release

2.3

รหัส

+03C220445

คำอธิบาย

ir33 platform

ภาษา

CHI

วันที่

27/04/2011

Release

2.3

รหัส

+030220445

คำอธิบาย

ir33 platform connessioni / connections

ภาษา

ENG ITA

วันที่

27/04/2011

Release

2.3

รหัส

+030220449

คำอธิบาย

ir33 platform

ภาษา

RUS

วันที่

16/06/2010

Release

2.5

รหัส

+030220444

คำอธิบาย

ir33 platform

ภาษา

SPA

วันที่

16/06/2010

Release

2.5

รหัส

+030220441

คำอธิบาย

ir33 platform

ภาษา

ENG

วันที่

16/06/2010

Release

2.5

รหัส

+030220440

คำอธิบาย

ir33 platform

ภาษา

ITA

วันที่

16/06/2010

Release

2.5

Technical Leaflets

* Entries are ordered by date

รหัส
คำอธิบาย
ภาษา
วันที่ *
Release

รหัส

+050003061

คำอธิบาย

ir33: - Regolatore elettronico per unità frigorifere stand-alone/Elettronic controller for stand-alone refrigeration units

ภาษา

ENG ITA

วันที่

02/02/2010

Release

4.3
Commercial
Brochure

* Entries are ordered by date

รหัส
คำอธิบาย
ภาษา
วันที่ *
Release

รหัส

+302235292

คำอธิบาย

New generation... ...continuité, innovation, design

ภาษา

FRE

วันที่

20/05/2008

Release

2.0

Success Story

* Entries are ordered by date

รหัส
คำอธิบาย
ภาษา
วันที่ *
Release

รหัส

+4000063ES

คำอธิบาย

Complejo museístico de Castel Sant'Angelo Sistema de monitorización, control y humectación de las salas expositoras.

ภาษา

SPA

วันที่

18/10/2017

Release

1.0

รหัส

+4000063EN

คำอธิบาย

Castel Sant'Angelo museum complex: Monitoring, control and humidification system in the exhibit rooms.

ภาษา

ENG

วันที่

18/10/2017

Release

1.0

รหัส

+4000063DE

คำอธิบาย

Nationalmuseum Engelsburg System für Überwachung, Regelung und Befeuchtung der Ausstellungsräume

ภาษา

GER

วันที่

18/10/2017

Release

1.0

รหัส

+4000063IT

คำอธิบาย

Polo Museale di Castel Sant'Angelo: Sistema di monitoraggio, controllo ed umidificazione delle sale espositive

ภาษา

ITA

วันที่

18/10/2017

Release

1.0

รหัส

+4000026ES

คำอธิบาย

CAREL full green, sistema de CO2 transcrítico. Doble recuperación de calor y triple línea de aspiración en el sistema Carrefour de Aosta.

ภาษา

SPA

วันที่

23/09/2015

Release

2.0

รหัส

+4000026FR

คำอธิบาย

CAREL full green, système CO2 transcritique. Double récupération de la chaleur et triple ligne d'aspiration dans le système Carrefour d'Aoste.

ภาษา

FRE

วันที่

Release
Images
High resolution images

* Entries are ordered by date

รหัส
คำอธิบาย
ภาษา
วันที่ *
Release

รหัส

PH11LIR301-ir33

คำอธิบาย

ir33-CAREL-Refrigeration Parametric Controls-ir33 Series

ภาษา

ALL

วันที่

06/09/2021

Release

R.0