ir33 smart
IR33*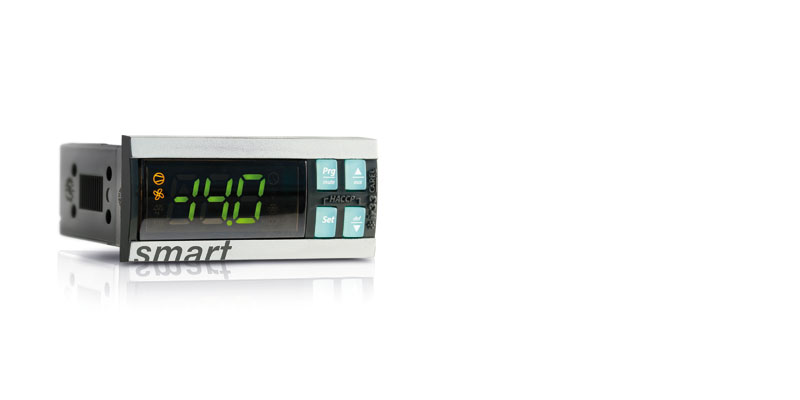 ลักษณะทั่วไป

ir33 smart features 6 sets of preloaded parameters (according to the model), each of which identifies a specific application.
Selecting and loading the most suitable configuration for the application is simple operation that takes no more than 5 seconds.
The information required for starting and correct operation of the unit is available in several languages (Italian, English, French, German, Spanish and Portuguese). Other languages may be available upon request.

ir33 smart is ideal for the distribution market: once the language of the documents has been identified, all the applications can be managed with just three product codes

The models with 1 and 2 relays have been created for simpler applications. The model with 4 relays (compressor, defrost, fans, aux) represents the top of the range, integrating the RTC clock and consequently HACCP reports.
All the codes are fitted with a 115/230 Vac switching power supply, 16 A relay for the compressor and management of NTC and PTC probes to increase the flexibility of the instrument.
เอกสาร
Technical
Technical Leaflets

* Entries are ordered by date

รหัส
คำอธิบาย
ภาษา
วันที่ *
Release

รหัส

+050001537

คำอธิบาย

ir33 smart - IR33C7HB0L elektronische regelaar voor geventileerde koelunits met normale en lage temperatuur

ภาษา

DUT

วันที่

09/03/2010

Release

1.1

รหัส

+050001535

คำอธิบาย

ir33 smart - IR33C7HB0P regulador eletrônico para unidades frigorífi cas ventiladas com temperatura normal e baixa

ภาษา

POR

วันที่

09/03/2010

Release

1.1

รหัส

+050001534

คำอธิบาย

ir33 smart - IR33C7HB0S regulador electrónico para unidades frigorífi cas ventiladas a temperatura normal y baja

ภาษา

SPA

วันที่

09/03/2010

Release

1.1

รหัส

+050001533

คำอธิบาย

ir33 smart - IR33C7HB0D Elektronischer Regler für Kältegeräte mit Luftkühler im Plus- und Tiefkühlbereich

ภาษา

GER

วันที่

09/03/2010

Release

1.1

รหัส

+050001532

คำอธิบาย

ir33 smart - IR33C7HB0F régulateur électronique pour unités frigorifiques ventilées moyenne et basse température

ภาษา

FRE

วันที่

09/03/2010

Release

1.1

รหัส

+050001531

คำอธิบาย

ir33 smart - IR33C7HB0E electronic controller for normal and low temperature ventilated refrigeration units

ภาษา

ENG

วันที่

09/03/2010

Release

1.1

รหัส

+050001530

คำอธิบาย

ir33 smart - IR33C7HB0I regolatore elettronico per unità frigorifere ventilate a temperatura normale e bassa

ภาษา

ITA

วันที่

09/03/2010

Release

1.1

รหัส

+050001523

คำอธิบาย

ir33 smart - IR33F7HR0D Elektronischer Regler für Kältegeräte mit Luftkühler im Plusbereich

ภาษา

GER

วันที่

14/09/2009

Release

1.0

รหัส

+050001517

คำอธิบาย

ir33 smart - IR33S7HR0L Elektronische regelaar voor statische koelunits met normale en hoge temperatuur

ภาษา

DUT

วันที่

14/07/2009

Release

1.1

รหัส

+050001515

คำอธิบาย

ir33 smart - IR33S7HR0P Regulador eletrônico para unidades frigoríficas estáticas com temperatura normal e alta

ภาษา

POR

วันที่

14/07/2009

Release

1.1

รหัส

+050001514

คำอธิบาย

ir33 smart - IR33S7HR0S Regulador electrónico para unidades frigorífi cas estáticas a temperatura normal y alta

ภาษา

SPA

วันที่

14/07/2009

Release

1.1

รหัส

+050001513

คำอธิบาย

ir33 smart - IR33S7HR0D Elektronischer Regler für Kältegeräte mit statischem Verdichter im Plusbereich

ภาษา

GER

วันที่

14/07/2009

Release

1.1

รหัส

+050001512

คำอธิบาย

ir33 smart - IR33S7HR0F Régulateur électronique pour unités frigorifiques statiques moyenne et haute températures

ภาษา

FRE

วันที่

14/07/2009

Release

1.1

รหัส

+050001511

คำอธิบาย

ir33 smart - IR33S7HR0E Electronic controller for normal and high temperature static refrigeration units

ภาษา

ENG

วันที่

14/07/2009

Release

1.1

รหัส

+050001510

คำอธิบาย

ir33 smart - IR33S7HR0I Regolatore elettronico per unità frigorifere statiche a temperatura normale ed alta

ภาษา

ITA

วันที่

14/07/2009

Release

1.1

รหัส

+050001525

คำอธิบาย

ir33 smart - IR33Y7HR0P regulador eletrônico para unidades frigorífi cas estáticas com temperatura normal e baixa

ภาษา

POR

วันที่

23/01/2009

Release

1.0

รหัส

+050001524

คำอธิบาย

ir33 smart - IR33Y7HR0S regulador electrónico para unidades frigorífi cas estáticas a temperatura normal y baja

ภาษา

SPA

วันที่

23/01/2009

Release

1.0

รหัส

+050001521

คำอธิบาย

ir33 smart - IR33Y7HR0E electronic controller for normal and low temperature static refrigeration units

ภาษา

ENG

วันที่

23/01/2009

Release

1.0

รหัส

+050001520

คำอธิบาย

ir33 smart - IR33Y7HR0I regolatore elettronico per unità frigorifere statiche a temperatura normale e bassa

ภาษา

ITA

วันที่

23/01/2009

Release

1.0
Commercial
Brochure

* Entries are ordered by date

รหัส
คำอธิบาย
ภาษา
วันที่ *
Release

รหัส

+302240665

คำอธิบาย

ir33 smart

ภาษา

POR

วันที่

05/05/2009

Release

1.0

รหัส

+302240664

คำอธิบาย

ir33 smart

ภาษา

SPA

วันที่

05/05/2009

Release

1.0

รหัส

+302240663

คำอธิบาย

ir33 smart

ภาษา

GER

วันที่

05/05/2009

Release

1.0

รหัส

+302240662

คำอธิบาย

ir33 smart

ภาษา

FRE

วันที่

05/05/2009

Release

1.0

รหัส

+302240661

คำอธิบาย

ir33 smart

ภาษา

ENG

วันที่

05/05/2009

Release

1.0

รหัส

+302240660

คำอธิบาย

ir33 smart

ภาษา

ITA

วันที่

05/05/2009

Release

1.0