ir33 DIN
DN33*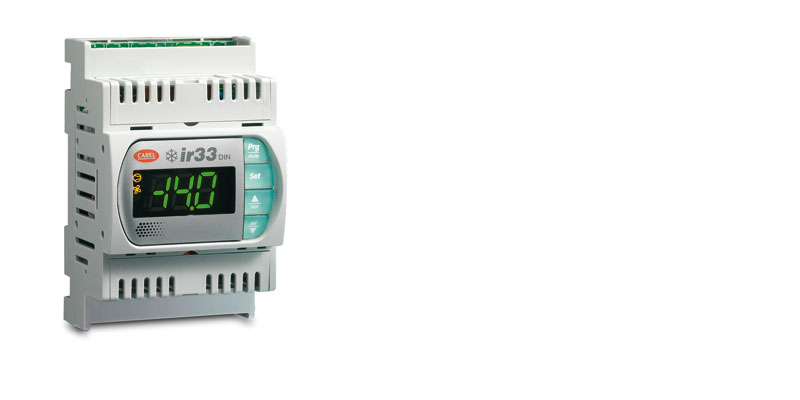 ลักษณะทั่วไป

ir33 DIN rail (DN33*) is the CAREL proposal for the control of refrigeration units when a solution with DIN rail mounting is required.

These devices are completely compatible with the ir33 range in terms of both software and functions. The hardware supplied is very powerful and allows the direct control of up to 2 HP compressors and the management of defrost heaters with 16 A relays.

The top-of-the-range version has 5 relays, while all models come as standard with 2 probe inputs and 3 digital inputs (the latter can be configured for probes, if required by the application).
เอกสาร
Technical
Manuals

* Entries are ordered by date

รหัส
คำอธิบาย
ภาษา
วันที่ *
Release

รหัส

+030220447

คำอธิบาย

ir33 platform conexiones / connections

ภาษา

ENG SPA

วันที่

31/05/2016

Release

2.3

รหัส

+03C220445

คำอธิบาย

ir33 platform

ภาษา

CHI

วันที่

27/04/2011

Release

2.3

รหัส

+030220445

คำอธิบาย

ir33 platform connessioni / connections

ภาษา

ENG ITA

วันที่

27/04/2011

Release

2.3

รหัส

+030220449

คำอธิบาย

ir33 platform

ภาษา

RUS

วันที่

16/06/2010

Release

2.5

รหัส

+030220444

คำอธิบาย

ir33 platform

ภาษา

SPA

วันที่

16/06/2010

Release

2.5

รหัส

+030220441

คำอธิบาย

ir33 platform

ภาษา

ENG

วันที่

16/06/2010

Release

2.5

รหัส

+030220440

คำอธิบาย

ir33 platform

ภาษา

ITA

วันที่

16/06/2010

Release

2.5

Technical Leaflets

* Entries are ordered by date

รหัส
คำอธิบาย
ภาษา
วันที่ *
Release

รหัส

+0500009ML

คำอธิบาย

ir33 Universale Multi-Input Controllo elettronico universale

ภาษา

ENG FRE GER ITA SPA

วันที่

29/07/2020

Release

1.4

รหัส

+050003062

คำอธิบาย

ir33 DIN: Regolatore elettronico per unità frigorifere stand-alone / Electronic controller for stand-alone refrigeration units

ภาษา

ENG ITA

วันที่

31/01/2020

Release

2.5

รหัส

+050003085

คำอธิบาย

DN33 Universale Controllo elettronico universale/Universal electronic controller/Contrôle Infrared Universale/Elektronische Universal-Steuerung/Controlador electrónico universal

ภาษา

ENG FRE GER ITA SPA

วันที่

08/01/2020

Release

1.3

รหัส

+050003086

คำอธิบาย

DN33 Universale - IRDR Universale Istruzione per la sostituzione/Replacement instructions/Instruction pour le remplacement/Austauschanleitung/Instrucciones para la sustitución

ภาษา

ENG FRE GER ITA SPA

วันที่

08/01/2020

Release

1.1

รหัส

+030220448

คำอธิบาย

ir33 platform

ภาษา

POR

วันที่

16/06/2010

Release

2.5

รหัส

+050003060

คำอธิบาย

ir33/ir33 DIN

ภาษา

ENG FRE GER ITA POR SPA

วันที่

30/06/2005

Release

2.2

รหัส

+050003070

คำอธิบาย

IROPZSER30 - Scheda seriale RS485 per ir33 DIN/RS485 serial board for ir33 DIN

ภาษา

ENG ITA

วันที่

05/06/2005

Release

1.0
Commercial
Brochure

* Entries are ordered by date

รหัส
คำอธิบาย
ภาษา
วันที่ *
Release

รหัส

+302235292

คำอธิบาย

New generation... ...continuité, innovation, design

ภาษา

FRE

วันที่

20/05/2008

Release

2.0

รหัส

+302235291

คำอธิบาย

New generation... ...continuity, innovation, design

ภาษา

ENG

วันที่

20/05/2008

Release

2.0

รหัส

+302235290

คำอธิบาย

New generation... ...continuità, innovazione, design

ภาษา

ITA

วันที่

20/05/2008

Release

2.0

รหัส

+30C235291

คำอธิบาย

新一代产品... ...秉承经典设计,融入创新元素

ภาษา

CHI

วันที่

14/06/2006

Release

1.3

รหัส

+302235299

คำอธิบาย

Новое поколение… …преемственность, инновация, дизайн

ภาษา

RUS

วันที่

14/06/2006

Release

1.3

รหัส

+302235298

คำอธิบาย

Nueva generación... ...continuidad, innovación, diseño

ภาษา

SPA

วันที่

14/06/2006

Release

1.3

รหัส

+302235294

คำอธิบาย

Nova geração... ...continuidade, inovação, design

ภาษา

POR

วันที่

14/06/2006

Release

1.3

รหัส

+302235340

คำอธิบาย

ristorazione professionale caldo/freddo sotto controllo

ภาษา

ITA

วันที่

01/10/2005

Release

1.0
Images
High resolution images

* Entries are ordered by date

รหัส
คำอธิบาย
ภาษา
วันที่ *
Release

รหัส

PH11PIR301-DN

คำอธิบาย

IR33DIN-CAREL-Refrigeration Parametric Controls-ir33 Series

ภาษา

ALL

วันที่

06/09/2021

Release

R.0