MasterCase2
MC2*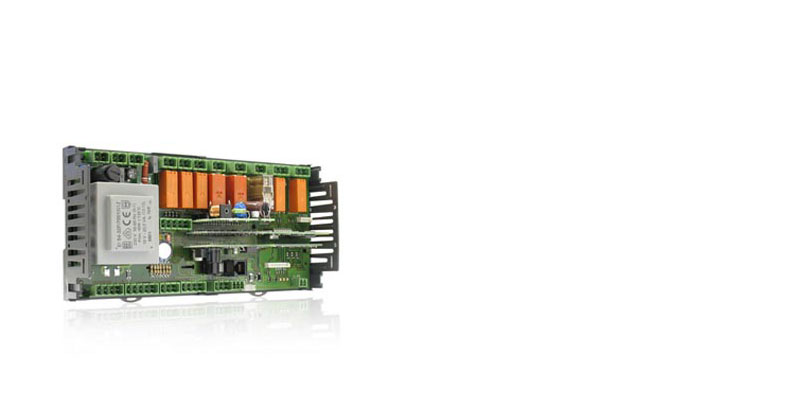 ลักษณะทั่วไป

MasterCase2 represents the most advanced solution for the complete control of refrigerating utilities, such as showcases and cold rooms, and is therefore ideal for applications in supermarkets. It combines the management of PT1000 probes (see the corresponding model) and power relays for the direct management of the electrical loads.
Up to 7 probes can be connected, configured as NTC, 0 to 5 V (PT1000) 4 to 20 mA, while there are 8 relay outputs for the control of compressors/solenoid valves, evaporator fans, defrost, alarm, hot wire, lights, aux1 and aux2. MasterCase2 can control a PWM on/off electronic expansion valve or alternatively, with the optional driver board, an expansion valve with stepper motor, such as the CAREL E2V.
MasterCase2 can be connected in a local network for the Main/Secondary management of multiplexed showcases. A series of optional accessories is available for installation on the MasterCase2, such as: clock board and serial boards for interfacing to a supervisory system.
เอกสาร
Technical
Manuals

* Entries are ordered by date

รหัส
คำอธิบาย
ภาษา
วันที่ *
Release

รหัส

+03P220220

คำอธิบาย

MasterCase2

ภาษา

ITA

วันที่

28/10/2005

Release

1.0

รหัส

+03P220221

คำอธิบาย

MasterCase 2

ภาษา

ENG

วันที่

28/10/2005

Release

1.0

รหัส

+03P220223

คำอธิบาย

MasterCase2

ภาษา

GER

วันที่

28/10/2005

Release

1.0
Commercial
Brochure

* Entries are ordered by date

รหัส
คำอธิบาย
ภาษา
วันที่ *
Release

รหัส

+302240373

คำอธิบาย

Retail sistema...the one solution

ภาษา

GER

วันที่

09/06/2010

Release

4.0

รหัส

+302240374

คำอธิบาย

Retail sistema...the one solution

ภาษา

SPA

วันที่

07/02/2007

Release

4.1

รหัส

+302240375

คำอธิบาย

retail sistema...the one solution

ภาษา

POR

วันที่

07/02/2007

Release

4.1

รหัส

+302240377

คำอธิบาย

retail... the one solution

ภาษา

RUS

วันที่

07/02/2007

Release

4.1

รหัส

+302240370

คำอธิบาย

Retail Solutions... the one solution

ภาษา

IND

วันที่

09/10/2006

Release

4.0

รหัส

+302240371

คำอธิบาย

Retail sistema...the one solution

ภาษา

ENG

วันที่

09/10/2006

Release

4.0

รหัส

+30C239431

คำอธิบาย

陈列柜和冷库的应用 解决方案

ภาษา

CHI

วันที่

01/10/2006

Release

1.0