µGEO NA
MCH2*4* + MCH2*6*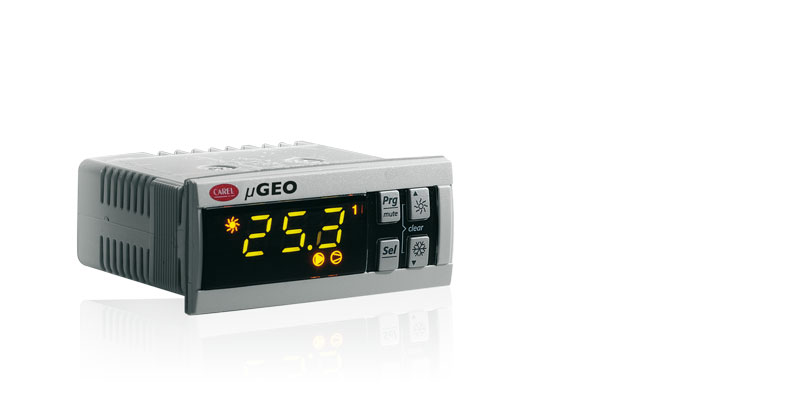 ลักษณะทั่วไป

Controller for ground source heat pumps with one circuit and 1/2 compressors µGEO is the parametric solution for the complete control of single circuit heat pumps with one or two compressors, managing the production of domestic hot water and hot or cold water for the heating or cooling system, based on the priority defined by the user.
µGEO is especially suitable for geothermal applications, based on the control of the efficiency of the underground probe.
Wiring is performed using Molex® plug-in connectors, thus reducing space, and speeding up and simplifying assembly.

เพิ่ม

Using the electronic expansion valve with the µGEO controller improves performance in terms of energy savings, and provides a useful solution to the problem of reversing the refrigeration cycle. As well as saving energy, CAREL valves also help make the systems environmentally friendly, in line with the parameters established by the "Kyoto protocol" (international treaty on environmental protection).
เอกสาร
Technical
2D/3D drawings

* Entries are ordered by date

รหัส
คำอธิบาย
ภาษา
วันที่ *
Release

รหัส

2d - 3d mChiller2

คำอธิบาย

ภาษา

ALL

วันที่

22/01/2019

Release

R0

Manuals

* Entries are ordered by date

รหัส
คำอธิบาย
ภาษา
วันที่ *
Release

รหัส

+03C220831

คำอธิบาย

μGEO 冷水机组电子控制器 (1或2台压缩机,单回路)

ภาษา

CHI

วันที่

31/08/2011

Release

3.2

รหัส

+030220830

คำอธิบาย

μGEO: Controllo elettronico per pompe di calore con 1/2 compressori, un circuito

ภาษา

ITA

วันที่

31/08/2011

Release

3.2

รหัส

+030220831

คำอธิบาย

μGEO: Electronic controller for heat pumps with 1/2 compressors, one circuits

ภาษา

ENG

วันที่

31/08/2011

Release

3.2

รหัส

+030220833

คำอธิบาย

μGEO: Elektronische Steuerung für monovalente Wärmepumpen mit 1-2 Verdichtern

ภาษา

GER

วันที่

31/08/2011

Release

3.2

Technical Leaflets

* Entries are ordered by date

รหัส
คำอธิบาย
ภาษา
วันที่ *
Release

รหัส

+050002920

คำอธิบาย

MCH2****4* - μGEO: Dispositivo elettronico per controllo di pompe geotermiche monocircuito a 1/2 compressori / Electronic controller for chillers with 2/4 compressors (one and two circuits)

ภาษา

ENG ITA

วันที่

28/01/2008

Release

1.1
Commercial
Brochure

* Entries are ordered by date

รหัส
คำอธิบาย
ภาษา
วันที่ *
Release

รหัส

+30C239461

คำอธิบาย

地源热泵系统控制 的整体解决方案

ภาษา

CHI

วันที่

01/03/2008

Release

2.0

รหัส

+302239461

คำอธิบาย

Integrated solutions for ground source heat pumps

ภาษา

ENG

วันที่

01/03/2008

Release

2.0

รหัส

+30C239467

คำอธิบาย

地中熱ヒートポンプ用トータルソリ ューション

ภาษา

JAP

วันที่

01/03/2008

Release

2.0

รหัส

+302239460

คำอธิบาย

Soluzioni integrate per pompe di calore geotermiche

ภาษา

ITA

วันที่

01/03/2008

Release

2.0