µC3 NA
MCH3*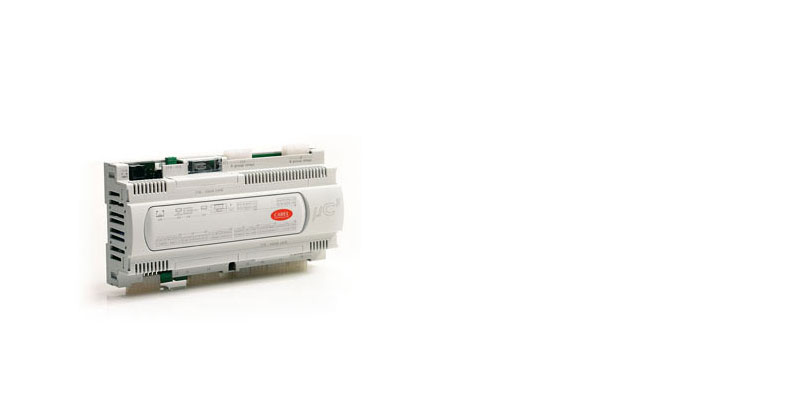 ลักษณะทั่วไป

The µC3 series is the top of the µC range.
It has been designed to satisfy the most demanding and important manufacturers in the sector who require increasingly high performance and competitive products. µC3 can be installed with or without the DIN rail case, the wiring system is plug-in with Molex® connectors. The case guarantees a high index of protection, reduces the risk of electrostatic discharges and reduces the assembly times for the entire system.
µC3 can manage up to six hermetic compressors or two semi-hermetic compressors in a maximum of 2 circuits, with the possibility to control one electronic expansion valve per circuit. With the large number of inputs and outputs, it can completely control air/water
units, chillers and heat pumps, water/water units with reversal of the gas circuit, air- and water-cooled units with and without reverse cycle, air/air units, and air/air heat pumps.
Using an optional RS485 communication board, µC3 can be interfaced with the Carel PlantVisor supervisory system, or alternatively, using the embedded Modbus® RTU protocol, ensures open connectivity to third-party BMS systems. Furthermore, to ensure greater safety and simpler maintenance and monitoring of the air-conditioning systems, µC3, using the optional RS232 board, can receive and send SMS messages via a GSM modem. µC3 has a built-in tLAN port for the connection of the local LED terminal or the driver for electronic expansion valves (alternatives).
เอกสาร
Technical
Manuals

* Entries are ordered by date

รหัส
คำอธิบาย
ภาษา
วันที่ *
Release

รหัส

+030220430

คำอธิบาย

μchiller 3

ภาษา

ITA

วันที่

03/06/2014

Release

1.7

รหัส

+030220431

คำอธิบาย

μchiller 3

ภาษา

ENG

วันที่

03/06/2014

Release

1.7

รหัส

+030220435

คำอธิบาย

μchiller 3

ภาษา

RUS

วันที่

03/06/2014

Release

1.7

รหัส

+030220460

คำอธิบาย

μAM: controllo elettronico per condizionamento/ Air-Conditioning electronic controller

ภาษา

ENG ITA

วันที่

08/05/2007

Release

1.0

รหัส

+03C220431

คำอธิบาย

µC3 标准压缩机组 单/双回路

ภาษา

CHI

วันที่

11/10/2005

Release

1.0

Technical Leaflets

* Entries are ordered by date

รหัส
คำอธิบาย
ภาษา
วันที่ *
Release

รหัส

+050000740

คำอธิบาย

ADE***10** μAM – Controllore per μe-dronic / μe-dronic controller

ภาษา

ENG ITA

วันที่

18/04/2013

Release

1.3

รหัส

+05C001070

คำอธิบาย

μC3 - 用于控制单和/或双电路机组的电子设备 / Electronic device for controlling single and/or two-circuit units

ภาษา

CHI ENG

วันที่

09/03/2006

Release

1.1

รหัส

+050001070

คำอธิบาย

μC3 - Dispositivo elettronico per controllo unità mono e/o bi-circuito / Electronic device for controlling single and/or two-circuit units

ภาษา

ENG ITA

วันที่

09/03/2006

Release

1.1
Commercial
Brochure

* Entries are ordered by date

รหัส
คำอธิบาย
ภาษา
วันที่ *
Release

รหัส

+302239365

คำอธิบาย

Soluzioni integrate per chiller e pompe di calore di media e piccola taglia

ภาษา

ITA

วันที่

01/03/2006

Release

1.0

รหัส

+302239366

คำอธิบาย

Integrated solutions for small and medium size chiller/heat pumps

ภาษา

ENG

วันที่

01/03/2006

Release

1.0

รหัส

+302239369

คำอธิบาย

Комплексные решения для чиллеров/тепловых насосов малого и среднего размера

ภาษา

RUS

วันที่

01/03/2006

Release

1.0

รหัส

+30C239611

คำอธิบาย

μC sistema: 系列

ภาษา

CHI

วันที่

01/10/2005

Release

1.0

รหัส

+302239611

คำอธิบาย

μC sistema: the range

ภาษา

ENG

วันที่

01/10/2005

Release

1.0

รหัส

+302239613

คำอธิบาย

μC sistema: Die Produktbandbreite

ภาษา

GER

วันที่

01/10/2005

Release

1.0

Success Story

* Entries are ordered by date

รหัส
คำอธิบาย
ภาษา
วันที่ *
Release

รหัส

+402200110

คำอธิบาย

Development of an advanced control system for chillers

ภาษา

ENG

วันที่

01/03/2006

Release

1.0