pCO1 (I/O board)
PCO1*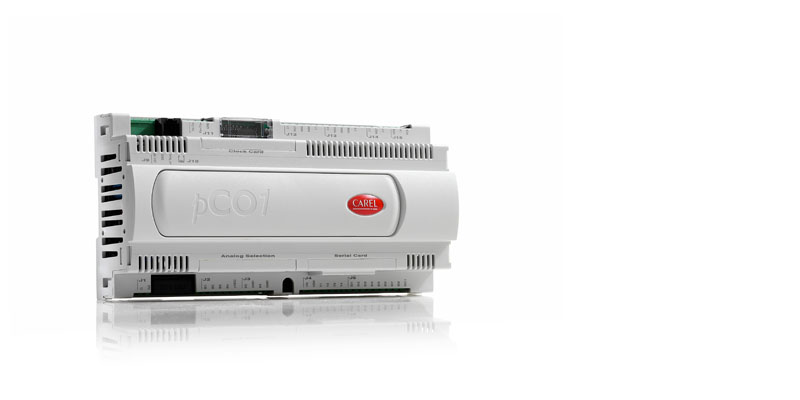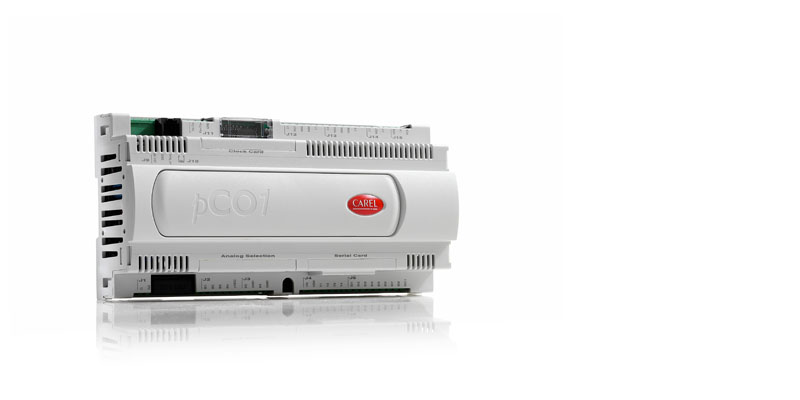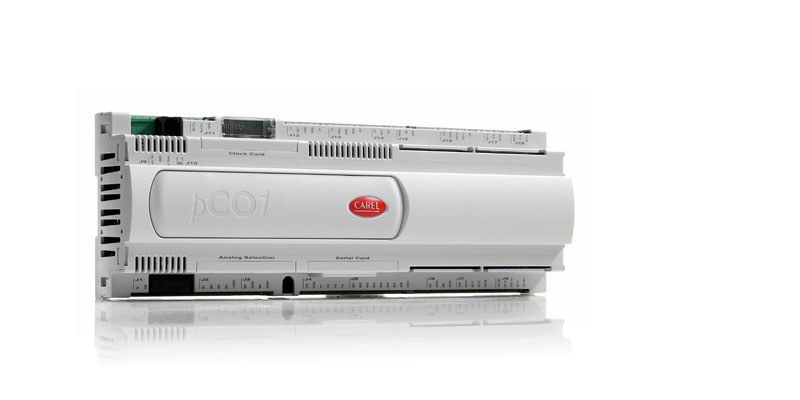 ลักษณะทั่วไป

The pCO1 series has been designed for the purpose of providing the significant innovations introduced by the pCO sistema to all those applications that require greater competitiveness in terms of price. All the pCO1 series controllers feature a
16-bit microprocessor, and 2 MB flash memory (multi-language, multi-protocol).

The pCO1 series controllers are also supplied in plastic cases that guarantee the high mechanical protection of the board and reduce the risk of electrostatic discharge due incorrect handling; quick DIN rail mounting means faster assembly and wiring.The pCO1 controllers are available in two different sizes, according to the I/O and power requirements: pCO1 Small, pCO1 Medium.Some models feature an SSR to control the devices that require frequent starts and stops.The pCO1 inputs can be configured using dipswitches, allowing the characteristics of the inputs to be adapted to the more common market standards (NTC, ratiometric, 0 to 20 mA, 4 to 20 mA, ON/OFF).
เอกสาร
Technical
Certificates

* Entries are ordered by date

รหัส
คำอธิบาย
ภาษา
วันที่ *
Release

รหัส

cert_UR PCO1

คำอธิบาย

PCO1*: UR certification

ภาษา

ENG FRE GER ITA POR SPA

วันที่

17/09/2003

Release

Manuals

* Entries are ordered by date

รหัส
คำอธิบาย
ภาษา
วันที่ *
Release

รหัส

+030220336

คำอธิบาย

pCO sistema: General manual

ภาษา

ENG

วันที่

17/04/2013

Release

1.6

รหัส

+030220335

คำอธิบาย

pCO sistema: Manuale generale

ภาษา

ITA

วันที่

17/04/2013

Release

1.6

รหัส

+030220471

คำอธิบาย

pCOWeb- User manual

ภาษา

ENG

วันที่

28/02/2011

Release

2.0

รหัส

+03C220336

คำอธิบาย

pCO sistema 通用手册

ภาษา

CHI

วันที่

11/05/2007

Release

1.0

รหัส

+030221960

คำอธิบาย

pCO Sistema - LonWorks® communication

ภาษา

ENG ITA

วันที่

23/09/2003

Release

2.0

รหัส

+030221840

คำอธิบาย

pCO1 controllore elettronico programmabile/ pCO1 programmable electronic controller

ภาษา

ENG ITA

วันที่

09/07/2002

Release

1.0

Technical Leaflets

* Entries are ordered by date

รหัส
คำอธิบาย
ภาษา
วันที่ *
Release

รหัส

+050003270

คำอธิบาย

PCO100TLN0 / PCO100MPB0 / PCO100FD10 / PCO100FD30 scheda seriale tLAN, MP-Bus e RS485 per pCO1/ pCO3/pCO5 / tLAN, MP-Bus and RS485 serial card for pCO1/ pCO3/pCO5

ภาษา

ENG ITA

วันที่

01/12/2011

Release

1.2

รหัส

+050003230

คำอธิบาย

PCO100CLK0 - scheda orologio per pCO1/ clock card for pCO1

ภาษา

ENG ITA

วันที่

24/06/2009

Release

1.1

รหัส

+050003205

คำอธิบาย

PCOS00CLK0 Scheda orologio per pCO1

ภาษา

ITA

วันที่

24/06/2009

Release

1.1

รหัส

+050003245

คำอธิบาย

PCO100CEF0 opzione Clock, E2prom, memoria Flash per il pCO1

ภาษา

ENG ITA

วันที่

24/06/2009

Release

1.1

รหัส

+05C003220

คำอธิบาย

pCO1 - 电子控制器PCO1**** / Electronic controller PCO1****

ภาษา

CHI ENG

วันที่

13/10/2008

Release

1.5

รหัส

+050003220

คำอธิบาย

pCO1 Controllore elettronico PCO1**** / Electronic controller PCO1****

ภาษา

ENG ITA

วันที่

13/10/2008

Release

1.5

รหัส

+050000162

คำอธิบาย

PCOS00HBF* - PCOS00HBB* Schede seriali CANbus per pCO / pCO CANbus serial cards

ภาษา

ENG ITA

วันที่

07/07/2005

Release

2.1
Commercial
Application Note

* Entries are ordered by date

รหัส
คำอธิบาย
ภาษา
วันที่ *
Release

รหัส

+402200161

คำอธิบาย

Lösungen für den Einsatz von CO2 in der Gewerbekälte

ภาษา

GER

วันที่

02/07/2007

Release

1.0

รหัส

+402200160

คำอธิบาย

Soluzioni per l'utilizzo della CO2 nella refrigerazione commerciale/ Solutions for the use of CO2 in commercial refrigeration

ภาษา

ENG ITA

วันที่

02/07/2007

Release

1.0

Brochure

* Entries are ordered by date

รหัส
คำอธิบาย
ภาษา
วันที่ *
Release

รหัส

+302240373

คำอธิบาย

Retail sistema...the one solution

ภาษา

GER

วันที่

09/06/2010

Release

4.0

รหัส

+302240670

คำอธิบาย

Industria del vino Sistemi per il controllo di temperatura e umidità

ภาษา

ITA

วันที่

28/05/2009

Release

1.0

รหัส

+302240671

คำอธิบาย

Wine industry Temperature and humidity control systems

ภาษา

ENG

วันที่

28/05/2009

Release

1.0

รหัส

+302240480

คำอธิบาย

retail sistema: soluzione integrata per il controllo e il risparmio energetico nella refrigerazione commerciale

ภาษา

ITA

วันที่

01/03/2008

Release

1.1

รหัส

+302240481

คำอธิบาย

retail sistema integrated solution for control and energy savings in commercial refrigeration

ภาษา

ENG

วันที่

01/03/2008

Release

1.1

รหัส

+30C240481

คำอธิบาย

retail sistema 商业制冷中 控制与节能的 整体解决方案

ภาษา

CHI

วันที่

01/03/2008

Release

1.1

รหัส

+302240374

คำอธิบาย

Retail sistema...the one solution

ภาษา

SPA

วันที่

07/02/2007

Release

4.1

รหัส

+302240375

คำอธิบาย

retail sistema...the one solution

ภาษา

POR

วันที่

07/02/2007

Release

4.1

รหัส

+302240377

คำอธิบาย

retail... the one solution

ภาษา

RUS

วันที่

07/02/2007

Release

4.1

รหัส

+302240370

คำอธิบาย

Retail Solutions... the one solution

ภาษา

IND

วันที่

09/10/2006

Release

4.0

รหัส

+302240371

คำอธิบาย

Retail sistema...the one solution

ภาษา

ENG

วันที่

09/10/2006

Release

4.0

รหัส

+302239450

คำอธิบาย

Soluzioni integrate per rooftop

ภาษา

ITA

วันที่

01/10/2006

Release

1.0

รหัส

+302239451

คำอธิบาย

Integrated solutions for rooftop units

ภาษา

ENG

วันที่

01/10/2006

Release

1.0

รหัส

+302239381

คำอธิบาย

precision and shelter units

ภาษา

ENG

วันที่

01/03/2006

Release

1.0

รหัส

+302239360

คำอธิบาย

Soluzioni integrate chiller e pompe di calore di grossa taglia

ภาษา

ITA

วันที่

01/03/2006

Release

1.0

รหัส

+302239361

คำอธิบาย

Integrated solutions for large chillers/heat pumps

ภาษา

ENG

วันที่

01/03/2006

Release

1.0

รหัส

+302239370

คำอธิบาย

Soluzioni integrate per i compressori a vite Bitzer

ภาษา

ITA

วันที่

01/03/2006

Release

1.0

รหัส

+302239371

คำอธิบาย

Integrated solutions for Bitzer screw compressors

ภาษา

ENG

วันที่

01/03/2006

Release

1.0

รหัส

+302239373

คำอธิบาย

Integrierte Lösungen für Bitzer-Schraubenverdichter

ภาษา

GER

วันที่

01/03/2006

Release

1.0

รหัส

+302239376

คำอธิบาย

Комплексные решения для винтовых компрессоров Bitzer

ภาษา

RUS

วันที่

01/03/2006

Release

1.0

รหัส

+30C238321

คำอธิบาย

pCO sistema 可编程控制器

ภาษา

CHI

วันที่

15/02/2006

Release

1.0

รหัส

+302238321

คำอธิบาย

pCO sistema: programmable controllers

ภาษา

ENG

วันที่

15/02/2006

Release

1.0

รหัส

+302238320

คำอธิบาย

pCO sistema: controlli programmabili

ภาษา

ITA

วันที่

15/02/2006

Release

1.0

รหัส

+302238323

คำอธิบาย

pCO sistema: Programmierbare Steuerungen

ภาษา

GER

วันที่

15/02/2006

Release

1.0

รหัส

+302238281

คำอธิบาย

Integral control solution Air Handling Units

ภาษา

ENG

วันที่

03/10/2005

Release

3.0

รหัส

+30C238281

คำอธิบาย

空气处理机组 的整体控制方案

ภาษา

CHI

วันที่

03/10/2005

Release

3.0

รหัส

+302235350

คำอธิบาย

Soluzioni di controllo per panificazione e abbattitori

ภาษา

ITA

วันที่

01/10/2005

Release

1.0