Powercompact
PB00*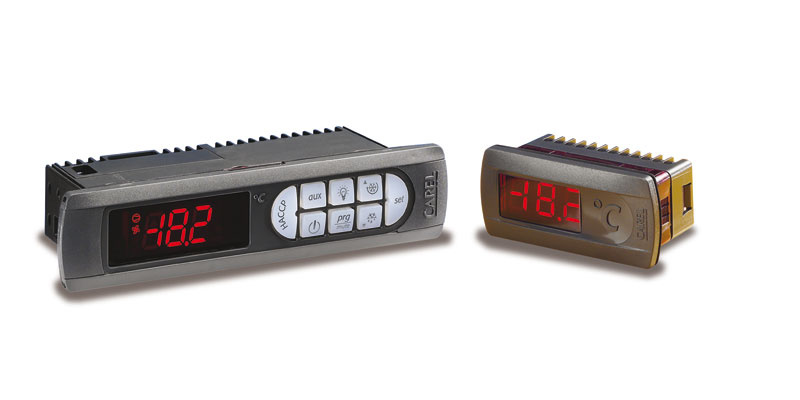 ลักษณะทั่วไป

The Powercompact series is particularly suitable for refrigerated counters in the catering field and for refrigerated display cases for pastry shops and ice cream parlors.

There are several versions available, from the single-relay version for static refrigerated units with normal temperature, with control only on the compressor, to the 5-relay version for ventilated, low temperature units, with compressor control, resistor or hot gas defrost, evaporation fans and two multi-function auxiliary outputs. Most of the models are equipped with a 2Hp relay for compressor control, a 16A relay for defrost control, an 8A relay for evaporation fans and auxiliary outputs control.

Powercompact small: the small version, which occupies only 40mm in depth inside the unit, is the perfect solution for applications where the space available for housing the control is particularly limited. Available in several versions, up to the 4-relay version with compressor controlled by means of a 30A relay.
The Powercompact series is part of the ir33 platform and therefore it shares all its features; in addition to the common setting algorithms, Powercompact has some additional features: "Direct" (cold) and "Reverse" (warm) operation with neutral zone, control of a second step regulated compressor, auxiliary evaporator control, condenser fan control, adjustment with supply and return probe with weighted average, display case/cell light control.
For control of the parameters, CAREL offers for free a simple configuration software, called Visual Parameter Manager (VPM), downloadable from: ksa.carel.com
EN 13485, air, S,A,1, -30°C +30°C
The ir33 series, equipped with standard CAREL NTC probe, meets the specifications of the EN 13485 standard (thermometers for measuring the air temperature for applications on storage and distribution units for chilled, frozen, deep-frozen/quick-frozen food and ice cream) set as mandatory for the storage of frozen and deep frozen food by the EC Regulation 37/2005 of January 12, 2005.

เพิ่ม

Large display: powercompact is fitted with a very powerful and attractive display, featuring 3 digits plus decimal point, a plus/minus sign and an icon, simplifying the reading of the values and the operating status. The ergonomic silicon keypad allows direct access to the HACCP, light, defrost and continuous cycle functions.
RTC: this accessory is used to log detailed data, as well as to program real time defrost cycles (rather than preset defrost intervals). The RTC ensure compliance with the HACCP standards.
Connection terminal block: powercompact features a power terminal block for the direct connection of the loads, without the presence of the common terminal. In addition, the use of relays with changeover contacts ensures maximum flexibility in the connections to the panel. The terminal block is available with screw terminals or removable spade connectors so as to satisfy the needs of all manufacturers and installers.
เอกสาร
Technical
Manuals

* Entries are ordered by date

รหัส
คำอธิบาย
ภาษา
วันที่ *
Release

รหัส

+030220447

คำอธิบาย

ir33 platform conexiones / connections

ภาษา

ENG SPA

วันที่

31/05/2016

Release

2.3

รหัส

+03C220445

คำอธิบาย

ir33 platform

ภาษา

CHI

วันที่

27/04/2011

Release

2.3

รหัส

+030220445

คำอธิบาย

ir33 platform connessioni / connections

ภาษา

ENG ITA

วันที่

27/04/2011

Release

2.3

รหัส

+030220440

คำอธิบาย

ir33 platform

ภาษา

ITA

วันที่

16/06/2010

Release

2.5

รหัส

+030220449

คำอธิบาย

ir33 platform

ภาษา

RUS

วันที่

16/06/2010

Release

2.5

รหัส

+030220444

คำอธิบาย

ir33 platform

ภาษา

SPA

วันที่

16/06/2010

Release

2.5

รหัส

+030220441

คำอธิบาย

ir33 platform

ภาษา

ENG

วันที่

16/06/2010

Release

2.5

Technical Leaflets

* Entries are ordered by date

รหัส
คำอธิบาย
ภาษา
วันที่ *
Release

รหัส

+0500018FR

คำอธิบาย

powercompact - Modéle PB00

ภาษา

FRE

วันที่

07/02/2018

Release

3.3

รหัส

+0500018IT

คำอธิบาย

powercompact

ภาษา

ITA

วันที่

07/02/2018

Release

3.3

รหัส

+0500018DE

คำอธิบาย

powercompact

ภาษา

GER

วันที่

07/02/2018

Release

3.3

รหัส

+0500018EN

คำอธิบาย

powercompact

ภาษา

ENG

วันที่

07/02/2018

Release

3.3

รหัส

+0500019IT

คำอธิบาย

powercompact small

ภาษา

ITA

วันที่

07/02/2018

Release

3.4

รหัส

+0500019EN

คำอธิบาย

powercompact small

ภาษา

ENG

วันที่

07/02/2018

Release

3.4

รหัส

+0500018PT

คำอธิบาย

powercompact- Modelos PB00(S,Y,F,C,H)(0,6)(0,E,A,H)(N,R,C,B,A,M,L,T,P,Q,S,U,V,X,Y,Z)(1,2,3,4,5,A,B,C,D,E,F)0

ภาษา

POR

วันที่

07/02/2018

Release

3.3

รหัส

+0500018ES

คำอธิบาย

powercompact

ภาษา

SPA

วันที่

07/02/2018

Release

3.3
Images
High resolution images

* Entries are ordered by date

รหัส
คำอธิบาย
ภาษา
วันที่ *
Release

รหัส

powercompact_gamma_300dpi

คำอธิบาย

CAREL powercompact - Powercompact Serie - Refrigeration Parametric Control

ภาษา

ALL

วันที่

11/03/2022

Release

R.0