Blast Chiller
BC*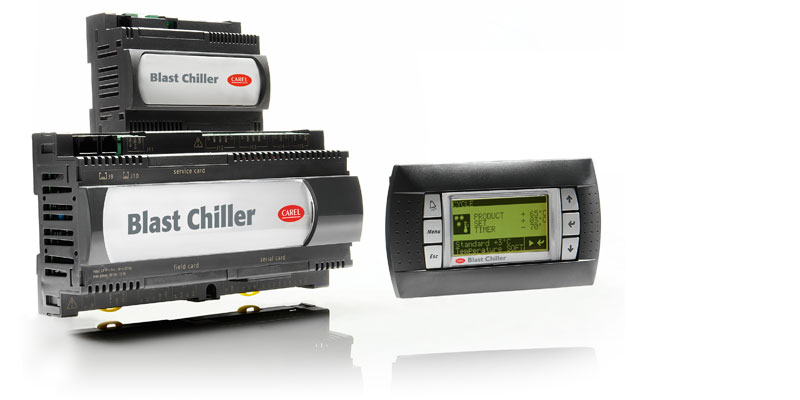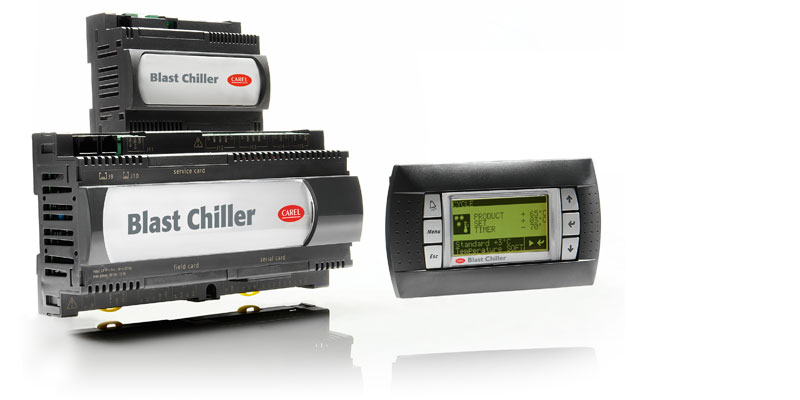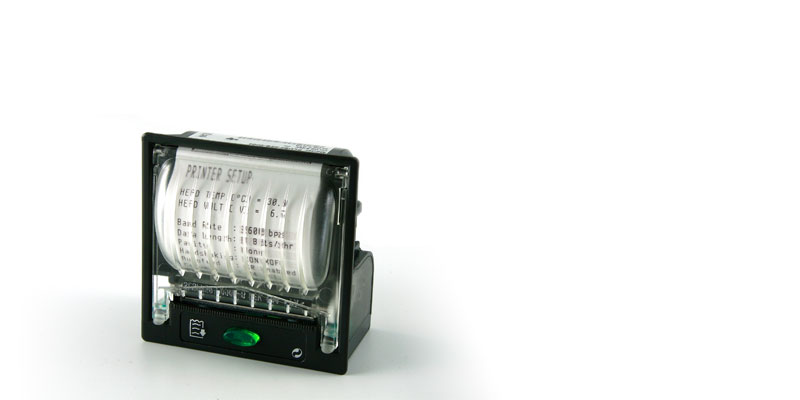 ลักษณะทั่วไป

Blast Chiller is CARELs' complete range of controllers and user terminals, including top of the range model with large graphic display to satisfy the needs of even the most demanding users looking for innovative & energy efficient solutions. Blast Chiller is based on the pCO series programmable platform and features a graphic interface (pGD1 series) offering a simple menu (including multiple languages) and complete icons. Blast Chiller features three different levels of access, protected by password:

typical user level: the chef has access to the main functions, such as the chilling/freezing cycles, the storage phase, the HACCP reports and the sterilisation of the unit, using a simple and user-friendly graphic menu;
installer/maintenance level: offers the possibility to configure the main unit operating parameters;
expert user level: to customise/adapt the controller to the unit through more detailed configuration of the parameters

เพิ่ม

chilling and freezing cycles in compliance with standards (time or temperature, hard or soft);
storage phase;
creation of completely customisable cycles;
smart defrosts for energy saving;
optimum time management thanks to the built-in clock;
three different levels of access.
เอกสาร
Technical
Manuals

* Entries are ordered by date

รหัส
คำอธิบาย
ภาษา
วันที่ *
Release

รหัส

+030220850

คำอธิบาย

Blast Chiller: Controllo per abbattitore di temperatura

ภาษา

ITA

วันที่

23/08/2012

Release

1.4

รหัส

+030220853

คำอธิบาย

Blast Chiller Steuerung für Schnellkühler/Schockfroster

ภาษา

GER

วันที่

23/08/2012

Release

1.4

รหัส

+030220851

คำอธิบาย

Blast Chiller controller

ภาษา

ENG

วันที่

23/08/2012

Release

1.4

รหัส

+03C220851

คำอธิบาย

Blast Chiller 快速冷却器

ภาษา

CHI

วันที่

09/12/2008

Release

1.3

Technical Leaflets

* Entries are ordered by date

รหัส
คำอธิบาย
ภาษา
วันที่ *
Release

รหัส

+0500080ML

คำอธิบาย

PBB2* - easy blast chiller - PBB2* - easy blast chiller - régulateur électronique pour cellules de refroidissement rapides / Regulador electrónico para abatidores rápidos

ภาษา

FRE GER

วันที่

07/02/2018

Release

1.1

รหัส

+0500080IE

คำอธิบาย

PBB2* - easy blast chiller - regolatore elettronico per abbattitori rapidi / electronic controller for blast chillers

ภาษา

ENG ITA

วันที่

07/02/2018

Release

1.1

รหัส

+0500081ML

คำอธิบาย

PBB2*: easy blast chiller - régulateur électronique pour cellules de refroidissement rapide / regulador electrónico para abatidores rápidos

ภาษา

FRE GER

วันที่

18/02/2014

Release

1.0

รหัส

+0500081IE

คำอธิบาย

PBB2*: easy blast chiller - regolatore elettronico per abbattitori rapidi / electronic controller for blast chillers

ภาษา

ENG ITA

วันที่

18/02/2014

Release

1.0

รหัส

+030220854

คำอธิบาย

Blast Chiller: Controlador para refrigeradores

ภาษา

SPA

วันที่

23/08/2012

Release

1.4
Commercial
Brochure

* Entries are ordered by date

รหัส
คำอธิบาย
ภาษา
วันที่ *
Release

รหัส

+302235615

คำอธิบาย

Blast Chiller no coração do frio

ภาษา

POR

วันที่

06/06/2008

Release

1.5

รหัส

+302235614

คำอธิบาย

Blast Chiller en el corazón del frío

ภาษา

SPA

วันที่

06/06/2008

Release

1.5

รหัส

+302235613

คำอธิบาย

Blast Chiller Die Seele der Kälte

ภาษา

GER

วันที่

06/06/2008

Release

1.5

รหัส

+302235611

คำอธิบาย

Blast Chiller in the heart of cooling

ภาษา

ENG

วันที่

06/06/2008

Release

1.5

รหัส

+302235610

คำอธิบาย

Blast Chiller: nel cuore del freddo

ภาษา

ITA

วันที่

06/06/2008

Release

1.5

รหัส

+30C235611

คำอธิบาย

Blast Chiller 深入冷冻的中心

ภาษา

CHI

วันที่

06/06/2008

Release

1.5

รหัส

+302235612

คำอธิบาย

Blast Chiller au coeur du froid

ภาษา

FRE

วันที่

25/10/2007

Release

1.1
Images
High resolution images

* Entries are ordered by date

รหัส
คำอธิบาย
ภาษา
วันที่ *
Release

รหัส

PH07LBC301-blast-chiller-range

คำอธิบาย

BlastChiller-CAREL-Refrigeration Parametric Controls-Solutions for blast chillers and freezers

ภาษา

ALL

วันที่

06/09/2021

Release

R.0