Heos sistema

High efficiency waterloop system...
... now refrigerant neutral
Heos is Carel's high efficiency solution for managing showcases that replaces the classic layout of compressor racks and long refrigerant distribution lines, with a system based on plug-in cabinets fitted with variable-speed DC compressors and cooled using a water loop.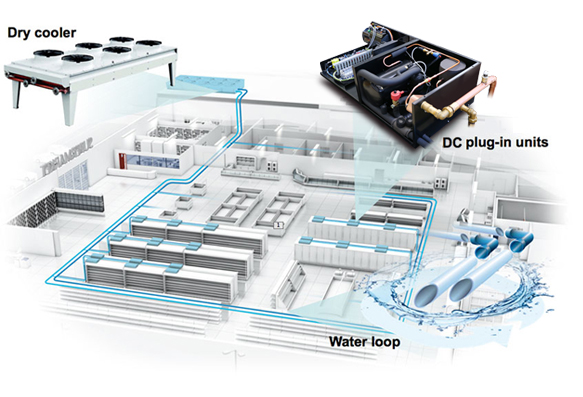 Continuous modulation is the fundamental concept underlying Heos sistema.
Synergic operation of DC compressors and electronic expansion valves using technologically-advanced systems brings exceptional results in terms of control stability, optimisation of operating conditions and consequently energy efficiency and quality of product preservation. All of this is backed by substantial improvements in robustness when compared against a traditional system, thanks to a dedicated controller, complete monitoring and preventive diagnostics procedures.
The combination of the expertise CAREL has acquired in water loop systems with DC inverter compressors, and its considerable experience in the use of natural and low-GWP refrigerants, has allowed the Heos sistema solution to be extended to use refrigerants with a lower environmental impact.
All the benefits of this solution can be combined with the specific features of each refrigerant, thus creating a new concept of refrigerant-neutrality and guaranteeing:

Energy efficiency
Maximum energy efficiency at part loads is a result of continuous modulation, which moreover guarantees the best operating conditions for each unit, each independent of the others.

Excellent food preservation
A stable control temperature maximises both the quality of food preservation and customer satisfaction, eliminating fluctuations in product temperature.

Lower operating and maintenance costs

Prevention of malfunctions and planning of maintenance using advanced preventive diagnostics algorithms, and complete monitoring of all operating conditions.
A lower impact on the balance sheet due to significant energy savings.

easy installation
The showcases are ready to use, and simply need to be plugged in and connected to the water loop.

Environmentally-friendly

Lower total refrigerant charge (-80%)
Less refrigerant leaks as the unit are tested in the factory, with no welding needed in the field (-96%)
Solution available with natural refrigerants
Simple transcritical circuit with a single electronic expansion valve that simultaneously manages both superheat and the optimum transcritical pressure.

Available for single circuits (charge > 150 g) or multiple circuits (charge <150 g each), depending on the regulations in each country.

Traditional circuit design and wide range of compressors available.

Consolidated technology and high system performance.

Heos dashboards: the new frontier in energy and maintenance analysis
Detailed comparison between different systems, individual showcases or uniform groups, with specific dashboards that clearly highlight the differences in terms of control and performance for immediate identification of the units with the highest performance and those that require improvements.